Cydia update on it's way! [Jailbreak]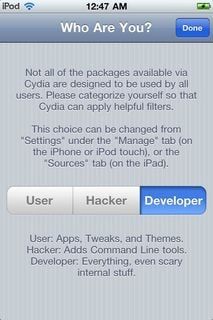 iPhone Dev Team member MuscleNerd has announced on his twitter feed that Cydia creator Saurik and jailbreak dev Chpwn are hard at work on a Cydia update just in time for the release and jailbreak of iOS 4.2.
What changes are coming, if any, have not been specified but loading speed reduction and user reviews have long been rumored. What changes would you like to see? Let us know by leaving a comment or discussing it in our Jailbreak Forum!
Get the best of iMore in your inbox, every day!
Your source for all things Apple
I've been waiting for this since forever ! Hope they'll fix the loading speed this time. :)

dan, loading speed problems are caused by the millions of themes so it will always be an issue, the only reason rock was faster is that it didnt have those themes.
you can disable most of the theme and ringtong sections and it runs pretty quick.

Fixing the loading speed and user reviews would be great. It would also be nice if they would add a section somewhere showing when an app was last updated. There are some tweaks that don't seem to be compatible with iOS 4.1 or maybe 4.0 in general, but you don't find out until you install it and it crashes your springboard.

What's missing?
1. Remove the theme tsunami that is the Changes tab (ability to filter out categories)
2. More unified description screen with description, changelog and screenshots without having to load a whole external frame
3. If you were installing something that needed a respring and an error occured on the download, don't require the respring, no change was made!

And a fix for TiPB's comment box: don't ignore break lines, the text gets messy without them.

Proper iPad support would be nice, instead on an anorexic little menu list for the apps in the middle. And for god's sake- LANDCAPE MODE. I can't stand the portrait keyboard.

"loading speed reduction"?
Wouldn't like to see that, it's slow enough already ;-)

I can't stand how slow cydia is to load. Probably the main reason I launch cydia once a week. And I have an iphone 4

I just want it to run on 4.2 first :) I had to downgrade cause I missed My3G and MyWi too much, along with iFile.

how about a way to only view the apps that actually work on the OS currently on the phone. also, speed enhancements, polished UI, user ratings, and some sort of universal approach on descriptions (screen shots, info, etc). Essentially anything that makes using Cydia less of hassle. I'd probably even be willing to pay for a CydiaPro or a "Cydia Certified" app store that took the time to actually do all of the above. I guess I'd like the App Store without it being the App Store. ;)

I'd also like the option to correct my grammar and spelling on TiPb posts. Maybe I shouldn't post early in the morning or from my iPhone. ;)

I'd like to see better categorization of themes/tweaks, theres a boatload of themes/tweaks that aren't compatible with 4.1, that worked in 4.0
Also themes need to be separated into iPhone 3G/3GS, iPhone 4, and iPad.

My Cydia Used to be Slow but then i did a upgrade to 4.1 and jailbroke and it got faster, so im saying dont complain if you dont have newest version, older onces may be supported but unless your one of those unlocker people you have no other reason no to upgrade
[just a fyi cause i know more then a few people still on 3.X complaining about cydia speeds]

While we all appreciate the effort it took creating Cydia (and without it many of us would still be suffering under the Apple regime), I think it's time for a complete rewrite (from the ground up). Most of the comments I've read here are dead on. Having said that, being a developer myself, I know it's not easy to do, given we all have day jobs (we do, don't we?).

Compatibiliy descriptions. What's for iOS 4 or 4.1 etc. I dont wanna wait for a crash to find out. Other than that, amazing job for the Cydia team!!!!

Fix load times. Fix load times. Fix load times. Fix load times. Fix load times. Less error messages, "Error Refreshing Data, failed to fetch, Cached Failure." Oh, and LOAD TIMES!!!!!

Its way, dude, not "it's". How hard is that?

@pcdsim what do you want fixed?

How bout an option to remove a source you typed in wrong?

Category filtering is already in Cydia

I really hope since they bought Rock they integrate some of the good ideas Rock had into Cydia, minus the shortcuts rock took that made the phone unstable.

You can filter categories already, but it could certainly be refined further. Agree with others... speed loading increase, landscape view (baffling this is still absent), purchase screens that can be zoomed in (like with Rock), filter available apps/themes by OS and device compatibility, most popular apps section (the "featured" haven't changed in a LONG time and the "Cydia Store" section sees change at a glacial pace as well... this leaves me with the message (accurate or not) that a very people have a very strong lock on the Cydia app store market.

Sorry about the grammatical errors. It was about 2am here when I posted it.
One confirmed change is that iPad will be getting landscape mode. http://chpwn.com/s/06n6

Rock had a simple backup and restore solution for jailbreak apps, by backing up (on their servers) a list of the apps installed on your device, which allowed for a batch restore of the apps (unfortunately not including settings) but im surprised cydia bought out rock, and doesn't provide any of their features and backup seems like the first thing they should work on.
the only thing i found similar is aptbackup which is a joke!!! only restore on complete system restore... and even then it doesn't work as well as rock did.

@Charlie, Rock had a much smaller amount of apps that were only listed by the rock repo. Cydia doesnt really have its own repo, it uses several repos and lets you add your own as well. It would be impossible to do what Rock did with just their own repo...

rock backed up apps that i got from cydia too.

I hate it when people say impossible.. it's not that hard to back up a list of apps and what repo they where acquired it from.. it's just like creating a batch install file..

@Charlie, it is when there are dependencies and permissions involved. Also when many sources are for pirated apps, many sources change repo addresses, and many updates go unreported or aren't named correctly. They would be asking for billions of emails from angry people complaining.

I would like reviews and an easy way to back up

Is it possible to update cydia if im on 4.1? I'm a noob at cydia

Please make cydia more light-weight, so it loads faster and use less RAM

speed. especially on iphone 3g dont crash when i add a lot of thins in the quene. especially on iphone 3g multitasking support offline description viewing. icy could do this. when it downloads the repo it downloads descriptions so use thoses instead of the http link all i want to see about themes is the screenshots. make it eisiar n faster to get to. to incorporate these last two into one when i click a package on the list make a details button which would take you to the old description page as it is now, a screenshots button, strait to the screenshots, and the description. of course install and back at the top too. mabey some adds after the description longer preview sentence beneath the title on the list of packages(like search results or changes) a message that asks the user to change the root and mobile password after openssh is installed

I'm really enjoying the theme/design of your weblog. Do you ever run into any web browser compatibility problems? A few of my blog audience have complained about my website not working correctly in Explorer but looks great in Chrome. Do you have any solutions to help fix this issue?