Daily tip: How to delete jailbreak apps quicker with CyDelete [jailbreak]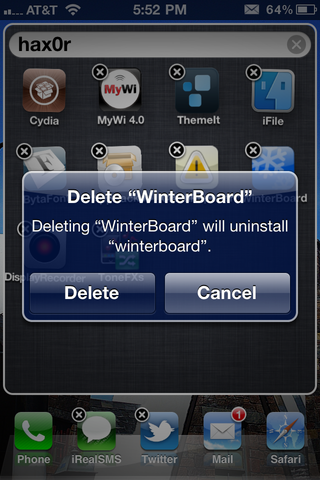 Annoyed by the having to use Cydia to delete Jailbreak apps and wondering how to delete them faster? There's a new tweak on the block that makes this process much easier. In fact, CyDelete lets you delete jailbroken apps just like you would delete an official App Store app. Follow us after the break for a rundown of how to use CyDelete.
To delete jailbroken apps via Cydia can be rather irritating. You have to launch Cydia, click on manage, scroll and find the package you'd like to delete, and then wait for Cydia to reload. CyDelete aims to simplify this process.
First, search for CyDelete in Cydia and install it (it's free).
You don't see an icon on your homescreen. But you can find a few settings for CyDelete inside your iPhone settings panel.
Hold down any icon until they start jiggling. You should now see that jailbroken applications also have a delete X option by them just like official apps do.
Simply tap the X to delete the app just like you would any other. That's it!
As a side note, CyDelete does not let you delete Cydia and some mobilesubstrate apps for stability reasons. Other than that, it should work on just about any other jailbreak app. If you're jailbroken, try it out and let us know how it worked for you!
Tips of the day will range from beginner-level 101 to advanced-level ninjary. If you already know this tip, keep the link handy as a quick way to help a friend. If you have a tip of your own you'd like to suggest, add them to the comments or send them in to news@tipb.com. (If it's especially awesome and previously unknown to us, we'll even give ya a reward...)
iMore senior editor from 2011 to 2015.
With the new update for Cydia things reload a lot faster. I also thought it was better to uninstall jailbroken apps direct from because the remnants of them might stick around otherwise if you use cydelete. I use you Cydia to uninstall apps just because I don't errors occurin on my device.

Definitely a good tweak, but not exactly new—as the Settings screenshot shows, CyDelete was released in 2009. Practically a classic by Cydia standards!

cydelete's not new. last year i ended up having to do a restore.

Nice! Always thought it was funny that you couldnt delete Cydia apps like app store apps.

CyDelete is a "new tweak on the block"??? I thought maybe I was reading a 2-year old article. Sounds like the author is quite new to jailbreaking and/or Cydia.

I updated the wording a bit. Most of the stuff we write about is new and I think habit kicked in to label it as new. Sorry. I know it's not.
While we do cover mostly new releases or huge updates, sometimes it's nice to cover apps that are worthwhile, new or not since some users may just be getting into iOS and probably won't dig through the thousands of tweaks available in Cydia. :)

Yea, I use to have this tweak. I used it when I had my iPhone 3G, for those exact reasons. Cydia was slow, my iPhone 3G was slow. (due to hardware) I just needed a quick and simple way to delete an app. It worked great. Didn't have any problems with it at all.
But now with my iPhone 4, and the improvements to Cydia. I don't mind opening up Cyida and deleting the packages. :-)

thats great to install your favorite apps by jailbreaking

Thanks a lot for this tip.
Prevented lot of hussle of uninstalling jailbreak apps.

My cyDelete is not working on my jailbroken iphone (ios 5.1) and i am not sure if it is because the jailbreak is tethered or it is because of the new software for the iphone (ios 5.1) please help.

0????
e4177fbfb52fc9e64fe202
Thank you for signing up to iMore. You will receive a verification email shortly.
There was a problem. Please refresh the page and try again.