Darklings for iOS: Beautiful graphics combined with easy, yet addictive gameplay for all ages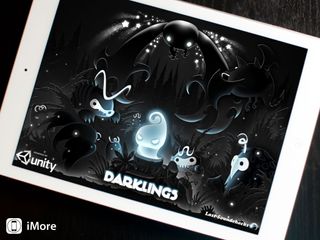 Darklings for iPhone and iPad is a new action adventure game that is completely gesture driven. There are no controls to remember or weapons to throw. Instead, you'll need to think fast and draw shapes over the Darklings in order to possess and conquer them. Sound easy? Think again!
Aside from unique game play controls, Darklings doesn't carry your typical storyline either. In this adventure, it's a battle between light and dark and you'll need to be fast in order to possess and overcome the dark. Each Darkling carries a shape and you have to trace it correctly on the screen in order to possess it. If a Darkling touches you, you die and have to start the level over.
Throughout battle, possessing Darklings causes stars and special boosts to show up on the screen. Drag them to your character in order to collect them. Stars and boosts serve different purposes but you need to collect starts in order to keep time on the clock. The two ways the level ends are if you get touched or if time runs out, so be sure to collect stars as you progress.
Each level ends with a boss which may throw different challenges at you depending upon the level. Some may throw items at you in which you need to draw the shape before it hits you or the ground. That's really only the beginning of Darklings since it features endless game play that rotates between several landscapes and enemies.
The good
Eery, yet beautiful and unique graphics
Endless gameplay
Easy enough for older children to understand and enjoy but addictive enough for adults to get hooked too
Unique controls that are different than anything you've ever played before
The bad
Shapes can be hard to draw on the smaller screen of the iPhone
The bottom line
If you're looking for a game that you can pick up and play over and over again, Darklings is sure to become one of your favorites. With pretty much endless survival gameplay, it's a great game with gorgeous graphics at an extremely reasonable price. If you happen to pick up Darklings, let us know what you think of it!
Get the best of iMore in in your inbox, every day!
iMore senior editor from 2011 to 2015.
Darklings is on sale for $.99!
It's deceptively more fast paced than I anticipated. The Tim Burton-y soundtrack is catchy.
Using a stylus helps.
I personally don't see me playing this one for a long time, but it's fun for a while. The inclusion of IAPs kinda dulls the experience for me, as if the gameplay mechanics could've been fine tuned to avoid being supported by IAPs. Sent from the iMore App

It's .99, not 1.99. I've seen this game for a short time now. it looks fun but I was worried how long it would last before growing bored with it, But it seems so many reviewers really like it. I've just downloaded it. Will try it during my conference call (which is is always a sleeper hahaha). :)

I put $1.99 because that's the regular price and the sale is almost over.

Good move. Sent from the iMore App

Rock on! Sent from the iMore App

I just downloaded it,...fun so far with a slight learning curve. The drawing part I have down it's the tapping stars etc. AS the onslaught occurs. I definitely love the look and music

Interesting game! Sent from the iMore App

I play it I like it. I got it for 99¢ a couple weeks ago. It was worth that. I hate it will randomly crash which sucks if you have a good run going. Waiting for an update to fix that issue. Sent from the iMore App

At first look, I thought this was just one of those side scroller Limbo-clone like some games out there. Good to know that their similarities end with their visuals of using black-and-white tones. Gameplay looks interesting. Sent from the iMore App

i have not much more idea about this OS but i just know one thing and this is we can use something new and may be it is good than older.
www.uslifed.com
Thank you for signing up to iMore. You will receive a verification email shortly.
There was a problem. Please refresh the page and try again.