Deal of the Day: AT&T Now Selling Refurbished iPhone 3G's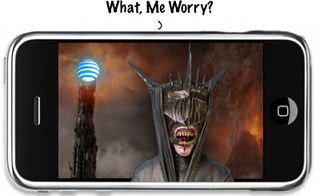 If you were waiting for a price drop to pick up your own iPhone 3G, now might be your only chance. AT&T is now offering refurbished iPhone 3G's (opens in new tab) on their website. 8GB's are going for $149.99 and 16GB's can be picked up for $249.99. Of course these prices require a 2 year service agreement.
Just a heads up on refurbished devices from AT&T:
<
blockquote>Refurbished Phones and Devices Refurbished phones are previously owned devices that have been unused or lightly used and returned during the 30-day trial period. Each refurbished phone is independently quality tested and loaded with the latest software to meet current factory standards. Some refurbished iPhone 3G devices will have minor scratches. Refurbished iPhone 3G devices carry a warranty of 90 days or more. For details about the warranty on your refurbished iPhone 3G go to www.apple.com/support/oss/.
So what do you think? $50 price cut on a refurb make you want to finally bite the bullet? Let us know!
[Via Engadget Mobile]
$50 isn't enough of a price drop to be worth it, imo
Not that the iPhone isn't worth it, I paid $399 for my old one that I'm still using, but $50 is small-pants

I am on my 3rd replacement, first one the lower screen stopped working, and the second one lit up like a Christmas tree. I now have apple care after the first year almost expired, and have had my phone from the first release. I think my bill was over 600.00 from AT&T store. 50 dollar discount would be fair if you got the full warranty.

$50 off for something that the user probably brought it home to realise that they get little or no service, and returned it- doesn't seem too bad.

One way to take the edge off the 3G's price is to lower the cost of your plan. Especially for Sirstopher, the guy with the $600 bill, I would seriously recommend that you check out a website called http://www.fixmycellbill.com by a company called Validas. You can find out for free if you're one of the eight in ten wireless customers paying more than you need to.
I was able to save around $230 annually off my cell bill using Validas which impressed me so much that I actually joined the company when the opportunity arose. Validas is rapidly gaining a reputation as the preeminent advocate for the wireless customer. Check out a feature about Validas on The Big Idea with CNBC's Donny Deutsch at http://www.cnbc.com/id/22782456/.
To give a brief rundown of how it works, Validas analyzes your uploaded online cell bill to determine how much money you could be saving. Up to this point everything is free. If you choose, Validas provides a highly detailed and personalized cell bill adjustment report that, for five bucks, is emailed to your wireless provider in industry specific format so you can actually implement Validas's cash saving changes to your plan. If Validas can save you more than $5 on your bill (the average customer currently saves $482 annually through Validas), this obviously provides a cost effective remedy for reducing cellular expenses.
Good luck on lowering that crazy T-Mobile bill.
Dylan

I think that the refurb this is amazing, I just purchased one through my business account on 12/30 and only had to pay the 199 for the 8gb it would have cost me at least 400 if i would have gotten a new one since my contract isnt up yet.

how do i get a refurbished iphone when my contract isn't up yet..without cancelling my contract?

If you want to upgrade your phone to an iPhone they have a deal that you have to pay full price for the phone [a 16GB refurb is $299] and they charge you an $18 upgrade fee. So you don't actually get the refurb discount I don't think. Which is now like $150-$100. Hope that helped a little?

We loved your writing, please do keep it up!

smhzszwosntjkflmhaz, mattress toppers, FHebHFEo.

How much 2 years service agreement for refurbished iPhones?

How much 2 years service agreement for iPhones?

Hey, I was just wondering if any of you guys knew if refurbished is factory fixed or just fixed? On I don't know if I should just pay the extra and get the new iphone 4 in white or look for a refurbished one. I've read a lot about them and about and yahoo answers and Refurbished iphone4 but I really don't know what to do.
Guess the other solution is to buy a new one from ebay to try and save?
Get the best of iMore in in your inbox, every day!
Thank you for signing up to iMore. You will receive a verification email shortly.
There was a problem. Please refresh the page and try again.