Deal of the Week - Best Buy Reward Zone Members Save on iPhone 3G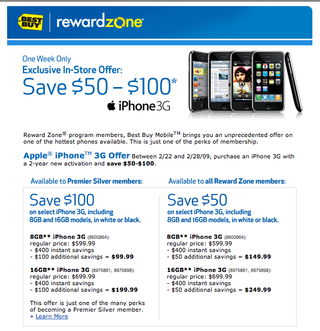 There is a new email promo floating around from Best Buy (got mine last night). Their Reward Zone and Premier Silver members are being offered a pretty enticing discount when purchasing new a iPhone 3G. Here's how it works: Reward Zone members purchasing a new iPhone 3G will be lucky enough to have $50 knocked off the regular price while Premier Silver members get a even more generous $100 off of a new iPhone 3G.
Keep in mind this offer is only good until Saturday February 28th and you must sign your life away to AT&T for two years. So, if you are out shopping for a brand spanking new iPhone 3G and you've been a Reward Zone member before February 21st... head on over to Best Buy!
Get the best of iMore in your inbox, every day!
Your source for all things Apple
I guess these type of offers signal that a new iPhone model is not imminent, but probably 6-10 months away. If you haven't got an iPhone by now, I'd think carefully about getting one at this point in time. If you're not worried about have the latest iPhone, then this deal is for you.

Yeah, this was VERY intriguing, given the lack of discounts on iPhones or any Apple products. My first instinct was to jump on this and get one for my wife, but I think I'm gonna wait until the new one comes out, get it for me, and my wife can have my current phone. :-)

I'm a premier silver member. Maybe I'll finally get my gf to get the iPhone

Not a bad deal... But I'll wait to replace my iPhone classic when the new one comes out

For every free iPhone app I keep for a week I'm going to donate £1 to charity.

I'm a silver member but I already have a factory unlocked iphone, and on tmobile. eeeeeeeeee.

I still have the iPhone first gen. I keep hovering around the apple store trying to convince myself that it is worth buying the 3G. But so far have found no arguement compelling enough for me to ditch the aluminum (I love aluminum) for the black plastic.
This post, though, almost did it. Until I read the comments. Now I am determined to hold out for the 3rd gen iPhone. Man! Am I driving myself nuts??

I just got my new 3G iPhone for $99 with this special! That was so cool! I thought that they were going to have some minimum purchase or something like that, but I walked in, had them check my Reward Zone card, and I got it! $106 out the door with tax! That was so cool.
And to think I was going to pay $150 for a refirb...

Can someone please share their Premier Silver membership no.? I have been in the market for a new iphone and this seems like the best time to do it.

If any body can help me get this offer. I want to buy the iphone 3G 16gb.

I still believe I"ll find a unicorn wondering around in the woods before I get a White iPhone 4 in my hand. It be perfect for me because I have a baby on the way and tons of the photos will be taken with my iphone4! You mean like a website? I really hate the idea of companies just making up whole new mediums to make money. If the back is a conductive metal, couldn"t it affect signal strength if it is in contact with the antenna?Both… But I hate ice for some reason. So Christmas edition and me might get some significant time together. This game shows where iPhone gaming is going. $1.99 and when $60 version comes in 2011 watch sales figures! BBM on IPhone is the only way to go. In this day and age we should tolerate no handcuffs or proprietary bs. People seem to forget the iPhone is actually a small iPad, as the iPad was developed first within Apple HQ.Any word on what may be included in a 4.3? I haven"t heard of any noteworthy features coming down the pipe. Patiently waiting for the 4.2.1 JB. Yet somehow I know I"ll be checking TiPb every few hours till release . I would think it wouldn"t show up until it see"s a device that supports Airplay, but I don"t know for sure. The carrier subsidy on iPhone is weak anyway. I bought mine full price as it was cheaper over the long run.