In defense of the MacBook Pro Touch Bar, a tool Apple never embraced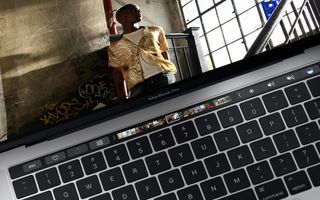 (Image credit: Apple)
Big changes are coming to the MacBook lineup this year as Apple continues to replace Intel-based processors with Apple Silicon across the larger Mac platform. For MacBook Pro, the likely changes aren't just happening on the inside. This year's lineup is expected to include a new hardware design, the return of MagSafe charging, and more ports. These are all positive changes.
Apple's also expected to kill off Touch Bar, a feature I have grown to love in recent years. The upcoming end of Touch Bar is something Apple could have avoided — had it made even the slightest of efforts to promote it.
Touch Bar
Apple called Touch Bar a "breakthrough interface" when it was introduced on select MacBook Pro models in October 2016. The Retina-quality multi-touch display replaced the traditional row of functions keys above the laptop's physical keyboard. Because it's one long display and not a series of keys, Touch Bar offers digital controls that change as you move between native- and third-party apps. For example, when in Messages, you'll see a row of emoji; in Microsoft Word, Touch Bar shows buttons for iconic commands like Bold, Italics, and Underline.
It won't come as a surprise if Apple removes Touch Bar from future MacBook Pro models. In the four-plus years since the feature was first offered, not one significant software update followed. And besides highlighting Touch Bar in some early fourth-generation MacBook Pro ads, Apple never mentioned the feature again.
What happened?
Apple won't explain why Touch Bar is dead when it happens, as the company rarely admits when it does something wrong. In this case, the wrong isn't Touch Bar itself, but rather Apple's knuckleheaded decision not to promote it.
Regardless, it's not too early to begin a discussion on what (probably) went wrong.
When describing Apple products, the late Steve Jobs used to say, "it just works." Touch Bar developers checked this box with zero difficulties. However, successful Apple products must also be easy to use and provide an instantly recognizable useful purpose. Think of the original mouse, iPod click wheel, and iPhone Home button. Otherwise, even the sleekiest of features will suffer an untimely demise.
Out of the box, Touch Bar's usefulness is nearly impossible to appreciate unless you spend some time digging deeper. Except for the occasional emoji or images that pop up when editing in Photos, Touch Bar deliberately melts into the rest of the MacBook Pro keyboard with its white on black characters. By design, Touch Bar is easy to dismiss, especially to anyone who wants to type and get on with the day.
When Touch Bar was revealed, my initial feelings came down squarely between two words: gimmicky and overpriced. The former because Apple never showed off Touch Bar to the general public beyond the sexy bells and whistles. The latter because not every MacBook Pro initially came with the feature; those laptops that didn't were less expensive.
At its core, Touch Bar's No. 1 purpose has been to offer a new way to perform everyday tasks that you can already do with your mouse or keyboard. Providing another way to perform a computer task isn't a new concept in the technology industry. Even the first computer mice were undoubtedly met with resistance from computer users who only thought a keyboard was necessary. Only after successful follow-throughs do companies find success with new tools and options.
Apple struck out when it came to the Touch Bar.
For whatever reasons, Apple never seemed to care about Touch Bar beyond identifying it as a premium feature that cost buyers extra. And, the product never expanded or was tweaked over time.
On the software side, yes, many of the biggest third-party providers did embrace the feature, including Microsoft and Adobe. And yet, Apple provided little in terms of Touch Bar instruction beyond a few Apple support documents (opens in new tab). From a hardware perspective, Apple never made the multi-touch bigger or easier to see. Perhaps even more troubling, the company never offered Touch Bar on a separate keyboard for iMac users.
Not a surprising ending
The MacBook Pro remains one of the most popular laptops on the market and one of the best MacBooks you can buy. And yet, the fourth-generation models have been perhaps the most controversial thanks to omissions and features that never took off. The upcoming fifth-generation models are expected to right these apparent wrongs.
Apple has already ditched the disastrous butterfly keyboard that was unsuccessfully updated a few times in the fourth-generation chassis. The company is also likely to reintroduce the MagSafe charger that was unceremoniously dumped years ago across the entire MacBook lineup. Apple's also expected to add more ports to the fifth-generation MacBook Pro, including a separate SD card port. (The new machines aren't going 100% retro as the current rumors don't mention Cupertino bringing back the backlit white Apple logo).
If you have a Touch Bar on your MacBook Pro and have never used it, give it a try. It's a useful feature that works across multiple apps. And be sure to check out our lengthy Touch Bar FAQ for important tips. Then stay tuned for the newest MacBooks, which should be announced this fall.
Thoughts?
Do you use Touch Bar? Do you have any thoughts about its likely demise? Let us know in the comments below.
Get the best of iMore in your inbox, every day!
Bryan M. Wolfe has written about technology for over a decade on various websites, including TechRadar, AppAdvice, and many more. Before this, he worked in the technology field across different industries, including healthcare and education. He's currently iMore's lead on all things Mac and macOS, although he also loves covering iPhone, iPad, and Apple Watch. Bryan enjoys watching his favorite sports teams, traveling, and driving around his teenage daughter to her latest stage show, audition, or school event in his spare time. He also keeps busy walking his black and white cocker spaniel, Izzy, and trying new coffees and liquid grapes.
"Even the first computer mice were undoubtedly met with resistance from computer users who only thought a keyboard was necessary." Ah, youth...they were basically reviled, especially in the business community where removing your hands from the keyboard for more than picking up your coffee cup was a demerit offense. Much like those (Apple, looking at you) that refuse to incorporate a touch screen in their laptops. It is a great additional input method for scrolling, pinch to zoom, and selecting links - NOT as a keyboard replacement, just another convenient input option.

Maybe if Apple had simply created an option for the user to customize the touch bar with the features they used most, there may have been more interest.

I really thought it was going to be a great thing when it first came out but once I got a Mac that has one I find that that it doesn't really have much value add for me. I've even looked at third party add ins and they just don't buy me anything. I miss the tactile feedback of keys. I really only use the function keys the way that the original keyboard gives me. Additionally I find that the touchpad is less responsive and I have to touch that function more than one time to get what I want.

I love the Touch Bar, which is something I would never believe I would say when it was first introduced. Now I don't want to lose it. I find function keys to be difficult to remember from one app to the next, requiring hunting and pecking. I hate having to use the fn key to switch between function key functions. There isn't any aspect of using a keyboard more likely to take me away from the work I'm doing more than function keys. On the other hand, over time, the touch bar has become a more natural way of working than function keys. (Not as good as a touchscreen, perhaps, but better than nothing.) I've come to rely on a bunch of uses, quick access to Picture-in-Picture in Safari, to switching between Safari tabs without using the mouse, triaging emails in Outlook, etc. I agree that the Touch Bar is going away because Apple never did the work of selling it. Makes me think it was never embraced within Apple itself.

I think one key point is that we don't want to move our eyes away from the screen when using a laptop. With touch bar, not only do we have to find the button that we want to tap each app has different buttons. Tactile feedback offers us the assurance that we have in fact pressed something, therefore not needing to visually see if we have pressed something. Ultimately, Apple's lack of promotion made many developers not want to invest in it. It could definitely have been useful, maybe in the future we will see its return.

I have the touch bar in my MacBook pro, and the only thing I like about it, is touch ID. If the touch bar was removed, then I wouldn't miss it, just as long as touch ID is still there. What kills me for the upgrade price Apple could have made their display screens touch instead. That would be much better than a touch bar, especially since the M1 Macs are able to run iOS apps. Then having a touch screen makes much more sense,

I know I am going to catch some crap for this but at the end of the article it mentions the return of MagSafe... I know there are those that want it back but is that really innovative? I was ready to embrace USB C/Thunderbolt 3 when it came along and I dream for a day when the iPhone gets it, although it probably never will. But, I really don't want to go back having to keep another damned cable in my bag ar at all the places I work when most everything I work with now is USB C. I also get so tired of cycling through and replacing static chargers and cables all over the place. I'm ok with MagSafe as an option but I really pray that charging via USB C stays.