iMore Show 803: MacBook Air, Betas, and the Emmys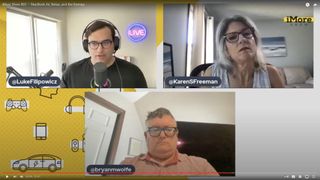 (Image credit: iMore)
This week on the iMore Show, Luke and Karen are joined by Bryan M Wolfe, and they discuss the release of the new M2 MacBook Air, the public betas of the upcoming software, and Apple's impressive 52 Emmy nominations.
Listen now
Watch now
Links
Sponsors
Alto: All of the trades. None of the taxes. You can buy, sell, and trade 100+ coins/tokens with just $10 by visiting AltoIRA.com/imore.
Capital One: Machine learning at Capital One. Capital One. What's in your wallet?
Henson Shaving

(opens in new tab)

: A unique design gives a shave so smooth, so effortless, it will make you rethink how shaving should feel. Visit hensonshaving.com

(opens in new tab)

.
Hosts
Be part of the show!
Send in your comments, questions, feedback, or follow-up to:
Get the best of iMore in your inbox, every day!
Jim Metzendorf has been using Macs since 1994. He is a podcaster, freelance audio/video editor, and author of 'The Professional's Guide to Audio Podcast Production'. Jim also teaches audio production at a college in Cleveland, Ohio. Follow him on Twitter: @jmetzendorf