Design Drawings for the possible next iPhone leaked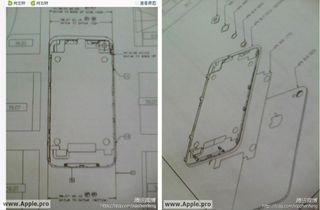 It appears that what could be the design drawings for the next generation iPhone have been leaked and published by the folks over at Tw.Apple.Pro for all of our viewing pleasures. The pictures posted don't really allow us to see much but they do appear to match the leaked casing pictures/video that we posted on Wednesday. Stay with us after the break for more on this story.
The YouTube video that showed the possible next generation iPhone parts was removed due to copy right issues. Apple wanting the video pulled could hint towards possible attempts at keeping leaks of the next iPhone a secret unlike what happened with the iPhone 4. The drawings appear to match pretty well with the photos though and it seems to be a subtle sign of things to come.
So again we ask you what do you think - Real, Fake, or Really Fake?
[ MacRumors ]
Get the best of iMore in in your inbox, every day!
To me the images look nothing like the items shown in the video. The back plates are different for a start.
I would not assume anything at this point in time. But it would make sense for apple to look at the "new" external antenna design and modify it similar to the one shown in the video.
I think anyone could draw up an exploded diagram of an iphone insides, so i reckon this is a fake.

The "new" antenna in that video really isn't that much different from the GSM iPhone 4 other then it clearly has different antenna lengths no doubt tuned for a different frequency (VZW's CDMA network?). The anttenagate stuff is blown way out of proportion.

yeah i agree, i never had an issue with my iphone 4

Doesn't matter. Shows nothing, means nothing ;D

Looks very iPhone 4 to me. If so, hopefully it'll mean the internals will be awesome. ;)

We could see official CAD drawings from Apple with an official Apple seal and it would STILL tell us nothing. We know the iPhone 5 is going to have 2 cameras, a retina display, and look something like the current iPhone. The internals are really what matter. And, frankly, I'm having a hard time thinking of a feature that would really compel me to upgrade anyway, short of a Verizon version...

Exactly. It's just another 3GS-like upgrade.

I've been wondering the same thing since I bought the iPhone 4. What could they possibly add hardware wise to make it THAT much better. A battery upgrade would have to be significant. The same goes for a camera upgrade, whether it be picture or video. I would like to see better external speakers. Wouldn't make me upgrade though.

They could add
Bigger screen
Dual core processor
8 megapixel camera
32 - 64 GB hard drive
FM Radio
Completely new UI
That kinda stuff...

The RFID stuff they have talked about could be very interesting. I don't want a bigger screen personally. I like how small my phone is. Dual Core CPU would be nice. I am happy with battery life personally. Better speaker does sound nice.

I hope with the iphones and ipads this year they bring out like there A5 dual core processors, more space,a better front facing camera, maybe a bigger screen cause people keep asking for it on some forums but it doesn't matter to me.

Yup, there are boat loads of stuff that can be improved to the internals:
1.6 GHz Cortex A9 > 1 GHz dual-core A9. The drive to multi-core is not as big of performance improvement as you'd think. I'd imagine 99% of software on mobiles are single-threaded, and the benefits of multi-core won't be that big at all. Embarrassingly parallel ops won't be that common on mobiles, so the biggest bang for the buck would be performance improvements in single threaded ops.
I'd love it if the next gen Apple SoC was an out-of-order 3-issue chip at 1.5 GHz. That'll basically double performance for all ops when compared to the iPhone 4. Heck, a 1.6 GHz Cortex-A9 would be great too.
Hopefully an upgraded GPU. The GPU hasn't been improved for 2 years. A PowerVR SGX MP GPU (543, 554, whatever). A factor of 2 to 4 improvement would be great.
Double the RAM and storage. 1 GB RAM and 64 GB storage. I have to manage my 32 GB 3GS. 64 GB would mean not worrying about filling it up for awhile.
HSPA+ and LTE radios. Support for 14.4 Mbit/s!
Better Retina Display with more accurate colors, less glare.
Better cameras.
Better speakers and microphones.
The un-counted things that can be done in software.
Basically a whole new phone save the case design.

Bigger screen 4 or 4.5 inch. Just like MacBook Pros come in different sizes 13, 15, 17, so should the phones. One size does not fit all. I seldom use my phone as a phone, maybe 2-3 times per day. But I text, email and look at the web a lot. A bigger screen would be a plus for me.

Just want to say your article is as astounding. The clearness to your submit is simply excellent and that i can think you are an expert in this subject. Fine along with your permission let me to clutch your feed to keep up to date with impending post. Thanks 1,000,000 and please carry on the gratifying work.
Thank you for signing up to iMore. You will receive a verification email shortly.
There was a problem. Please refresh the page and try again.