Brikk will wrap diamonds around the Apple Watch for 'just' $69,995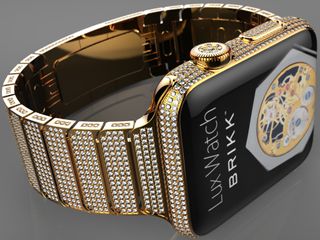 Brikk is actually launching 30 different versions of their Apple Watch, under the Lux Watch branding. Pricing for the smartwatches range from "just" $7,495 for the Standard version to the previously mentioned $69,995 for the Lux Watch Omni. Apple has not offered much info on the way of Apple Watch pricing, other than stating the entry-level Sport edition will cost $349. There is some speculation that Apple could price the higher end gold edition at $10,000 or more.
Here are the details of what Brikk is offering with its Apple Watch version:
Each Lux Watch will be shipped in a "Zero Halliburton aluminum case with carbon fiber interior" which also contains a user manual and a (we are not kidding) "diamond-embedded certificate of authenticity". Pre-orders are currently being taken for these high-end versions of the Apple Watch and they will ship about 4 to 6 weeks after Apple begins shipping their smartwatch sometime in April.
Source: Brikk
I have been writing professionally about technology and gaming news for 14 years.
WoW ONLY 69,995$ what a deal, I wonder if it will be upgradeable

Kevin M - Will you buy this as well????? (Pls say NO) Sent from the iMore App

Yeah, and it'll be worth nothing in a few years, unlike most of the other $70K watches out there.

STUPID?????! Sent from the iMore App

I'd rather buy a Tesla with that money :-/ Sent from the iMore App
Thank you for signing up to iMore. You will receive a verification email shortly.
There was a problem. Please refresh the page and try again.