Do you need a smart kitchen scale?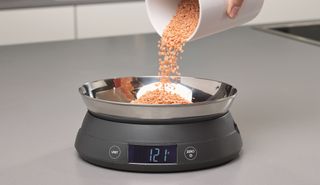 Do you need a smart kitchen scale?
Best answer: If you're a keen home cook, then yes. Smart digital kitchen scales are useful for measuring ingredients when cooking meals. They are helpful for portion control if you're trying to eat well, and pretty darn essential for baking. Since you can get a decent digital scales for under $15, we'd recommend adding them to your collection of kitchen gadgetry.Budget option: Etekcity Digital Kitchen Scale (opens in new tab) ($13 at Amazon)Deluxe and designer: SwitchScale (opens in new tab) ($45 at Amazon)
While we're not suggesting you'll use your scales for every single meal, more complex recipes will benefit from being measured out on scales. The cup measurement system is not as precise as actually weighing out ingredients in grams or ounces.
Almost all baking, whether it's making cakes, a loaf of bread, or creating pastry-based masterpieces, requires precise measurements of ingredients. Too little yeast and your bread won't rise, too much baking soda and your cookie dough will taste bitter. Using scales gives you a much better way of being sure you've got the correct mix of elements.
Most digital scales available today can quickly change the unit of measurements from pounds and ounces to grams and kilograms. This means whatever kind of recipes you want to use, with metric or imperial measurements, you don't have to carry out complex conversions before you start cooking. Some also offer timers, so save the need for a separate device.
If you're on a dreaded diet, your scales are your friend from a portion control point of view. It's easy to overeat if you just measure meals by eye, but if you want to shift those pounds, use your scales to lock down your portion sizes and shift that excess weight. Some smart scales even have calorie counting and other nutritional info built-in.
If you're trying hard to ensure you eat your recommended five portions of fruit and veg a day, a set of scales can really help. It is suggested that 80 grams worth of fruit or vegetables make up one portion, but do you know what 80 grams of carrots look like? Or is an orange is 80 grams? Use your scales to be certain your fruit and veg intake is meeting your goals.
Investing in a decent set of smart digital scales is a wise move for more ambitious home cooks and foodie types. While you can certainly whip up some mac and cheese without some, if you want to make your own Pecorino ravioli from scratch, you're going to need a way to measure the various ingredients accurately.
Weighing-in
(opens in new tab)
Tare it up

We like the SwitchScale option since you can weigh food directly on the scale, or flip the top and it becomes a measuring bowl. It has an easy-to-read display, touch-sensitive controls, and clean, modern looks.
Measuring it out
(opens in new tab)
Etekcity Digital Kitchen Scale
Painless stainless

Our budget choice is still very capable with the ability to weight up to 11lbs, a bright backlit LCD display, tare, and auto-zero functionality, and a stylish stainless steel finish.
Get the best of iMore in in your inbox, every day!
Amy-Mae has been writing about consumer technology since before the iPhone was even a twinkle in Steve Jobs' eye. She started out in magazine publishing with the UK lads' mag 'Boy's Toys' then moved online with startup Pocket-lint.com as the first full-time member of staff, helping grow the site to one of the UK's largest gadget sites. Amy-Mae then moved to Mashable when it only had a staff of around 10 people. After working her way up to a senior role there, Amy-Mae left in 2014 to have her daughter. Since then Amy-Mae has continued to contribute to Mashable and The Daily Dot, keeping up-to-date with the latest consumer technology and social media trends. For iMore.com, Amy-Mae gets to her explore her love of home cooking, concentrating on all things kitchen tech.
Thank you for signing up to iMore. You will receive a verification email shortly.
There was a problem. Please refresh the page and try again.