Does the Apple Store sell used iPhones?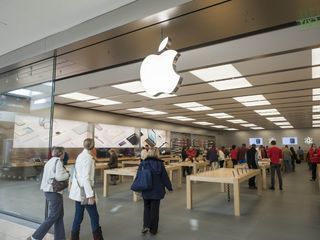 There is no question that you can save scads of money if you buy a used iPhone as opposed to a new one. If you're thinking about going to an Apple Store to get one, however, you're out of luck — Apple does not sell used devices. Don't worry, though, there are a number of reputable used iPhone dealers around that you can shop with safely!
New vs. used
There are several reasons why you might prefer to get a used iPhone over a new one. The big one is price. New iPhones come at a premium and, with wireless carriers moving to shorter contracts, getting a new iPhone can be very expensive.
Used iPhones, on the other hand, are priced much more affordably—sometimes hundreds of dollars cheaper than their new counterparts.
They are previously owned, though, which means there are some things you'll need to pay attention to.
Buy from reputable sellers only
When shopping for a used iPhone, it's important to deal only with reputable sellers. At the very least, the seller has to offer some kind of warranty in the event that the iPhone you receive isn't as advertised, or worse yet, doesn't work.
You also want to make sure the seller has an inspection process for all the used iPhones they sell. That way you can rest assured you're buying a device that's in good condition and in working order. This inspection process should be explained in detail.
Finally, most sellers have some sort of rating system for the condition of their used iPhones. This should also be explained in detail so that you know what you're getting.
Reputable used iPhone dealers
All of the sellers below warrant their merchandise to be in working order and as advertised. Most of them put their used iPhones through a thorough inspection before selling them and you can find the details of how they do this on their websites.
In the e-commerce business since 2007, Gazelle is a re-seller of used electronics, including iPhones.
We consider Gazelle to be a reputable seller because they inspect every iPhone they buy before putting it up for sale. Their devices are guaranteed to work, and, to back it up, they offer a 30-day return policy.
Like Gazelle, Orchard buys iPhones from the public and then puts them up for sale on its website.
Orchard has an inspection process for its merchandise that you can read about here and offers a 30-day warranty on its inventory.
A benefit to shopping with Orchard is that it offers an extended warranty that covers replacement and repair on their used devices for one year after purchase. This costs extra, but could be worth it to you if you're worried about having problems down the line.
Best Buy is a big name in the new electronics market, but did you know that it also sells used devices, including used iPhones?
Buying a used iPhone from a big retailer like Best Buy means that you have the strength of its brand behind your purchase.
While Best Buy doesn't include any details about its inspection process or how it refurbishes its used merchandise, it does have a 7-day return policy, similar to what it offers on its new merchandise.
You can also opt to buy an extended warranty from Best Buy that will cover your purchase for a year or more.
Like Best Buy, buying from GameStop gives you the reassurance of buying from a reputable brand. Yes, it does sell used electronics, including iPhones — not just games anymore.
GameStop has an inspection process; although, like Best Buy, I couldn't find any details about this on its website. However, it does have a 7-day return policy, so if you run into any problems with your purchase, you can always return it and get your money back.
Glyde is a little different from the other used iPhone dealers on this list in that it acts as the middleman between people wanting to sell their iPhones and people who want to buy them.
Since Glyde is the middleman between seller and buyer, it doesn't have any inventory and therefore can't inspect it to make sure it all works.
However, Glyde does offer a money-back guarantee on any device sold using its service: if you notify Glyde of an issue within three days of receiving your device, it will refund your money.
Although we don't usually recommend buying from a middleman, we are recommending Glyde because of its good reputation and because of its guarantee.
The bottom line
While the Apple Store doesn't sell used iPhones, there are many other places where you can get deals on them.
You should always shop from reputable sellers only. If you do this and do your due diligence before you buy, you should have a great experience with your new-to-you iPhone!
Have you bought a used Apple device from any of the sellers listed? How was your experience? Did I miss any other good sellers? Let me know in the comments!
Master your iPhone in minutes
iMore offers spot-on advice and guidance from our team of experts, with decades of Apple device experience to lean on. Learn more with iMore!
Girl gamer, bookish sort, sci-fi and fantasy lover and writer. Now creating helpful content for Mobile Nations.