Does Sonos One have an auxiliary out?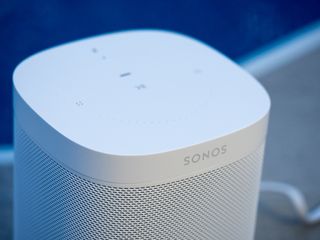 Does Sonos One have an auxiliary out?
Best answer: The Sonos One (opens in new tab) does not have an auxiliary out port. If you want to use an audio out option with your Sonos One you'll need to get your hands on the Sonos Connect (opens in new tab). The Sonos Connect gives you access to audio out options for any device compatible with Alexa, making it useful for more than just your Sonos speakers.Amazon: Sonos One (opens in new tab) ($200)Amazon: Sonos Connect (opens in new tab) ($350)
The Sonos One is a phenomenal speaker that's perfect for upgrading your smart home. It acts as a central hub for all of your other Sonos speakers because it has the ability to control them all. You can create a whole sound system for your entire home by linking multiple Sonos speakers to one another and it's thanks to Amazon Alexa,
Since it has Alexa built in, you can use voice commands to control your Sonos speakers and all the other smart products in your home. The only Alexa features that aren't supported with the Sonos are voice calls, setting reminders, getting notifications, and drop-in.
Outside of Alexa, the Sonos One is also compatible with AirPlay 2, which is perfect for any iOS users. AirPlay 2 allows you to use Siri to control your Apple Music and Apple TV, control multi-room audio from your iOS device, and set up voice commands through Siri to control what your speaker is doing.
Even when you look outside of those amazing features you can tell the Sonos was made with your love of music in mind. This speaker will always have your back by not only being loud enough but coherent as well. The acoustics were tuned to perfection and implemented into custom-designed drivers that are inside of every Sonos speaker. Whether you're throwing a party or just want to listen to cooking instructions from a podcast, it will fill most rooms with whatever you want to listen to.
If you want to change the way your home listens to music, the Sonos One is where you want to start. To get started all you have to do is download the app, which will walk you through the setup. It's simple, which is perfect for technology lovers looking for an upgrade and beginners who want to upgrade their homes.
How does the Sonos Connect work?
The Sonos Connect is a separate device that works in unison with your Sonos speaker. Before we continue on I'm going to clarify that this device will work on any Amazon Echo or Alexa-enabled device. Adding the Connect to your home will benefit your Sonos One and all of your other Alexa products as well.
This device allows you to stream music to your stereo, home theater, and more. It works with speakers that you already own and is compatible with RCA, optical, and digital coaxial audio outputs. Once you connect an external source to the Sonos Connect, you'll be able to play your music throughout any speaker you desire.
For instance, you could use this device to stream music from your turntable to your Sonos One and so much more. Even if you don't have a Sonos, the Sonos Connect is an excellent addition to your home because it expands your options of how you could use the sound system in your home.
Our pick
(opens in new tab)
A smarter home

Enjoy sound built with perfect acoustics to fill your home. Sonos One was made for the music lovers and sounds great in most rooms. It's also compatible with Amazon Alexa and AirPlay 2 so it can take voice controls for other connected products.
What you need
(opens in new tab)
More options

Connect all of your favorite music devices together with the Sonos Connect. This handy device works with all of your Amazon Alexa products and allows you to choose which speakers will play your audio.
Get the best of iMore in your inbox, every day!
Essa Kidwell is an expert in all things VR and mobile devices who can always be found with an Oculus Go, a Pixel 2, and an iPhone 7+. They've been taking things apart just to put them back together for quite some time. If you've got a troubleshooting issue with any of your tech, they're the one you want to go to! Find them on Twitter @OriginalSluggo or Instagram @CosmeticChronus.