FIFA Soccer 13 lands on iPhone, iPad with online multiplayer -- at last!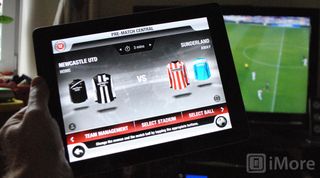 EA Sports has just launched its latest iteration of the hugely successful soccer franchise FIFA 13. The new version of FIFA has some nice new features over and above last year's version but the most significant is the long overdue ability to play against your friends in an online multiplayer mode.
FIFA 13 offers some great soccer gaming features like teams from 30 of the top leagues in the world, 500 officially licensed teams with real player names, management modes and of course the long awaited multi-player. Unfortunately multi-player is done via EA's own Origin service rather than Apple's Game Centre but if it works well, who really cares.
FIFA 13 is a universal binary so works great on the iPhone, iPad and iPod touch and is compatible with the iPhone 3GS, iPhone 4, iPhone 4S, iPad, iPad 2, the new iPad, iPod touch 3 (16 GB and above), and iPod touch 4. EA claims that the best gaming experience will be on the iPhone 4S, iPad 2 or the new iPad; no mention of the iPhone 5 in the write up although they do claim it is compatible.
$6.99 Download Now
(opens in new tab)
Get the best of iMore in in your inbox, every day!
UK editor at iMore, mobile technology lover and air conditioning design engineer.
I was waiting for this release... finally, I love the 12 now onto 13...

Love it- online: FIFAPRO757

Agree, this feature was missing!! I was getting bored playing the cpu at the Pro level...Finally some real action :)

iOS 6 broke the GamePad! Did they fix it yet?

will you be able to play against ps3 users?

Awesome, nothing beats playing Fifa in the bath! Lol!

love me some fifa. works great on the iphone-- improved graphics, better animations, deeper gameplay. but, somehow, the ipad version is a disaster at launch. you can touch the screen, but nothing happens-- except for when you touch the origen menu, you get taken to a page offering other EA games. how this game made it to consumers in this fashion is beyond the imagination...

It's not working on the New iPad

Looks good Chris, even more so today since it just went down to 69p in the app store http://www.smartpound.com/story.php?title=all-ea-games-69p-each-apple-ap... good price if ask me.
Thank you for signing up to iMore. You will receive a verification email shortly.
There was a problem. Please refresh the page and try again.