The Embrace+ smart notification bracelet arrives on Kickstarter, colored alerts for your iPhone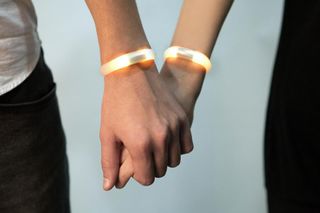 There has been a lot of chatter recently about smart watches that have the ability to alert you graphically and audibly but this Kickstarter project wants to put a slightly different spin on that theme. The Embrace+ is not as smart as a smart watch as it doesn't have any display but what it does offer is colored notifications. These notifications can be set to a huge selection of colors each specifically matched to an apps notifications. If you tend to keep your iPhone in your handbag or deep pocket, this bracelet could be ideal so you never miss a call or an important text or email.
The Embrace+ comes with a companion iPhone app that will let you customize color schemes and set up all of your color notifications and even flashing patterns for lots of different applications. You can even drill down to individual caller ID notifications so you can see who is calling as long as you have a great memory for colors and different flashing schemes.
The Embrace+ is looking for backers on Kickstarter so if you want to become an early adopter you can pledge $39 or more to get one. It's not looking great for the project as it has only reached just over $35K and needs to reach over $220K to become a reality.
What do you think of the Embrace+? Could you see yourself wearing an accessory like this or would you rather get a really smart accessory like the rumored iWatch?
Source: Kickstarter
UK editor at iMore, mobile technology lover and air conditioning design engineer.
Can you guess how many iOS6-powered devices are jaibroken using evasi0n? http://georgedao123.wordpress.com/2013/03/02/more-than-14051500-idevices...

Yes blend with fashion style with a big light-up piece of plastic on your wrist *rolls eyes* The plastic band is ok (like those Livestrong bracelet types), and it should have just vibrated for notifications. No one wants to wear a glowstick on their wrist.

I wouldn't wear a bracelet like that or even an iWatch. I prefer all notifications on my device.

iMore, this spam in the comments is outta control!

I like it, it's creative. Colored notifications comes in very handy. I use the Light Flow app on my Galaxy Nexus phone. Does something similar with the RGB notification LED . It helps more than you think. No need to open phone and check which app notification arrived. This takes it a step further by wearing the LED notification so you don't even have to take your phone out of your pocket. Great idea!

I think this is pretty cool. Only just because sometimes either I don't fell my phone vibrate or hear it ring

I don't think this will reach its goal. Especially since the rumor mill is saying smart watches are coming. I tip my hat to these developers though, very original idea and say 5 years ago this thing might have taken off. Actually maybe in the 90's when Guns n Roses, Poison, and Warrant were all the rage with long hair bright clothes...etc. Sorry guys yall are about 2 decades too late.

Please kindly inform me for Embrace+ patent number. I'd like to present this in Entrepreneur class. Anybody knows the patent number, pls reply me. Thank you so much.
Get the best of iMore in in your inbox, every day!
Thank you for signing up to iMore. You will receive a verification email shortly.
There was a problem. Please refresh the page and try again.