Evasi0n jailbreak tool updated to version 1.3, now supports iOS 6.0, 6.1 and 6.1.1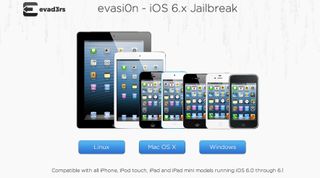 The evad3rs team have wasted no time at all in updating their hugely popular evasi0n jailbreak tool to support the just released iOS 6.1.1 firmware. The new evasi0n release, which is now up to version 1.3, fully supports iOS 6.0, 6.1 and 6.1.1. iOS 6.1.1 was released yesterday solely for iPhone 4S devices after widespread reports of poor 3G connectivity and Exchange account problems after the iOS 6.1 update.
The evad3rs team stress that if you are planning on updating to iOS 6.1.1 on your iPhone 4S and want to re-jailbreak then there is a certain way that it has to be done. They warn that doing an OTA update should be avoided and the correct way of doing it would be to make a backup of your device in iTunes and then do a full restore.
Source: evasi0n, Twitter 1,2,3
Additional resources:
Get the best of iMore in your inbox, every day!
UK editor at iMore, mobile technology lover and air conditioning design engineer.
When we get > 1 gig of memory on an I device iMight jailbreak.

running the jailbreak right now on my iPhone 5. not noticing any stability issues, or low memory issues either.

Thanks for stressing the need for a full restore and not just an update through iTunes!

I'm going to hold out as long as I can. This seems like too much of a pain.

An iTunes restore and a 10-15 jailbreak process is a "pain?" Not following you here... this was one of the easier jailbreaks I have ever done, and all is running great on my iP5! Not exactly sure why we are being told to avoid OTA iOS updates prior to jailbreaking, but it really isn't that big of a deal. I will note, my 6.1 was an OTA update and evasi0n worked fine for me.

"Full restore" = a pain
Multiple updates being provided = awesome
However
Multiple updates being necessary = a pain

For a 4S user that was already JBen, agree it's a nuisance. Overall, this JB is the easiest I've done and I've JBen all my devices since the 3G and I've owned them all. Having an update JB tool released this quickly after iOS updates is fantastic support for software that is free (unless you choose to donate as I did). There is definitely varying prices to be paid for being JBen but my current setup is extraordinarily stable and problem free. In general, they are updating the JB through Cydia and not requiring restores and redoing the JB which is generally very convenient.