Evernote for Mac picks up Split View support and more in latest update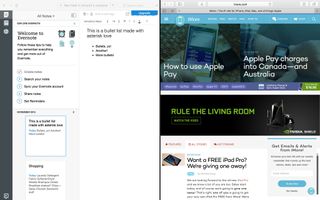 Popular note taking app Evernote has brought a pretty nice update for Mac users this evening. In the latest update, which comes in at version 6.2.1, Evernote has picked up support for Split View multitasking, new keyboard shortcuts and more. Here's the full breakdown of what's new:
We've added support for El Capitan's Split View and narrower windows.
A new sidebar message area gives you easy access to shared notes and discussions (OS X 10.10 and above).
Save time with new text-editing shortcuts.
Type an asterisk and hit space to create a bulleted list. ("* ")
Type a number then a period and hit space. Bam. You've got a numbered list. ("1. ")
Overall, this is a pretty great update that should help Evernote users be that much more productive. If you'd like to snag the latest Evernote update, be sure to hit up the Mac App Store link below.
This update was released for the direct download version of Evernote weeks ago. The two versions are exactly the same, save that the direct version gets updated far, far more often. I'm not really sure why someone would use the App Store version instead.
Thank you for signing up to iMore. You will receive a verification email shortly.
There was a problem. Please refresh the page and try again.