Fantastical 2 updated with new icon badge options, better geofence handling, and more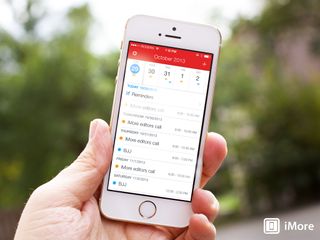 Fantastical 2, one of our favorite alternative Calendar apps for iPhone, has just been updated to version 2.0.2 and even though it's a point release that contains bug fixes, it also contains a few new features as well. Among them are new app icon badge options and better handling for location matching and search results when using geofences.
Concerning the app icon badge, Fantastical 2 now gives you another configuration to choose from. Choose the new All Overdue Reminders option if you'd like Fantastical 2 to behave the same way the default Reminders app does.
If you use geofences, you should hopefully get better search results with the 2.0.2 update as well. Other improvements in the update include tweaking the invitees section so it doesn't appear so small on the iPhone, particularly the smaller screened models.
For those of you that already purchased Fantastical 2, the update is free. If you haven't tried Fantastical 2 yet, you can hit the link to purchase it. You won't be sorry you did.
iMore senior editor from 2011 to 2015.
Woohoo! There's just something so wonderful about updates.
Now if I could only figure out how when I created a new event based on a link in an iMessage the other day Fantastical's Time Zone Support settings changed. I thought I lost all of my scheduled events! It was a close call.

I'm seeing a lot of Fantastical articles these past few days. I don't really use any calendar app (not even the stock one) but if I were to get one, it seems Fantastical is the way to go seeing how iMore only has high praises for this app. And, you can see really see the dedication of these developers in giving their users a better experience, judging by how frequently they do updates whether to fix bugs or/and add more features. Sent from the iMore App

Nothing too major for how I use it with this update but I love me some Fantastical. I'd have to say the best paid app I've personally purchased. Sent from the iMore App

I just purchased Fantastical 2 over the weekend. So far, I'm loving it. I was using Tempo for a bit. I decided to spend the dollars and see what all the accolades were about. Satisfied customer thus far. Take the plunge! Sent from the iMore App

This is great! Glad to see these updates! Sent from the iMore App

Since I have wifi only, the geofencing doesn't apply as much to me. However, I think I'll use that overdue reminders badge.
Fantastical is one of those apps which is both pretty and easy to use ( and looks good on iOS 7 home screen ). Sent from the iMore App

I've heard nothing but great things about Fantastical, I'm just hesitant to leave my Apple apps ecosystem as they all work with each other so well. As I've mentioned previously on this site, it would be amazing to have the option to change your default mail, calendar and notes apps. Sent from the iMore App

Agreed. I'd even like to replace the default camera app (for ProCamera).
When I saw a spot in the App Store for Safari, I thought this might be a possibility in the future.
... I don't like having 2 apps on my phone that basically do the same thing. At the very least if like to be able to hide default Apple apps I don't use. It'd be tidier than stowing them away in a folder.
As much as I want to use Apple apps because I feel like they would [should] provide the best experience, Fantastical is a more wonderful calendar app. Sent from the iMore App

Great app, Fantastical should be the built in calendar app and keeps getting better Sent from the iMore App

I don't see a "search" feature on Fantastica 2....is it me ??

Okay I was agnostic about the first Fantastical, so much so that I switched back to the native calendar app. Then I bought Calendar 5, which I really like. Question now is do I switch once more to F2?!

Should have been the stock Calender app Sent from the iMore App

I'd love to use it if Apple would just allow us to replace their app with this one. The only main advantage of Android devices is this annoying attitude of Cupertino. Sent from the iMore App
Get the best of iMore in in your inbox, every day!
Thank you for signing up to iMore. You will receive a verification email shortly.
There was a problem. Please refresh the page and try again.