Feed Wrangler aims to make you forget about Google Reader, make RSS easier with Smart Streams, filters, and more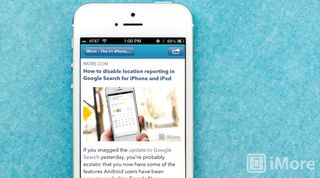 Feed Wrangler for both iPhone and iPad is the new guy on the block when it comes to RSS reader apps but that doesn't mean it lacks in quality. Complete with smart streams, Google Reader import options, and read it later integration for both Pocket and Instapaper, it may be a better option for those who don't like the more dynamic interfaces of apps like Feedly or Flipboard.
While Feed Wrangler is a free download, you'll need to subscribe to the service in order to actually use the app. This service will run you $18.99 a year which might be off putting to many users. What you're paying for, however, is sync and server-side smarts, which is what made Google Reader so fast, and now makes Feed Wrangler really fast as well. Since "free" services like Google Reader have a way of disappearing, they can ultimately be more costly in terms of time, stress. Apps that charge a fair and sustainable price could be a better alternative to some users. And at $18.99 a year, it's pennies a day.
If you decide RSS is a service worth paying for, the first thing Feed Wrangler asks you to do is import your feeds from Google Reader or add them manually. This is easy enough within the app settings, or via the website. Just be aware it may take a few minutes for your feeds to filter in.
Feed Wrangler also has deep read-later integration with both Pocket and Instapaper. In a nice touch, if I had no need feeds, Feed Wrangler gave me an instant link to my read-later service of choice. One thing I always seem to do is forget that I've saved articles for later and then I have a ton to catch up on when I do remember. This may help to me jump in and play catch up more often when there aren't any new stories available to browse.
Many Google Reader users may have categories set up but sadly, those won't import. The good news is that Feed Wrangler actually has what a lot of people may consider a better way to sift through news feeds. Smart streams allow you to enter keywords and create a stream that will filter in news that only contains those terms. For example, if you wanted to create an Apple stream, you can input keywords such as iOS, iPhone, iPad, and anything else you're interested in. Feed Wrangler will then follow that criteria and, under that stream, only feed in stories that contains those terms.
Features like search work exactly like you'd expect. Results are displayed quickly and in most cases, accurately.
The good
Simple interface that doesn't distract from actually reading
Syncs quickly and articles load almost instantly
Smart Streams are brilliant and a much better way to filter news than just regular categories
Share options including email, message, Twitter, Facebook, and App.net
The bad
No unread badge count
Convincing people to pay for RSS could be a tough sell (until Google Reader goes away).
Google Reader sync had some issues
The bottom line
Feed Wrangler is incredibly fast and for users that want a simple interface that allows them to just read content with no distractions, it may be a perfect fit. The $18.99/year subscription fee will undoubtedly be a turnoff to potential users. However, with Google Reader going away this summer, it's very possible we're going to see RSS subscriptions become a much more common option. Great sync and great server-side services aren't easy, and "you get what you pay for" is a cliché for a reason.
Either way, it will definitely be interesting to see where the RSS market goes over the next several months.If you decide to give Feed Wrangler a try, let me know what you think about the app and the service.
Free (requires in-app subscription purchase) - Download Now

(opens in new tab)
Get the best of iMore in in your inbox, every day!
iMore senior editor from 2011 to 2015.
Thanks for the review! I'm going to wait until a few weeks before gReader closure before i decide who to go with, most likely it will be whoever reeder supports which is currently feedbin.

I actually find the yearly fee refreshing. For $20 I know what I am paying for and I know there is a better chance the service will stick around.

This is also a very valid point

This was a great review. Unfortunately after google has provided this service for free, who wants to pay?

No Readability support? And why pay for RSS feeds when other apps do it just as fast? Not sure why everyone thought Google Reader was fast, but I've got a few apps that sync RSS feeds and don't use Google Reader and are fast. And free.

I'll keep this on the back-burner. What I'm thinking of doing is rolling my own, sort of. Within the past week iMore did a blog item on either Reeder or Feedly that can sync with Fever, a personal RSS system that you install yourself on a web host.

I still don't get why I need this over a free alternative. Also, it's a bit of an overstatement to imply that free services will disappear and paid don't. Although its not a service, remember sparrow? I bought that iOS and Mac app a month before they got the whole google thing left it unsupported.

I like the idea of paying for a service. At least you have the chance to expect good service. I signed up for the service several hours ago and it's having trouble importing my Google Reader feeds. I think I'll be asking for refund of my subscription and going with Feedly.

Apps which cost close to $20 _really_ ought to have a 30-day free trial. I have no objection to paying that much if an App works REALLY well. If the author has confidence that his App is worth it, let me try it out first. One can't rely totally on reviews because I have seen Apps receive high praise in a review only to look at reviewer comments on those Apps to find that overwhelmingly, the comments were negative.
Thank you for signing up to iMore. You will receive a verification email shortly.
There was a problem. Please refresh the page and try again.