Final Cut Pro X updated to turn your multi-cam iPhone videos into masterpieces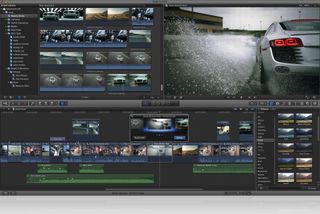 Apple has just released an update to Final Cut Pro X, their executive video editing software suite, which adds multi-camera syncing and broadcast monitoring suport. Final Cut Pro X 10.0.3 also includes enhanced XML, so it can talk with third-party plug-ins more easily. As always, there's a bunch of great audio, animation, and color correction tools in there which professionals have come to rely on.
So, okay, okay, maybe Final Cut Pro X is a little overkill for something shot on your iPhone 4S, especially with iMovie available right on the device, but if you're knee-deep in the Apple lifestyle, maybe you like adding an extra layer of polish to your mobile videos. Or if you just shot your new music video with a four iPhone setup and need that new multi-cam sync. (Hey, it happens!)
Even though Final Cut Pro X is clearly built for, well, pros, it's still interesting to see some people kit out their iPhones with all manner of video-enhancing accessories. While I can't speak much to the quality of those videos versus something done with a "real" camera, I still admire folks who try to close the gap. A full-blown version of Final Cut Pro X on iPad -- even the iPad 3 is still the stuff of legend, but I'd love to see a bunch of mobile companion apps to enhance desktop publishing. Adobe's done a lot of stuff like this, and I think a similar strategy for Apple would be a great way to keep an iPad in the workflow. Even if Apple doesn't take up the call, maybe the enhanced XML support will enable third parties to make some cool iPad companion apps for Final Cut Pro X. There are just so many separate panes and menus to keep in order when editing video, that it would be nice to shunt a few of the less vital ones to a separate display. Full press release after the jump.
Editor-at-very-large at Mobile Nations, gamer, giant.
WHAT?!? It can only sync up to 64 cameras?? This is an outrage!

Fricken Hell! Why did i waste my money on that darn 65th camera!

I like to think of it as better late than never.

Too little - doesn't restore several crucial features FCP 7 has, does not offer any complete, supported method of accessing old projects, does not support a plethora of codecs competitors do, has practically non-existent support for shared projects.
Too late - no roadmap for any features. No "when" not even an "if.". That's fine when you are selling a phone to a consumer for 18 months; its inexcusable when selling to a business that has to plan its own paths.

Too little, part 2 - While I realize poor Apple only had $60 billion in the bank back then, laying off 40 members of the Final Cut team hardly speaks to commitment to the product.
https://twitter.com/petewarden/status/9014940274

i think it depends on the subject. lol. Like gunshot wounds. Or Herpes. I think they are better "never" then just having them "late." lol.

How does Final Cut Pro X compare to Adobe's Premiere Pro in CSS5.5? Thanks!

You would find a more thorough comparison at sites like ArsTechnica or TheVerge (geek persepective) or Videomaker (prosumer video users) rather than here. Bottom line -- if you have a need for some of the features Apple removed from FC7-FCX, its a non-starter. If you are making long term business investments in equipment and workflow, you might be more comfortable with Adobe or Avid -- companies whose very survival depends on these tools, and who therefore tend to be a little more in-tune, than with Apple, for whom FC is a statistical blip on their books, and who has repeatedly shown they are willing to work against their current customer base if it conflicts with their vision of where things should go.
Otherwise, FCX, Permiere, and Avid MC, for that matter) all have some good qualities, and you should probably test drive them and cut a small project or two and see which one fits your needs and style of work better.

Thanks, Dev, for taking the time to provide the feedback and recommendations! I'll check out those sites. I actually already have PPro 5.5, but was just wondering how these programs compare.

The part "Final Cut Pro X" should be edited. It is very very factually wrong. Final Cut Pro X is made for people that use iMovie but want to be able to say they use a program that sounds more professional. Final Cut X is a MAJOR downgrade from FCP 7. Incredibly disappointed with Apple on this one.

Hiya very cool site!! Man .. Excellent .. Amazing .. I will bookmark your site and take the feeds additionally?I'm satisfied to seek out numerous useful information right here within the publish, we want work out extra techniques on this regard, thank you for sharing. . . . . .

Pretty great post. I just stumbled upon your weblog and wished to mention that I have truly loved browsing your weblog posts. In any case I will be subscribing for your feed and I hope you write once more very soon!
Thank you for signing up to iMore. You will receive a verification email shortly.
There was a problem. Please refresh the page and try again.