Pre-ordered your new iPhone? Get the protection it deserves with Spigen!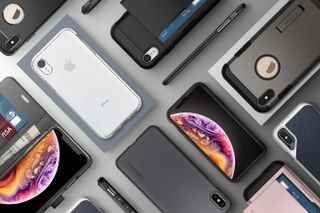 Apple has officially unveiled the much-anticipated new iPhones that we've all been restlessly waiting for. The announced iPhone Xs, iPhone Xs Max, and iPhone Xr highlights impressive features packed into powerful and aesthetically pleasing flagships in three different sizes. With beautiful edge to edge OLED displays, equipped with a TrueDepth camera system, exciting new colors and a blazing fast A12 processor, all that innovation comes with an expensive investment. Whether you're looking for utility, style, or overall protection Spigen has just what you need to keep your iPhone safe.
Keep it safe and secure
[gallery:flat]
[/gallery]
Tough Armor ( iPhone Xs | iPhone Xs Max | iPhone Xc )
Not a fan of bulkier "rugged" cases? The Tough Armor might be the perfect match with its slim but tough protection. The Tough Armor is Spigen's most protective case that has you covered for everyday protection. With the added functionality of a built-in kickstand, just flip it open to watch a video on the go. Now that the iPhones are encased in a premium all-glass design, an unlucky tumble will be an expensive repair. This tough case will bring you peace of mind that your new iPhone will be safe and secure.
Slim Armor CS ( iPhone Xs | iPhone Xs Max | iPhone Xc )
Carrying around a wallet, keys, and a phone might be too much of a hassle for some. For some carrying only what you truly need is essential, and Spigen has the perfect solution with the Slim Armor CS. The Slim Armor CS is a wallet case with a convenient sliding compartment that stores up to two cards and little cash. Ditch the cumbersome wallet for the convenience and protection of a sturdy and functional case.
Sleek and modern
[gallery:flat]
[/gallery]
Rugged Armor ( iPhone Xs | iPhone Xs Max | iPhone Xc )
Spigen's Rugged Armor has always been a fan favorite because of its characteristic style and reliability. The nearly perfect case has been upgraded with a scratch-resistant matte finish, adding improved grip to the iPhone and highlighted with sophisticated carbon fiber accents. Packed into a single layer, the Rugged Armor remains lightweight and slips easily into your pocket. Look no further than the Rugged Armor if slimness is priority and see why it's the go to case.
Liquid Air ( iPhone Xs | iPhone Xs Max | iPhone Xc )
Sometimes a simple and sleek case is all you need. The Liquid Air is that simple case that offers an essential amount of protection. With a massive 6.5 inch display, the new iPhone Xs Max can be difficult to hold in one hand. The flexible case has Spigen's signature Air Cushion Technology in each corner to protect against the occasional drops and a geometrical pattern that provides additional grip and ease of mind. Protecting without the bulk, the Liquid Air is a classy case that matches any style.
Neo Hybrid ( iPhone Xs | iPhone Xs Max | iPhone Xc )
Look no further than the Spigen Neo Hybrid for a versatile case, blending stylish designs and a modern look. After complete overhaul of the Neo Hybrid, the sleek case has transformed into a stylish case that is perfect for all occasions. The new herringbone pattern and improved bumper frame offers enhanced protection and keeps the greasy fingerprints at bay. The Neo Hybrid combines a durable bumper frame and a flexible TPU body to make sure that the new sizable iPhone Xs Max with its 6.5-inch screen is comfortable in your hands.
Preserving the original look
Image 1 of 1
Ultra Hybrid ( iPhone Xs | iPhone Xs Max | iPhone Xc )
Wrap the new iPhones with Spigen's best-selling Ultra Hybrid and keep your new device shining. After Apple has announced exciting new colors for the iPhone, look forward to showing off the device with transparent protection. With a simple and sleek design, the hybrid structure maintains a slim frame that works flawlessly with wireless charging. Preserve the original look of the new iPhones and add personality of your own by inserting a photo or special memory behind the case.
Liquid Crystal ( iPhone Xs | iPhone Xs Max | iPhone Xc )
Keep the iPhone looking brand new with the simple and clear Liquid Crystal. Just snap on the flexible case and preserving the original look of the phone through its transparent clarity with no additional bulk to the iPhone Xs. The case comes with a coating that seems to improve grip for those with clumsy hands. With slightly raised edges and corners, this prevents the OLED display from scratches and the dual-cameras protected. Choose simple but slim protection with the Liquid Crystal.
Remarkably thin
Thin Fit ( iPhone Xs | iPhone Xs Max | iPhone Xc )
Narrow down your search for a minimal case with the Thin Fit. For those that dislike any kind of bulk on their iPhone, the Thin Fit might be the perfect choice with its slimness. Minimal and light, the case snaps on easily and slips into any pocket or bag. Be warned, the case only offers the bare minimum in protection and defends only against scratches and dings. For the minimalist out there, keep the iPhone lightweight with the Thin Fit.
Thin Fit 360 ( iPhone Xs | iPhone Xs Max | iPhone Xc )
For those that are seeking more overall protection than the Thin Fit, the Thin Fit 360 keeps the original look and feel of the new iPhone with 360° all around scratch coverage. The case comes included with a custom-fit screen protector that protects the screen from unwanted and accidental contact. With a minimal and rigid full-coverage frame, the new iPhone will stay lightweight to enjoy full all-around coverage with the Thin Fit 360.
Perfect Fit
Glas.tR EZ Fit ( iPhone Xs | iPhone Xs Max | iPhone Xc )
Less time, guaranteed alignment, and the easiest install ever. Spigen's newest Glas.tR EZ Fit comes with an innovative tray designed to eliminate time wasted chasing that perfect alignment of your screen protector. Simply place the tray over the phone, press the center to install and watch the glass adhere in place. Shield the screen with 9H hardness Glas.tR EZ Fit with the latest and easiest technology.
Master your iPhone in minutes
iMore offers spot-on advice and guidance from our team of experts, with decades of Apple device experience to lean on. Learn more with iMore!