First look at the new AOL Reader beta, a surprisingly pleasing way to get your RSS fix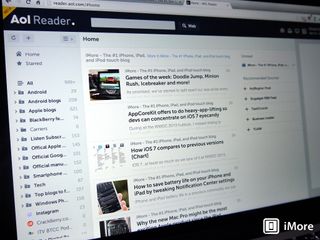 Google Reader will come to an end on July 1, one week from now. We're not that short on options to continue receiving our RSS fix, but one that quietly emerged in recent days is AOL Reader. Currently in beta form, and web only, access to the new service is now available. You're told to log in and request an invite, but it seems as though verifying your email address is about all you need to do to get in and take a look. So, we did.
AOL Reader is currently only available on the web, though an iOS application is promised for the future. You can import your current subscriptions from Google Reader, though you'll need to export the data first via Google Takeout (something we'd highly recommend doing anyway before July 1.) Google exports a series of files, but the one you'll need is the one titled as "subscriptions.xml." Should you have any issues importing this to AOL Reader, try changing the extension from .xml to .opml, and you should be good to go.
While functional, Google Reader's web interface always felt somewhat basic, and a little chaotic. AOL Reader takes a similar form factor, but with a much prettier design. It's actually a surprisingly pleasing way to read your RSS feeds. There's a selection of viewing options, including list, card, pane and full views, a dark and light theme to customize the appearance to your own personal tastes and a choice of different font sizes. AOL Reader is much, much easier on the eye than Google Reader.
An interesting touch, perhaps to be appreciated more by the power users, is a bunch of keyboard shortcuts. Pretty much full navigation of AOL Reader can take place without touching the mouse, and to help us get started there's a handy guide as to which keys do what.
We're still only scratching the surface, but AOL Reader is a surprisingly good product. Having come from quite literally nowhere, what we have is a nice looking, perfectly functional, free RSS client. It may be late to the party, especially since the Feedly train continues to roll, but if you're undecided on where to go after Google shuts down Reader, AOL is worth a look. And of course, we still haven't seen the accompanying iOS apps yet. But this is a good start. Go ahead and give it a try, and let us know what you think!
Get the best of iMore in your inbox, every day!
A roundup of available options would be good. I'm currently using Feedly, but knowing what's out there would be helpful.

We'll be taking care of that this week :) Stay tuned!

Are there plans to make an SDK of the service available to developers? That'd be an important piece of info to include, whether or not it'll sync with 3rd party RSS apps.

Sure are, AOL will be making an API available to devs in the same way as Feedly. Sadly no indication of when that'll happen, or when we'll see the iOS apps.

That AOL banner at the top is bothersome to me. Feedly is my choice right now until Reeder gets of its @$$ and updates.

I don't mean to get all preachy, but I really can't understand why anyone would entrust their feeds and news reading to the "cloud" ever again. I used Google Reader too as a sync engine for Reeder on iOS and OS X. You would think that of all the cloud providers out there, one would be able to "trust" Google given their massive size and market share in just about everything. Yet their cloud solution is being shut down—so why on earth would I trust Feedly, AOL, or anyone else to be the same sync engine? Nothing would stop them from doing exactly what Google did. In the end I'm moving off the cloud as quickly as I can. There's plenty of ways to create your own cloud. For feeds I'm using Fever. Sure you need to pay a one-time fee for Fever and have your own way to install the PHP package but I'd rather pay for something I control rather than put my faith in someone else's cloud. Fever is supported as a sync engine by Reeder for iPhone and the web interface works great on the desktop and reasonably well on iPad. I hope iMore includes Fever in their rundown. I think many readers would be technically savvy enough to use and appreciate Fever as an alternative to other cloud services.

I've been putting AOL reader through its paces the last couple of days and I have to say it's hands-down my favorite reader. I never thought I'd say this but I actually like AOL's reader more than Google's. This coming from a guy who consumes *all* of his internet content via RSS feeds. So this is an interesting twist... for a few years now Google Reader has been "the internet" as I was concerned. It's the page I check morning noon and night, it's the first and last webpage I load when I sit down at, or leave, my desk. Now AOL is taking over that role. Which means it's 2013 and AOL just found a way to become my internet portal... sneaky bastards.