How to export and transfer your Google Reader feeds to another RSS service on iPhone and iPad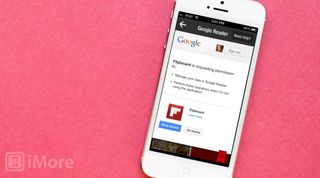 Google surprised all of us yesterday with the news that Google Reader is getting canned this summer. That means if you use Google Reader for your RSS news feeds, you'll need to export your feeds to a new service before the service shuts down.
Luckily, if you've got an iPhone or iPad, the task should be pretty easy. Here's a few options for transferring your RSS feeds to a new service.
How to export your RSS feeds from Google Reader
First you'll need to log in to your Google account through the Google Takeout Page - Link
Click on the Create Archive option towards the bottom.
Google will begin to archive a copy of your settings in your Google account. This may take some time.
Once it's done, click on the Download button.
Unzip the file and navigate to emailname-takeout > Reader > subscriptions.xml.
Save the subscriptions.xml file to an easy to access place like your desktop.
Move on to the import portion.
How to import your RSS feeds from Google Reader
All RSS apps are a bit different on the desktop but the general is that somewhere in settings or in a menu, you should have an import button.
Launch the desktop RSS client you've chosen to use.
Find the Import option.
Navigate to the place where you saved your subscriptions.xml file that we saved in the how to export section.
Choose it and the client should automatically import all of your feeds.
How to import your Google Reader feeds to Flipboard for iPhone and iPad
Flipboard is one of the most popular RSS apps for both iPhone and iPad. It not only has a beautiful interface, but has Google Reader support built right in. This means once you import your Google Reader feeds, you're done. Best of all Flipboard is free.
Launch the Flipboard app from the Home screen of your iPhone or iPad.
Create a free Flipboard account if you don't have one already.
Tap the Search icon.
You'll now see a screen that lets you search for feeds and topics or link accounts. Tap on the Google Reader option.
Now sign into your Google Reader account and authorize Flipboard.
Flipboard will import all your Google Reader RSS feeds automatically. That's all you have to do. Going forward, you can just add new feeds to your Flipboard account instead of Google Reader.
Other RSS app suggestions
There are lots of RSS feed apps available in the App Store. Whether you just want to make a clean break and import your feeds over again or want to find a desktop client with a mobile client attached, here are some iOS and Mac RSS apps that aren't dependent upon Google Reader.
These are just a few of our recommendations but there are, of course, tons more in both the iOS App Store and Mac App Store. Let us know your suggestions in the comments!
iMore senior editor from 2011 to 2015.
My suggestion for the iPad is Mr. Reader: https://itunes.apple.com/nl/app/mr.-reader/id412874834?l=en&mt=8&at=10l3Vy

Yes but Mr.Reader clearly states that it requires a Google Reader account to work. Ie no google reader no Mr. Reader or lots of other apps that simple regurgitate what you have set up on Google.

Reeder not dependent of Google Reader to load feeds? Are you really sure about this???

I think that was a mistake. I have yet to figure out how to import and / or subscribe to feeds via Reeder for iOS without needing my Google account information.

You can manually add feeds to Reeder. That updated happened a long time ago but it's one by one.
There isn't currently an import option but with this news i am pretty sure it'll come.

Good Morning, Allyson. For the life of me, I cannot figure out how to manually add a subscription feed into my Reeder app (iOS) without first having to login to my Google account. I know that once I'm logged in, I can manually add & remove feeds without a problem because I've been doing that for a while. If you don't mind, please provide assistance in this matter. Thank you.

The developer of reeder has basically said reeder isn't going anywhere so I assume an easy implementation is coming. Hopefully Mr Reader will make a tweak too

You can even move from Google Reader on your phone or tablet without installing an actual app. Simply use the great RSS reader Skimr at http://www.skimr.co

Thank god for this review. I was getting worried that Google Reader was being killed and that it might cause problems for myself down the road if I were to ever go back to being an RSS fanatic. I don't like newstand because it seems to lack icloud support; however, Reeder seems to be amazing and I'm definitely going to try it out.

I don't know where I'd be if it weren't for this tutorial. It was very helpful. Shame to see Reader going down though...

see that's the thing I need rss readers that don't depend on google reader.
feedly is dependent on reader at least for the time being, and i love that one.

I can't find an import option for Reeder. :(

There isn't one at the moment...
Some clients already have them and some don't.

AFAIK Reeder have only said that their app won't die with Google Reader. Whether that means that they expect to survive on Fever and Readability alone or whether they'll do their own RSS thing is unclear. Personally I hope they will continue to support RSS because I hate "magazine style" RSS readers like Flipboard and Feedly. As a journalist I have to read dozens of news feeds every day, so a simple list view I can quickly scroll through and only open/save relevant articles is much more convenient. On my iPhone and iPad I also want to be able to cache my feeds for offline reading. Caffeinated for Mac and Mr. Reader for iPad are working on Google Reader replacement solutions but I'd like to synchronise my feeds between all my devices (iPhone, iPad and Mac - and ideally also my work PC).

As others have pointed out, the part about Reeder is not correct at the moment and should be changed. However, the odds are looking good that when July 1 rolls around there will be options for an RSS back end that apps like Reeder can use. The options that are available today aren't the end of the story by any means. On the one hand, this has only just been announced and developers have work they need to do...but on the other hand it's been pretty clear for several months now that Google Reader was going to be eliminated sooner or later, and developers have been developing contingency plans. People shouldn't feel -- or be made to feel -- that this requires an instant decision right away.

I guess this would be my project for the weekend. Good info!

does apple have its own rss reading app?

I have FeddlerPro on the iPhone and the iPad. For me it is the best, I use it every night before bed. It's a shame that only uses Google Reader, as it is with the recommended "Reeder". I hope that both or one of the two, can solve the problem.

Excellent article. I think that before we all rush to jump off our favorite RSS apps, we should remember that we do have until July. I like the clean UI of NetNewsWire. I also like the easy way to keep all in sync and to mark as read so that I may read some of the postings and return later without having old articles presented again. I like Flipboard, but it's weak in this regard. Assuming that the developers got no advance notice from Google, it's fair to expect that several developers are now looking at how to keep their apps relevant.

Why is Google all of a sudden dropping many of their applications? Even in their WEB presence for iGoogle they have a small notice that it is going away in Nov. 2013 so you can't customize your search engine with gadgets or themes and such. There will just be a plain looking Google search engine and now it seems they are doing the same with many Smartphone Platform apps. I wonder if they plan to replace these with something else or what brings this decision?

I already use Reeder on all devices so glad to hear I won't need a separate service. Although, I did jump ship to Feedly and gotta say the UI is fun to interact with.

I've jumped onto Feedly. It seems to be working well on my pc and iPhone 4.

Any suggestions for a Windows Desktop with iOS app solution? (There are many, MANY Windows users with iDevices...)

Didn't Pulse have initial support for Google Reader, but then they dropped it? I hadn't used it in a while and now that I got it reinstalled, I don't see the option for it. Abandoning early, eh? Feedly and Mr. Reader seem like good alternatives.

Pulse is offering RSS import for Google Reader users again. http://blog.pulse.me/post/45423575154/not-ready-to-say-goodbye-import-yo...

Thanks. I did this to get my reader feeds.

I'm trying out both Flipboard and Feedly. My question is, once you sign into these apps with your GReader info, and it pulls your feeds in, will they automatically keep those feeds after 7/1?

you are right john, the article is inaccurate, you can not "IMPORT" feeds, when google reader account is remove the feeds will be remove with it. Been searching everywhere, look like there isn't an easy solution. Google shafted us on this one

This is a good article, helped a lot.

Great post thanks for sharing this

I use Simple RSS on my iPhone 5 which is NOT dependent on Google Reader, but DOES import all G Reader feeds all at once and WILL continue to work after July 1! On top of that it also gives PUSH notifications! How many other RSS readers provide PUSH? I haven't found any... Kudos to the developers of Simple RSS! Flipboard is my preferred iPad RSS app as it also reads FaceBook, Instagram, Twitter...