First look at the Sony Cyber-shot QX10 and the iPhone 5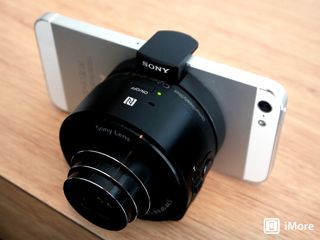 I'm on location in Berlin this week at IFA 2013 – primarily helping out the guys at Android Central – but Sony dropped a new product in their press conference that bears interest to iPhone owners as well as those carrying an Android phone. After weeks of leaked information, the Cyber-shot QX10 and QX100 were formally introduced to the world as a camera attachment for your smartphone. Well, a camera attachment for your Android or iOS smartphone, at least. I've managed to get hold of the less expensive model, the QX10, to spend some quality time with it. I've had it less than 24 hours, but I've been using it all day to try and get a feel for it, so here's some early thoughts.
Compared to the iPhone 5, it's still quite large. Wherever you position it there's not much room either side to actually grip the combined package.
FYI, I found attaching it slightly off center towards the iPhone 5 camera worked well, mainly because the shutter button in the companion app is on the right of the display. And I'm right handed, so this felt more comfortable.
Speaking of the companion app; it's pretty janky. The camera connects using WiFi Direct, and while it's pretty good most of the time, don't be moving it around too much if you don't want to have to wait for it to catch back up and show you what you want to look at. There's lag too when you hit the shutter button in the app to it actually taking a photo.
As a piece of hardware, the QX10 isn't bad. If you've ever held a Sony Cyber-shot camera, you'll feel at home with this.
It adds weight to the iPhone 5 obviously, but it's not as overpowering as I first thought it might be. Once you get a comfortable grip that you're happy with, it's not that different to using a compact point-and-shoot camera.
The QX10 is basically a point-and-shoot class camera, and the images it produces are in line with that (though a trade show isn't by any means the best place to test this.) But having access to a 10x optical zoom on your phone, and having those images saved to your camera roll is pretty nice.
Lack of flash isn't the PITA I first thought it would be. You're not going to be taking night time photos with it, but I can live with that.
Cross-platform support may only be Android and iOS, but that's a pretty good start.
That's literally just a few quick thoughts based on a short amount of hands on time with the QX10. There's going to be a lot of folks out there that will be sceptical, I get that. But I've been running around the halls of the Messe Berlin with this thing most of today, and honestly, I've had a blast with it. My regular – and much larger – camera has stayed stowed in my gear bag, and I've been shooting like crazy with the QX10. I've even used it for a hero image in one of the press conferences over on Android Central.
It isn't perfect, there's stuff I don't like. But, it's a new idea, and a new idea that has my attention. I'll be spending more time with it when I get home from Berlin and will get to a proper review when things aren't so crazy, but I quite like it so far. More so, it gets me really excited for the QX100 which has substantially better optics, supposedly on par with the Sony RX100.
And, because it's a camera, I had to shoot a few quick and dirty images from the show floor to see what was what. All that I've done is crop and resize the images to fit the iMore web template, no editing. Scroll down a little further to see a few of those, and I'll be back with a bunch more come review time. What do you think though? Is this a product you could get behind?
Image 1 of 6
Basically the phone becomes a viewfinder for the camera puck? And stores pictures? meh.

What else would the phone do? It's a WiFi enabled camera that makes use of something you take pretty much everywhere with you. You don't have to use it with a phone, but your pictures will probably suck more.

Mine won't. IMO, its a lot easier just to use my regular camera, and then read the SD card using the camera connection kit. I'm probably in the minority though. Saving stuff to my camera roll is a plus for sure, but controlling the camera with the phone seems like an added layer of complexity that only adds shutter lag, EVF delay. The unwieldiness of the whole thing takes away from any benefit too. If its going to be that big, I'd rather just use my Canon S90 or my dSLR.

Nice solution... except the iPhone doesnt take the Camera Connection Kit. Anyway, this is clearly a targeted product and based on the latest articles about it the quality matches the RX100 (which I own and love) so it's definitely an interesting idea.

Another piece of garbage product released from Sony. They haven't made anything worthwhile since the Walkman in the 80's. Surprised they are still in business. Thanks for the review though Richard. I appreciate the iMore site and reviews.

Discman, playstation (1-3, we'll see about 4), trinitron TV's, the list goes on.