Fitbit Alta FAQ: Everything you need to know!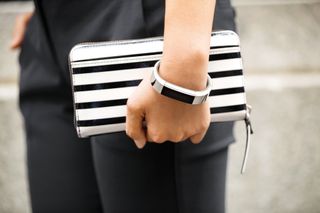 Fitbit's new Alta (opens in new tab) is arguably the most attractive model in the Fitbit lineup. It has a slim design that fashion-conscious buyers will appreciate without sacrificing the tracker in fitness tracker.
So, what should you know about the Alta to decide whether it is the right fitness tracker for you?
See at Fitbit (opens in new tab)
Does the Alta have a display?
The Alta has a rectangular OLED tap display that can be set to vertical or horizontal orientation in the Fitbit app. Also, there are different clock faces you can choose from — one even has a flower.
Does it track steps?
Of course! It's a Fitbit! In fact, Alta has a three-axis accelerometer and memory that stores five different types of motion statistics. It will also tell you how far you've traveled, how many calories you've burned, and how many active minutes you've earned.
And workouts, too?
Like the Fitbit Charge HR, the Alta comes with SmartTrack, which automatically recognizes certain types of exercises and auto-logs them in the Fitbit app, so that you don't have to worry about it.
Walking: Longer than 10 minutes
Running: Longer than 10 minutes
Outdoor Bike: Longer than 10 minutes
Elliptical: Longer than 10 minutes
Sport: Longer than 10 minutes
Aerobic Workout: Longer than 10 minutes
The Fitbit app gives more details about what each of the categories mean. For example, sport is any high-movement activity such as tennis, basketball, and soccer.
If you know how to use the Fitbit app, you can manage all of your activities and much more.
Is it customizable?
Why, yes it is. You can get different styles — from a supple leather band in either blush pink or graphite, to a shiny stainless steel bracelet. Or you can get the classic herringbone pattern elastomer band in another color.
Does it do notifications?
Alta displays smartphone alerts: calls, texts, and calendar alerts right on your wrist. Just tap the screen to cycle through them. You can manage which notification types you want to see in the Fitbit app.
Does it track sleep?
The Alta has a sleep monitor that tracks how many hours you sleep, how many times you're restless and how many times you wake up. This is quite useful for measuring not only how much sleep you're getting, but the quality of that sleep as well.
How about alarms?
You betcha! Alta comes with alarms, even the silent ones that send a little tingle through your wrist to gently wake you from your (hopefully) pleasant dreams.
Does it remind you to stay active?
The all-new Reminders to Move feature does! It gives you a gentle nudge in the form of a vibration and a message on the screen to get up and walk around. The goal is to get 250 or more steps every hour.
Interestingly, the Alta is the only Fitbit to date that has this function. It's really helpful in pushing you to be more active throughout the day, and important part in health and weight maintenance.
Bottom-line it for me!
The Fitbit Alta (opens in new tab) is a sweet-looking fitness tracker that gives you form and function all in one nice package.
Seriously, you could wear it all day and carry on wearing it out for a night out on the town. Its bracelet-like design would not look out of place on your wrist at all.
It is also the only Fitbit tracker that comes with the new Reminders to Move feature, a really nice touch for people who want to get healthier.
Want even more information about the Fitbit Alta? Get the latest details and news over here.
See at Fitbit (opens in new tab)
Fitbit
○ Fitbit Buyers Guide
○ Fitbit Users Guide
○ The Best Fitbit to Buy
○ Fitbit News
○ Fitbit Forums
○ Buy on Amazon (opens in new tab)

Get the best of iMore in your inbox, every day!
Girl gamer, bookish sort, sci-fi and fantasy lover and writer. Now creating helpful content for Mobile Nations.
I've had my Alta for about 3 weeks now. I switched over from a Garmin Vivosmart mostly because my family all have other Fitbit models and I wanted to participate in the community challenge aspect of the app. I loved my Vivosmart, so was a little worried about making the switch. Mostly it's gone well. I like the Fitbit app. Syncing has gone well and all the features are great. It does everything i need it to do and it's been fun being part of the Fitbit online community. There are 3 significant downsides I've found with the Alta though. The first has to do with the display. In order to read the display, you have to tap the edge twice to wake it up and then tap once to scoll through all the options. The tap twice to wake only works about 30% of the time. Usually, you have to hit it several times to get it to wake. Once awake, the single taps work with better frequency. This tap to wake system on the Vivosmart never failed to work. On the Alta, it's a struggle. The second issue is that the Alta isn't waterproof. It's water resistant, but they tell you to avoid getting it wet if possible. I'm not looking to go diving with it on, but being able to shower with it would be nice. Taking it off/on when showering would be just a minor annoyance except for issue #3- the band sucks. It looks good, but it has an attachment mechanism where you have to line up two tags and push them through holes in the band. Getting the band as tight as you want and engaging the tabs is very difficult one handed. I thought it was just because the band was new and tight, but after 3 weeks it is still difficult to do. The Vivosmart had a similar system that was easy to engage. To make things worse, Fitbit doesn't include a slide on the band to help hold it shut. The edge is constantly catching on things, pulling open and the fitbit falls off. Why they just couldn't put a buckle on it is beyond comprehension. Overall it's a good product, but needs more refinement. If it wasn't for the excellent app and community, I'd probably head back to the Vivosmart.

I have also had my Alta for 3 weeks or so. I agree with everything mjd1969 said except the tap to wake issues. If you tap just above where the band meets the module it will wake every time. The lack of water proofing drives me nuts and so does the crappy band fastening mechanism. Fitbit has the best app by far and I have many friends that use it so the gamification makes it fun. The app is the main reason I bought the Alta and have owned 3 other fitbits over the years. I just wish Fitbit would allow sharing to Apple Health. It seems really stupid that they don't. Overall the Alta is a good product but has a lot of room for improvement. I will keep wearing it until I loose it which is bound to happen. :-)

I should also add that it is kind of crazy that fitbit only shows phone, text, and calendar notifications while ignoring the rest of the iOS notifications. That's why I have a Apple Watch on my left wrist and the Alta on my right. :-)

I had the Alta hoping that I could save some bucks on the Apple Watch but there is just no replacement for it as I found out. It was a nice device and the price was excellent however my Apple watch was what I needed.