Fitbit Force is a new wearable fitness tracker, with a hint of a watch for good measure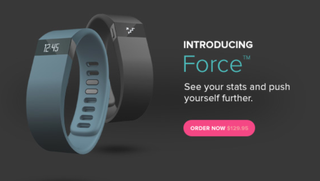 Fitbit needs little introduction to anyone familiar with fitness trackers, and today we're introduced to the Force, the latest wearable from the company. It looks a lot like the Flex, Fitbit's first efforts at a wristband tracker, but the Force adds a small LED display, and some additional features that comes with it.
The first of which is telling the time. Yes, the Fitbit Force is also a watch. But don't call it a smartwatch, not really, though it will be able to notify you of phone calls in the future on some iOS 7 devices.. The Force is still firmly aimed at the fitness market, and the LED display's primary objective is to keep you updated real-time of your stats.
The Force also tracks your sleep, and in a nice touch – for your significant other especially – it comes with "Silent Wake technology," which is essentially a vibrating alarm to wake you up without disturbing anyone else. As with previous Fitbit devices, the Force will hook into your iPhone and the Fitbit app, from iPhone 4s and up. It'll also be compatible with the current generation iPod touch, iPad mini, and iPad 3 and above.
The Fitbit Force will cost you $129.99, and will ship in 3-4 weeks. Orders are being accepted now at the link below.
$129.99 - Buy Now

(opens in new tab)
Fitbit
○ Fitbit Buyers Guide
○ Fitbit Users Guide
○ The Best Fitbit to Buy
○ Fitbit News
○ Fitbit Forums
○ Buy on Amazon (opens in new tab)

I assume this doesn't make use of the M7, that's unfortunate.

Why? It would only require a software update.

Why would the Fitbit use the M7 for anything? The wristband is what tracks your movements, exercise, sleep etc. It syncs to your iPhone and the Fitbit app to record the information. The M7 is for something like Argus or Strava. Apps where you're using the phone to track the information, not just record it into an app as Fitbit does.

FINALLY, it's the One in bracelet form. Oh well, Im not buying another Fitbit this year.

I have an ultra that no longer holds much of a charge. Was tempted to pick up a zip, liked the flex, wanted a little of both. This seems to be that. But I'll wait a couple more weeks, see if there is "one more thing..." this year. If not, this May end up my bridge device until a proper iWatch is announced. Sent from the iMore App
Thank you for signing up to iMore. You will receive a verification email shortly.
There was a problem. Please refresh the page and try again.