Fitbit Ionic vs. Fitbit Blaze: Which fitness watch is best for you?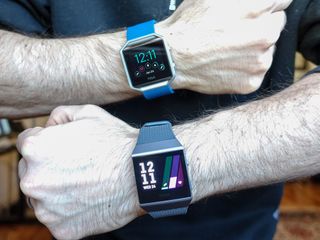 I am a firm believer in the notion that you get what you pay for. The category of fitness trackers has enjoyed (or suffered from, depending on how you look at it) a race to the bottom, making it easier and cheaper to get something that wraps around a wrist or ankle and tracks steps. If that's all you want, a Xiaomi Mi Band 2 does the job for $27. End of story.
But if you want something a bit more robust, and are willing to pay for it, Fitbit's high-end offerings are excellent choices. Specifically, the $199 Blaze and $299 Ionic are fitness trackers with smartwatch intelligence, but the latter is well worth the extra money. Here's why.
Blaze & Ionic A quick history
Before we compare the two products, let's have a quick history lesson. Fitbit has been releasing trackers since 2009, and each year has iterated on the core concept, racking up millions of sales and considerable market share in the process. But when Google debuted Android Wear and Apple the Apple Watch in 2014, Fitbit knew the future was in plastics smart wearables, and formulated a plan to get a product to market as soon as possible.
The first stab at the growing smart wearables segment was the Surge, which was aimed at serious athletes (read: not me). It was big and bulky and monochrome and didn't do a whole lot that was "smart", but its GPS and coaching features set it apart from the company's existing products, and its seven to 10-day battery life was unparalleled in the industry.
But Fitbit needed something to compete more directly with the Apple Watch, so it released the Blaze in early 2016. This was prior to the company's acquisition of Pebble, Vector, and Coin, three companies that would inform the hardware and software experience on the Ionic, so the Blaze lacked a number of features, like app support, that other smartwatch platforms had.
By the time the Ionic was released in late 2017, all the pieces were in place for Fitbit to better attend to the smartwatch market, but in the intervening year and a half, the Blaze received a number of software updates to improve its own intelligence.
Which leaves us here 👇.
Blaze & Ionic How they look
Both the Blaze and Ionic are angular and boxy, with rectangular screens that go against the grain of Apple's more organic-looking, rounded Watch and the growing number of fully-rounded Android Wear devices. But the Ionic looks nicer, with a slight curve to its scratch-resistant glass display and a higher-resolution LCD panel. It's also fully metal, whereas the cheaper Blaze has a smaller plastic shell that snaps into an outer metal "cage."
Each tracker has the same combination of buttons — two on the right, and one on the left — along with a touchscreen for tapping out selections, and a green heart rate sensor underneath to constantly track cardiovascular changes.
The Ionic is nicer-looking and more solid, but the two are definitely cut from the same proverbial cloth. Indeed, when placed next to one another, it's clear the Ionic's design was informed by feedback for the Blaze; the more logical charging and band replacement solutions were direct results of the Blaze's clumsy decisions.
One important thing to note: both the Blaze and Ionic technically have replaceable bands, but if you're looking to get fancy — leather and metal and such — options for the Blaze end up being more expensive because you're also purchasing the metal frame along with any leather or metal band. Because the Ionic is itself comprised of a metal casing, you're online buying the replaceable bands, which at $60 for leather are cheaper than the Blaze's $100 leather options. Keep that in mind if you are put off by the Ionic's extra upfront cost and intend to accessorize it.
Blaze & Ionic What they can do
At its core, the Ionic is just a fancier Blaze. It can do everything the older tracker can — count steps, measure sleep quality, provide fitness coaching, track workouts, and receive smartphone notifications — but a considerable amount it can't, as well.
For starters, the Ionic has an integrated GPS and a nominal amount of storage for music, so it doesn't require a phone to do the heavy lifting while on a run. It's water-resistant up to 50 meters, which the Blaze is not, so you can take the Ionic swimming, not just out in the rain. The coaching features, while similar, are more robust, with on-screen videos and clearer instructions — owed to the better and higher-resolution touch screen — and the company promises additional content with its Ionic-exclusive Fitbit Coach platform.
Then there's the app store. While still growing, and quite anemic at the time of writing, there are solutions you'll just never find on the Blaze. You can store a Starbucks card or use a third-party app to control Hue lights or read headlines from the New York Times. Strava's app lets cyclists bypass Fitbit's limited integration entirely, and increasingly developers from Fitbit-acquired Pebble are turning to the Ionic as a potential platform. There's also a growing collection of custom watch faces that is sure to appease anyone coming from an Apple Watch or Android Wear.
Finally, Fitbit's acquisition of Coin has led to Fitbit Pay, which stores credit cards on the device and makes payments, similar to Apple Pay, through an integrated NFC antenna. Compared to the Apple Watch the UI is rudimentary at best, but it's still better than nothing.
Who will be happy with the Blaze?
The Fitbit Blaze is a great product, and decent value for $200 (though it's easy to find it cheaper). If all you want is to track steps and workouts and occasionally receive app notifications, the Blaze is great for that. It's comfortable and relatively attractive, and the five-day battery life is wonderful.
It's not quite a smartwatch, but it does enough — and will continue to receive updates to enable more features — to pass for one.
Blaze comes in a number of interesting and exciting color combinations, including optional $230 special editions like gunmetal stainless steel or 22k gold-plated.
Who will be happy with the Ionic?
To my eyes, the Ionic is the obvious choice here. It does so much more, and looks better doing it. It has an integrated GPS, a better screen, and a growing app store that is starting to sprout some great ideas.
More importantly, its larger, curved display is more comfortable to wear for longer periods, and the replacement bands are actually cheaper.
It also comes in a "Slate Blue / Burnt Orange" color combination that I just love.
Your turn
Between the Ionic and the Blaze, which would you choose? Let us know in the comments below!
Fitbit
○ Fitbit Buyers Guide
○ Fitbit Users Guide
○ The Best Fitbit to Buy
○ Fitbit News
○ Fitbit Forums
○ Buy on Amazon

Master your iPhone in minutes
iMore offers spot-on advice and guidance from our team of experts, with decades of Apple device experience to lean on. Learn more with iMore!
Daniel Bader is a Senior Editor at iMore, offering his Canadian analysis on Apple and its awesome products. In addition to writing and producing, Daniel regularly appears on Canadian networks CBC and CTV as a technology analyst.