Forget Best Buy and Wal Mart - Costco With a Lower iPhone 3G Price?!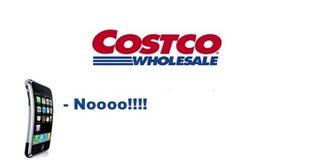 Deja vu all over again it seems. First we heard that the iPhone was going to be sold at Radio Shack, then it was Best Buy, and most recently Wal Mart. Now we have a new player in town bidding for some iPhone love, Costco.
Analyst group Global Equities Research is claiming that the public will see the iPhone 3G head into Costco Wholesale stores across the country this January. To go along with that piece of information they also added that it will see a new low price of $149.99. Could this be a price drop at all stores leading to a 32GB iPhone 3G? Hmmm... Please note that this is to be taken with a grain of salt. Global Equities Research would not name any sources of this information.
I know the more places the iPhone is sold the merrier for Apple, and I get that. I've have seen Costco's cell phone set up and it's nothing to write home about. So what is your take on Costco selling the iPhone 3g along with this so called price drop? Sound off in the comments!
[Via Appleinsider]
Got my iPhone at Costco back on July 14. They had them in stock that day, and they were cheaper than any other place in town.

Never heard of Costco. Is it like Walmart? Or a cell phone store?

@Rick, the iPhone has not been sold in Costco and will not be until January, care to explain? - and that is if this rumor is true.
@Keil, it's just like a Sam's Club. A wholesaler that sells a bunch of different items.

The iPhone 3G has been available at Costco in Canada since launch. The price isn't any cheaper though.

There is a cell store called "WIRELESS etc..." in town and they have kiosks setup in each of our 3 Costco's. The phone is activated by them, but is actually purchased from Costco, at the normal Costco checkouts, with your Costco membership and all benefits associated with it. Costco warranties the phone, gives you a discount off the normal street price, and I still get my 2% back at the end of the year (for having a gold membership). Anything bought at this kiosk can be returned to Costco the same way anything else is (I know cause I had to return 2 cases that broke after a couple of weeks).

@Kris - ahhh, here in the States they are not sold in Costcos. Sorry for the confusion.

iPhone 3G. Now sold at 7/11.

At the $149 price I am sure they will be reconditioned iPhones like the reconditioned iPods that Costco carries.

The iphone is not sold anywhere besides best buy apple and at&t. The price is the same nationwide 199.99 for 8 gig or 299.99 for 16 gig nationwide. Apple doesnt budge on their prices.

@pete
I doubt it would be just costco getting the $150 price drop, unless they were refurbs.
As for Costco getting the iPhone: Yawn. You guys are running out of retailers to rumor about. Let me get some out of the way for you:
Circut City
FYE
K Mart
7/11
and Yard Sales.
anyone else wanna name a few?

MPKU, ETHAN - Obviously you are not familiar with Costco.
If you were, you would know that they do not sell anything re-furbished. Costco sells all there merchandise at an extremely low markup. They do not need to markup everything 25% and up like everyone else does. Get a membership card and start saving money.

Yo, Pete. I assume you only mean the USA! Like I said, got mine at Costco Canada on July 14, and it was less than $199 (not a lot, but still less). And I won't even mention the deal on two 16's that a buddy of mine got directly from Rogers. Makes my price look too high!

SBC, maybe you need to take a closer look next time you are at costco. ;)

In Australia the iPhone is typically $0 if you go on a 2 year contract.

Rick: could this have anything to do with US exchange rate difference? I can't imagine you got it discounted (good, if you did).
Also, Costco usually discounts Apple music products by about $5-10. Just enough to sway someone who's already shopping there anyway BUT not enough to make a real dent in overall profitability. After all, people do pay membership fees to shop there so they should get atleast a morsel of a 'deal'.

MPKU - I am an electronics buyer for Costco. Obviously, I would know. I deal Apple directly. We have a contract (which I am unable to disclose). What you can do is contact Apple customer service. You can get there phon number on there website. Inquire about the Apple products Costco purchases. After speaking with them, I would expect you to admit your stupidity to everyone.

Alex - Your right about the $5. Not a lot, but better in my pocket! I really don't think it had anything to do with the exchange rate. The iPhone was going to be $199 in Canada regardless. Oh, and I easily get my membership back with the 2% cheque ;)
That said, I still can't believe the deal my buddy got direct from Rogers (makes me think I should have waited for them to ship it direct, instead of trying to get it almost on launch day). He bought two 16's, each for less than $160!!!! Either he knows the right thing to say, or the CSR really f'ed up.

MPKU
I have been with Costco for the last five years as a supervisor and know for a fact that they are not "refurbs". Costco prides itself at selling nothing but the best products for the best possible prices. In Costco's philosophy, Jim Sinegal, the CEO of the company has a policy of never marking ANY product up over 14%. Thats just a fact. period. We just do business well and bring an incredible value to our members.

Jeremy, How do you know so much about the wireless program at costco? You sound very knowledgeable drop me a line.

The post is really original and deserves the attention of all visitors.

Nice introduce!I recently have new choice to get camera.I have new beby and I want very fast shutter to plan my beby photo.

It was another joy to see your post. Really useful Post. You have complete command in your field, Great stuff as usual.

Too Bad Costco recently cut of all ties with Apple! I went to Costco today, and they said that as of 2 weeks ago, they are no longer selling the Iphone..

Costco did stop carrying Apple products due to having a huge loss in returns. Unlike other products, Apple does not refund Costco any returns, and with Costco's return policy, they take a huge hit with loss. They have however started bringing back the Apple products, not sure for how long or why, but they are back.
Apple also doesn't budge on their price, so even Costco doesn't get the huge savings, but only marks up max 14%. Even if you are only saving a little bit, considering the return policy, they are the much smarter place to buy from.
Just a thought!

Hi my family member! I want to say that this article is amazing, great written and include approximately all vital infos. I'd like to peer extra posts like this .
Get the best of iMore in in your inbox, every day!
Thank you for signing up to iMore. You will receive a verification email shortly.
There was a problem. Please refresh the page and try again.