Foundation Dock hits Kickstarter, a strong and flexible docking solution for iPhone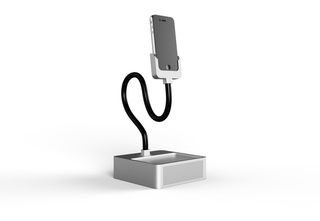 The Foundation Dock has arrived on Kickstarter and looks to provide a docking solution for your iPhone that is quite different to anything else currently available. The dock has a very strong flexible cable which is there to allow you to easily position your iPhone in any viewing angle that suits you. It can be twisted and bent into just about any shape then locked into position to give your iPhone the ultimate support.
The cradle can be used with or without a case and fully supports the weight of the iPhone in any position you choose. You can also get an in-car charging accessory which offers a 12-volt in-car charger which has been designed with a recessed USB port to keep the cable rigid and your iPhone rock solid in your car. Should the iPhone 5 arrive with the expected smaller dock connector, the Foundation Dock will also be available to support that too.
The Foundation Dock is certainly a very interesting docking solution and unlike anything I have seen before. If that cable is as strong as it looks then it could be a really nice flexible docking solution or car mount. If you like the idea of the Foundation Dock, you can become an early adopter with a pledge of $45 or more to secure one cable and aluminium base should they make it into production. The Foundation Dock currently has around $10,311 of pledges and it needs to hit over $37,000 to gain enough to be funded; it still has 30 days to go.
What do you think of the Foundation Dock? Could you see your iPhone sitting in one of these at your desk or in your car?
Source: Kickstarter
Get the best of iMore in in your inbox, every day!
UK editor at iMore, mobile technology lover and air conditioning design engineer.
It is a cool idea.... But Ugly looking..... looks better hidden behind the monitor and just peaking around the screen without the base or the black flexible arm. I personally will not be ordering one. It defintely is a great idea with the addtional plug-ins and a speaker, but again.... It is just ugly.

This is an outstanding Idea. I wish i would have thought of it myself. I disagree with spanishcop. Its not ugly, Its not all flowery and Pretty more industrial which will lend itself to blending into your work space.It has a mic and speakers in the base which adds to its appeal, but can be used without the base. Adding color will make it appeal more to the masses. I'm in line to buy one when release and I look forward to Blending it into my work station. Thank you for a Great idea.

I noticed on their Kickstarter page that they have pics of Foundation Docks in black and red, so perhaps there are plans to offer different colors...

I'm definately looking forward to this becoming available!! This charging dock looks like a great accessory, and i really love the fact that it also can be plugged into a car usb. I'll be watching for release to purchase this indeed - oh, and can you guys maybe add pink to the color line up :)

Will it accommodate cases??

Looks like it will - http://www.kickstarter.com/profile/1787686855/comments

This thing is sweet. Hopefully I'll get one for me and my dad.

A new accessory just before the iPhone 5 is going to be announced with a supposedly new dock connector? Maybe they should wait until its released.

These aren't expected to be ready to ship for a few months, and at that time, purchasers will be asked whether they would like the 30-pin dock connector or the new small dock connector.

How about a red cable, I'm looking at getting a cable and the car charger love the product...let's get a red cable please

Great idea and concept I would definitely get this. Fortunately we have time to see what happens on the 12th and if there is a new connector for our cables.
Thank you for signing up to iMore. You will receive a verification email shortly.
There was a problem. Please refresh the page and try again.