Free App of the Week: Bounce to the beat of the music in Give It Up! 2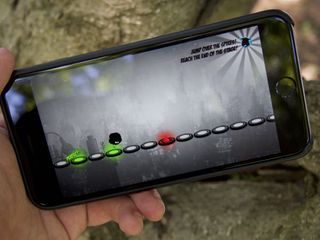 Give It Up! 2, a quirky rhythm-platforming game, is this week's free app of the week on the App Store.
In Give It Up! 2, players will enter a gray world where the only color is that which springs from platforms under your feet. You'll play as a stark black Blob, bouncing from platform to platform to the beat of the music while avoiding deadly spikes and more. Here's a rundown of everything you can expect in Give It Up! 2:
Difficulty varies: practice a lot and level up!
27 exciting stages: proceed in an order of your choice.
Tap to the rhythm of the music and jump across the platforms!
Watch out for spikes, steps and other obstacles!
Discover hidden stages!
Jump like a pro: accomplish 3 starts on every stage!
If you're ready to jump to the funky beats of Give It Up! 2, you can grab the app for free from the App Store link below.
Get the best of iMore in in your inbox, every day!
Thank you for signing up to iMore. You will receive a verification email shortly.
There was a problem. Please refresh the page and try again.