Free App of the Week: Conquer the skies in Sky Gamblers Air Supremacy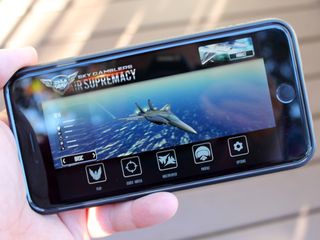 The weekly App Store refresh has arrived, meaning it's time for another free app of the week. This week, you can take the fight to the skies in Sky Gamblers Air Supremecy.
Sky Gamblers Air Supremacy is, as you might guess, an air combat game. You'll find yourself sat in the cockpit of a fighter jet, zooming around the skies and trying to take your enemies out of commission. The game features a full single-player campaign, along with a ton of game types for both the lone player and in multiplayer mode.
On top of that, Sky Gamblers Air Supremacy just plain looks great for a mobile game, with "console quality graphics" featuring prominently. And if you're new to the genre, you can start out easy with an autopilot mode that allows you to focus your attention on taking out the enemy with missiles and issuing squadron commands.
Sky Gamblers Air Supremacy will be free on the App Store through October 22, and you can hit up the link below to grab it now.
I have the version they released alongside the 3rd gen iPad. I downloaded the one that was free, and now I somehow have two copies of Air Supremacy. How is this one different?

I think one is a universal version the other for iPad only
Thank you for signing up to iMore. You will receive a verification email shortly.
There was a problem. Please refresh the page and try again.