Which 8BitDo controller should you buy? Ultimate 2.4g, Lite SE, Pro 2, SN30 Pro+ and SN30 Pro compared
8BitDo now offers a wide range of Apple-compatible controllers. But which is right for you?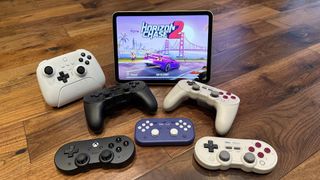 (Image credit: Gerald Lynch / Future)
If you're not ready to stump up the cash for an official Xbox or PlayStation controller, 8BitDo has long been a superb go-to third party choice for gamers. Offering loads of configurations, sizes and wide-ranging console and mobile compatibility, 8BitDo's controllers are always well built, well priced and slickly designed, usually with a welcome nod to retro controllers of old.
However, compatibility with Apple devices has in the past been a bit patchy. But a recent upgrade to the best 8BitDo controllers out there means that you're now able to get some cracking pads that'll play as nicely with an iPad or Apple TV 4K as they will an Xbox or PC.
But with so many styles and sizes to choose from, which is right for you? Well, there's an 8BitDo pad for everyone it seems, from the high-end 8BitDo Ultimate 2.4g to the pocket-friendly 8BitDo Lite SE. Read on to find out which controller should fuel your next Apple Arcade session.
8BitDo Ultimate 2.4g wireless controller with charging dock
For those that want the very best
Specifications
Compatibility:
iOS, macOS, iPadOS, tvOS, Xbox, Windows, SteamOS, Raspberry Pi, Android, Nintendo Switch
Button layout style:
Xbox
Reasons to buy
+
Rechargeable battery
+
Multiple connection options
+
Excellent charging cradle
+
Great build quality
Reasons to avoid
-
More expensive
-
Non-removable battery
This one's the daddy of the 8BitDo family, ticking every box the discerning gamer could want in a controller. Modelled after an Xbox Series X pad, the 8BitDo Ultimate 2.4g is a comfortable controller that earns extra brownie points for some excellent quality-of-life considerations in its design.
First the pad itself. With its asymmetrical sticks and ergonomic molding, the pad feels superb in the hand, with particular praise directed towards its precise D-Pad, mimicking the very best D-Pads we've seen on classic Nintendo hardware. Connectivity, whether using the included dongle or MFi connection, is consistent and stable. Button travel across the board is excellent, but you get two extra 'paddle' buttons in the grips too — configurable and capable of storing macro commands with an accompanying software suite, alongside button remapping profiles, it's the sort of feature that normally is the reserve of the most high-end, costly 'Pro' level controllers.
But it doesn't stop there. The controller has a built-in rechargeable battery, and the package includes a charging dock for the pad too, so you're always ready to go. And with a USB passthrough port housed inside the dock itself, you don't have to lose a port on your computer to the included 2.4g dongle when charging at the same time too. If you can afford the premium against other devices on this list, this is the one to nab.
---
For small hands and those with accessibility needs
Specifications
Compatibility:
iOS, macOS, iPadOS, tvOS, Raspberry Pi, Android, Nintendo Switch
Button layout style:
Nintendo (modified for accessibility)
Reasons to buy
+
Accessibility features
+
Supremely portable
+
Good match for younger gamers
Reasons to avoid
-
Atypical button layout
-
Tiny buttons
There's more to the 8BitDo Lite SE than meets the eye. On the surface level, it's a great pick for the on-the-go gamer. Compact in its design, weighing just 90g and measuring 120mm x 66mm x 26.35mm, it's the perfect pad for throwing in a bag alongside your MacBook Air or iPad, ready for an unexpected free moment to dive into a game with.
But 8BitDo has designed the Lite SE with accessibility in mind. Not only is it supremely portable, but it's designed in such a way as to make every button within easy reach. For instance, there are no trigger buttons to speak of here — yes, you've R, L, R2 and L2 buttons (mimicking the Switch nomenclature), but they're placed on the front face of the pad, for those who struggle to play with triggers. The same goes for L3 and R3 buttons, usually pressed in by the joysticks, but given dedicated buttons here. On top of that, there's a rubberised finish to the flat back panel that lets players place the controller on a tabletop surface for non-slip, 'hands-free', play.
So, whether you need a pocketable pad, or one that's accessible to a wide range of players, the 8BitDo Lite SE is a great choice.
---
8BitDo Pro 2 Bluetooth Gamepad
For pro features on a budget
Specifications
Compatibility:
iOS, macOS, iPadOS, tvOS, Raspberry Pi, SteamOS, Windows, Android, Nintendo Switch
Button layout style:
Nintendo
Reasons to buy
+
Pro-grade features on a budget
+
Great build quality
+
Rear programmable paddles
+
Removable rechargeable battery
After the Ultimate 2.4g Wireless Controller, the 8BitDo Pro 2 Bluetooth Gamepad is the next best option for the demanding gamers out there, and with its lower price and removable battery may even be a better option in some respects. With symmetrical sticks, this is more like a PlayStation pad than an Xbox one (even if its button naming aligns mostly with Nintendo's Switch Pro pad).
While it doesn't offer a 2.4g dongle, Bluetooth support still makes it comfortably wireless (while a wired and charging connection can be achieved over USB-C). Otherwise, many of the Ultimate 2.4g Wireless controller's features are present here: there are programmable back paddles, customisable profiles and buttons switching via accompanying software, a dedicated hardware button for cycling through custom profiles, and a rear switch slider for easily toggling between different supported platforms (where earlier models required you to remember button combos to jump between devices). A rear battery compartment allows you to swap out the rechargeable battery for regular AAs too, adding to the long-term longevity of the pad.
It's a fantastic option then, particularly for those that prefer the grip molding and button placement of a PlayStation pad over an Xbox alternative.
---
8BitDo SN30 Pro+ Bluetooth Gamepad
For super compatibility across platforms
Specifications
Compatibility:
iOS, macOS, iPadOS, tvOS, Raspberry Pi, SteamOS, Windows, Android, Nintendo Switch
Button layout style:
Nintendo
Reasons to buy
+
Cool retro design
+
Great build quality
+
Wide compatibility
Reasons to avoid
-
Switching profiles is a chore
-
No dedicated platform swapping switch
Lots of what makes the 8BitDo Pro 2 great was first established in its older stablemate, the 8BitDo SN30 Pro+. Another Switch-style pad, using Nintendo's preferred button layouts, it feels almost identical to the Pro 2 controller. That's great — it means another comfortable, configurable controller with solid battery life and great build quality.
So what's missing in this earlier iteration? The key differences are a lack of the back paddle buttons, no profile switching button, and no connectivity switch. So that means no paddle macros, the requirement of a computer at hand for switching between profiles, and the necessity of remembering somewhat awkward button combinations to pair the controller between multiple devices. They're small losses then, and a cheaper price point may swing you in the SN30 Pro+ direction as a result. But they're handy quality of life features removed when you're looking to dive deep into games across platforms. If you're after the retro-look that we've got here, make sure you order the 'G Classic Edition'.
---
8BitDo SN30 Pro Bluetooth Controller for Android + clip
For Xbox cloud gamers
Specifications
Compatibility:
iOS, macOS, iPadOS, tvOS, Android
Button layout style:
Xbox
Reasons to buy
+
Matches Xbox branding
+
Comes with a phone cradle clip
+
Portable
Reasons to avoid
-
Significantly reduced compatibility
Yes, it says '...for Android' as part of its name, but don't be fooled. The latest 8BitDo update makes this pad as great for Apple devices as it does for Google phones — and surprisingly better than it does with Xbox consoles which, confusingly, it does not support. That branding is there more to highlight a partnership with Xbox's cloud-gaming Game Pass platform.
The 8BitDo SN30 Pro is essentially exactly the same as the SN30 Pro+, just minus grips, and with button branding that makes it match the look of Xbox controllers, what with it being an officially-licensed Xbox product.
So what you get then is the same superb build quality and feature list of the SN30 Pro+, but in a more portable package. Shaped almost like a SNES controller, but with two symmetrical analogue sticks squeezed into the lower middle, it's a great pad for throwing in a bag for on-the-go play.
This one's particularly good for using with an iPhone, as it includes in its box a cradle clip for securing your phone in place with the pad. That said, the shape of the pad, being gripless, makes it quite hard to balance the weight of an iPhone while playing, so unless you're rocking a smaller, older iPhone like an iPhone 13 mini, we'd say this wouldn't be an ideal design for longer gaming sessions.
---
8BitDo SN30 Pro Bluetooth Gamepad
For portable retro-focussed play
Specifications
Compatibility:
iOS, macOS, iPadOS, tvOS, Android, Windows, Nintendo Switch, Raspberry Pi, SteamOS
Button layout style:
Xbox
Reasons to buy
+
Wide compatibility
+
Retro looks
+
Handy platform switching guide on the rear
+
Portable
Reasons to avoid
-
No dedicated platform swapping switch
-
Changing profiles takes some work
Last but not least, the SN30 Pro. Now this really is just the SN30 Pro+ without the grips, right down to the button layout and SNES-style rubber start and select buttons. If you're primarily a retro gamer, the one will hit your right in the feels — it's like a classic 90s Nintendo controller, but with modern wireless, dual-stick, rear-trigger conveniences.
Just like the SN30 Pro+ you get superb build quality, great button travel and an excellent D-Pad with button customisations and multiple profiles handled through software support. But the flatter profile afforded by the removal of the palm grips makes for a very portable controller. Fire up OpenEmu on your Mac, pull out the 8BitDo SN30 Pro and roll back the years, making it the perfect choice for the retro-on-the-go-gamer.
With wider compatibility than the 'Xbox' branded variant, we'd pick this one other that alternative unless Xbox-style buttons really are a deal-breaker for you. Again, get the 'G Classic edition' to nab that excellent retro look.
Which 8BitDo game pad is for you?
You can always trust iMore. Our team of Apple experts have years of experience testing all kinds of tech and gadgets, so you can be sure our recommendations and criticisms are accurate and helpful. Find out more about how we test.
As you can see from our notes above, it's hard to find a bad 8BitDo controller. The only one I'm not completely sold on is the Xbox-branded mobile one — but that's merely because it has reduced compatibility compared to the other picks above. If all you want to do is stream Xbox Game Pass on your iPhone, it'll work great.
If you're going to be jumping between Apple gaming, PC and console, the 8BitDo Ultimate 2.4g wireless would be my top pick — the charging dock that keeps it always topped up with power is a real convenience, and the option to jump between Bluetooth and 2.4g dongle connections gives it versatility across platforms.
But I have a real soft spot for the SN30 Pro. It's small form factor and retro looks makes it a great fit for App Store and Apple Arcade Games — it's fun to look at, as well as use. Its size means it's easy to throw in a bag for on-the-go play, but comfortable enough that it's not a compromise when playing at home for long stretches of time. It's the dark horse sleeper winner of the 8BitDo line-up for our money.
Master your iPhone in minutes
iMore offers spot-on advice and guidance from our team of experts, with decades of Apple device experience to lean on. Learn more with iMore!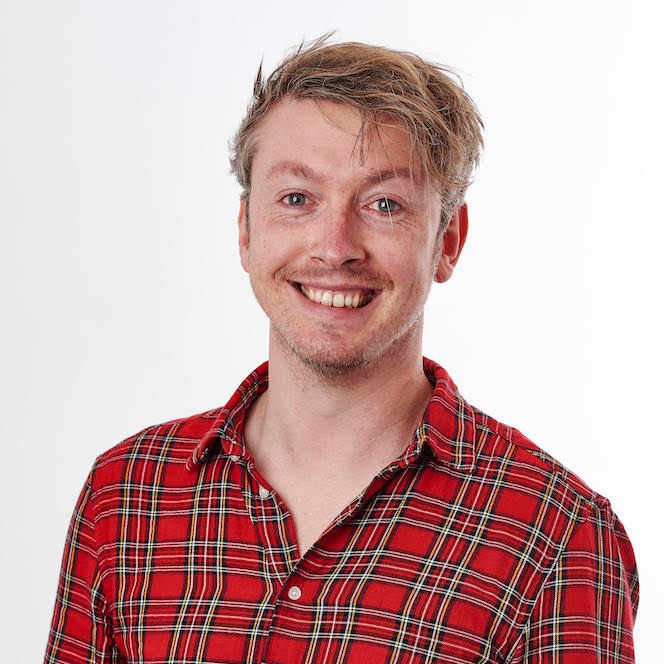 Gerald Lynch is the Editor-in-Chief of iMore, keeping careful watch over the site's editorial output and commercial campaigns, ensuring iMore delivers the in-depth, accurate and timely Apple content its readership deservedly expects. You'll never see him without his iPad Pro, and he loves gaming sessions with his buddies via Apple Arcade on his iPhone 14 Pro, but don't expect him to play with you at home unless your Apple TV is hooked up to a 4K HDR screen and a 7.1 surround system.
Living in London in the UK, Gerald was previously Editor of Gizmodo UK, and Executive Editor of TechRadar, and has covered international trade shows including Apple's WWDC, MWC, CES and IFA. If it has an acronym and an app, he's probably been there, on the front lines reporting on the latest tech innovations. Gerald is also a contributing tech pundit for BBC Radio and has written for various other publications, including T3 magazine, GamesRadar, Space.com, Real Homes, MacFormat, music bible DIY, Tech Digest, TopTenReviews, Mirror.co.uk, Brandish, Kotaku, Shiny Shiny and Lifehacker. Gerald is also the author of 'Get Technology: Upgrade Your Future', published by Aurum Press, and also holds a Guinness world record on Tetris. For real.