Garmin vivofit 2 fitness tracker review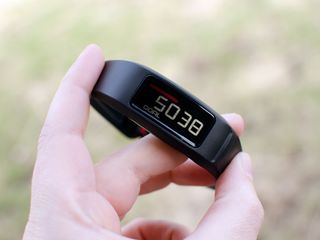 The vivofit 2 is a refinement of last year's original vivofit and brings with it an improved screen with a backlit display, activity timing, and auto sync. The move bar has also added audible notifications so you don't have to look at your wrist to know you need to get moving. While the vivofit series may not have all the bells and whistles of other fitness trackers, it's a tradeoff some folks may want to consider in exchange for what is pretty much endless battery life.
The good
No charging necessary for at least 1 year
Comfortable design that is easy to forget about
Modified clasp that doesn't snag or cause the band to come undone
Backlit display that's user activity
Activity timing right on your wrist that syncs with Garmin Connect
Water resistant up to 50 meters
Automatic sleep tracking
Available in a wide range of colors, additional bands available through Garmin
The bad
Garmin Connect app could use some updates
The vivofit 2 improves upon the original vivofit by adding a few features that make it more useful right on your wrist. One of the most welcome additions is a backlit screen. Just like the first vivofit, there's only one button. A short press and hold activates the backlight. You can then continuously press the button to filter through all the different screens. By default the vivofit 2 shows steps, how many steps you still need to take to meet your goal, miles walked, calories burned for the day, an activity timer (which we'll talk more about later), the date, and the time. If there are certain types of information you don't really care much about, you can disable those screens in the Garmin Connect app.
The activity timer is another addition that lets you do more without actually having to pick up your phone. A long press and hold will start the activity timer. When you're done, press and hold again. Garmin Connect then syncs your data with your Garmin account and you can customize a session later, leaving you to your workout without having to fiddle with an app. When you filter through the different sections of the vivofit 2, Garmin also has an activity data set that shows your total active time for the entire day, a nice added feature that gives you an overall picture of your day.
Since the vivofit 2 is water resistant up to 50 meters, you can shower with it, swim with it, and do pretty much any other water activity you'd like. That means you aren't missing potential activity by having to take it off. It's also one less opportunity for you to forget to put it back on, which is constantly my problem. I had no problem sleeping with the vivofit 2 and have been doing so for over 2 weeks now. For the most part, I forget it's there, except when I'm not being active, and then it reminds me.
The vivofit 2 features the same move bar the first generation did, except this time it offers up audible alerts — don't worry, you can disable them in favor of your phone vibrating instead if you prefer. The move bar remains static on top of your vivofit's screen. After an hour of inactivity, a single bar will appear. For every 15 minutes that you are inactive, another bar will appear. If it fills the screen, that means you've been completely sedentary for at least 2 hours. The only way to reset the move bar is to get up and walk around for a bit. It's a good motivator for anyone that wants to make sure they aren't remaining stationary for too long, which lots of us behind desks tend to do.
The most noticeable improvement over the last generation vivofit is auto syncing. This means that you don't actually have to open the Garmin Connect app unless you want to view your data. The first generation vivofit required you to sync your wristband by opening and triggering a sync. This isn't the case any longer, and it's a welcome change. The Garmin Connect app is long due for some updates so I appreciate not having to rely on it as much.
That being said, going to garminconnect.com (opens in new tab) on your iPhone or computer is actually a pleasant experience. I prefer it in every way over the actual app. Regardless, the Garmin Connect app does sync reliably and shows me what I need to see at a quick glance. I just hope that Garmin plans on bringing some of the Garmin Connect web interface and user experience to their iPhone and Android apps soon.
Heart rate sensors have become a thing in fitness trackers this year. The vivofit 2 can pair with external monitors but does not have one built in for reasons that should be obvious. If you want a year's worth of battery life, an internal heart rate sensor won't be an option. It's a tradeoff but one that some folks will be happy to make. The vivofit 2 does however track sleep, and it does it well. You can confirm sleep times but even if you don't, the vivofit 2 syncs all your sleep data to Garmin Connect, where you can see the quality of your sleep each night.
In terms of accuracy, I've never had issues with any Garmin tracker. Both manually tracking my steps and comparing the vivofit 2 to my UP24 produces similar results. Garmin reflects slightly lower calorie counts but nothing alarming enough to mention.
A fun feature of the vivofit 2 worth mentioning is that Garmin offers mix and match bands. They come in packs of 3 and are currently priced at $29. Not necessarily a feature but something a lot of people will enjoy taking advantage of.
The bottom line
If you want GPS, heart rate tracking, and every other advanced feature on the market, the isn't the tracker for you. However, if you're willing to trade some of the more power hungry options other trackers feature for a year of battery life, the vivofit 2 has a lot to offer. It's a great personal motivator and accurately tracks all your steps and calories, on land and in the water. It's comfortable to wear and only makes its presence known when it's time to get moving. And for some people, that's more than enough.
Get the best of iMore in in your inbox, every day!
iMore senior editor from 2011 to 2015.
I love my Nike Fuelband SE! Sent from the iMore App

Interesting review. I actually just ordered the Garmin Vivofit last night from Amazon (it was about forty dollars less than the "2"). The new features of the Vivofit 2 sounds cool, but its not much of a departure from the one I ordered, so I don't feel too bad.

With the "2" version you get auto sync, a backlit display, and an audible alert for the inactivity bar. Those first two items add greatly to the overall enjoyment of the device, but you are right that for $40 savings it may not be worthwhile)

Both are great devices. I like not having to remember to launch an app, which was the one thing that irritated me with the first version. However, if you don't mind that, I'd save the money and get the first version.

Do you know at all if there is a Vivosmart 2 coming out soon? Sent from the iMore App

Wasn't the vivosmart new this year?

I'm really glad to read your review on the sleep tracking, too. Most say that it is not so good on the Garmin Vivifit 2, so I am excited to try based on your impression. I will get the bundle with the heart rate monitor. FYI , I have been currently been using the Basis Peak, but it gets stuck in the sleep mode (on the device) though it is tracking in the app just correctly. It is nice to have a hear rate on the tracker, but unless you have issues or are exercising all day long, it is not as necessary on device to me any more. I rather have the more comprehensive tracking (including distance). Luv that this Garmin is completely waterproof, too. I agree with your mention that heart rate sensors have become the "thing" for fitness tracking, but having a waterproof and truly 24/7 wearable experience is really important, too. Can't wait for the day when one of these companies come out with a fitness tracker that has it all AND for under $200 :)
Thank you for signing up to iMore. You will receive a verification email shortly.
There was a problem. Please refresh the page and try again.