Garmin vivosmart fitness tracker review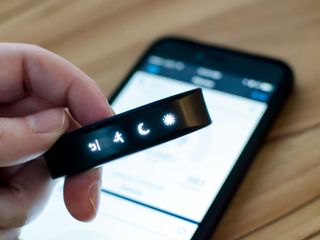 For some, the trade-off is a no brainer, for others, not so much.
Once you put on the Garmin vivosmart (opens in new tab), all you have to do is link it up with the Garmin Connect app on your iPhone. Once that's done you can not only set goals and view activity right on your wrist, you can also view notifications from your iPhone, receive inactive alerts, and lots more. But all of that matters little if the hardware and software don't do their job. The results? Let's find out!
The good
Interactive notifications right on your wrist
Move alerts let you know when you're inactive for too long
Water resistant up to 50 meters
One of the most accurate bands on the market in terms of step count and calorie count
Garmin Connect online supports syncing custom segments and workouts, great for runners
Comfortable design that doesn't get in the way of daily life
Battery lasts about 5 days with all notifications on, a little over a week if you turn them off
The bad
Not a huge fan of the clasp mechanism, but it's sturdier than most that use the notch style band
Supports heart rate functionality but needs a separate accessory (supports all ANT+compatible sensors)
Unlike its big brother, the vivofit, the vivosmart cashes in the endless battery life in favor of some new features. The touch sensitive screen lets you not only switch between the time, steps walked, and calories, but through notifications on your iPhone. You'll also receive a vibrating notification if you sit idle for too long — in this case, that's one hour. Moving around a bit will reset the idle timer.
Accuracy is key attribute in any fitness wearable. To test the vivosmart's accuracy, I compared it to the Jawbone UP24 — one of the most accurate fitness trackers I've used. I wore both trackers simultaneously for a week. In most cases, the vivosmart was within 30-100 steps of my UP24. Considering Garmin is a GPS and mapping company at its core, I expected the vivosmart to be accurate, and it didn't disappoint. Calorie count was also fairly consistent between the two. However, we always have to generalize calorie counts on fitness trackers since they have no way of knowing muscle to fat ratios for each individual. Nonetheless, it seemed fairly accurate for me on all accounts.
You can do any activity you'd like with the vivosmart on your wrist including showering or swimming, since the vivosmart is rated to be water resistant at up to 50 meters. You can also search the sizable database of activities to log workouts. I didn't have very much trouble finding activities, both in the gym and outdoors. The only thing I didn't like was that I couldn't manually input calories burned the way I can with the UP app. This matters to a lot of people who use stationary exercise equipment since the band may not sense movement.
The Garmin Connect app itself isn't the prettiest fitness tracker but it shows you a heck of a lot of information on one screen. Scrolling through the main page you can see your step count, calories burned, calorie intake (with a tie-in for MyFitnessPal), sleep data, and more. Any sections you don't want to use or see on the main dashboard, you can hide in the settings section. You can also go to garminconnect.com (opens in new tab) and create courses and workouts which will then sync to your Garmin Connect app.
The vivosmart can also help you make sure you don't leave your phone behind. It works by letting you know when you are getting out of range of your iPhone. For example, if you're at the gym and you leave your iPhone sitting somewhere and walk away, your wrist will vibrate when you're getting dangerously close of being out of range. Not only can this help at the gym, but in any situation where you may leave your iPhone sitting somewhere. Alternately, if your looking for your iPhone, you can also follow the signal bars on the vivosmart and play somewhat of a hold and cold game to find it again. If they increase, you're getting closer. It's also a feature not found on the vivofit.
The bottom line
The vivosmart is a great band that provides tons of information both on your wrist and in your pocket. The slim form factor makes it comfortable to wear not only during the day, but at night too. If you don't need notifications on your wrist, however, and hate charging things, the vivofit may be a better option for you.
iMore senior editor from 2011 to 2015.
Ally I have worn the last Gen of this band and love it. Thank you for the review on the next Gen but I will keep my current one. I love the battery life and what it does now is plenty for me!

I've worn both this and the vivofit before it. Obviously they work well for me, I just wish more people knew about 'em. Notifications and BLE connection with iPhone is rock solid. It was...less so with my Nexus 5.

Even though waterproof, these things are useless for me as they don't track swimming metrics.

you might want to check this out. RUN BIKE SWIM! what they hey, throw in Golf as well! This is were my debate between the Apple Watch comes to head. I am seriously thinking about the Garmin Vivoactive! http://sites.garmin.com/en-US/vivo/vivoactive/

Hi, i' ve using it since it was released... its GREAT!!! very discrete notifications, it tracks your steps, sleep, etc etc... Buy it, you wont regret!

Reviewing this now :) Great option!

Looks like the best smartwatch for swimming presently available. IMO, much more interesting than the new Pebble. I just wish they'd paid a little more attention to style.
Thank you for signing up to iMore. You will receive a verification email shortly.
There was a problem. Please refresh the page and try again.