Garmin vivosport vs. Fitbit Charge 2: Fitness Tracker Comparison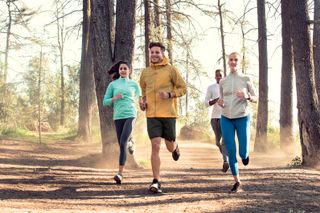 It's fairly safe to say that most people have heard of Fitbit. It's line of fitness trackers has grown over the last few years to include upgrades and even smartwatches. Garmin, on the other hand, might conjure up thoughts of GPS devices over fitness trackers, but its vivosport is an excellent tracker. In fact, it's the Wirecutter's pick for best fitness tracker overall.
Let's take a look at how these two stack up, so you can pick the tracker that's right for you.
Price
First off, let's get the price tag outta the way, since that might be the final motivator for anyone who's ready to click the buy button.
The Fitbit Charge 2 retails for roughly $150. The Garmin vivosport will run you about $170, though you can sometimes find it on sale for around $150 as well.
How do their feature sets compare?
In terms of what they track and feature sets, the Charge 2 and vivosmart are really neck and neck.
Here's a breakdown of what you'll get with each:
Swipe to scroll horizontally
| Features | Garmin vivosport | Fitbit Charge 2 |
| --- | --- | --- |
| Color display | ✓ | Row 0 - Cell 2 |
| Step counter | ✓ | ✓ |
| Calories burned tracking | ✓ | ✓ |
| Movement reminders | ✓ | ✓ |
| Distance traveled | ✓ | ✓ |
| Heart rate monitor | ✓ | ✓ |
| Call and text notifications | ✓ | ✓ |
| Sleep tracking | ✓ | ✓ |
| Stress level tracking | ✓ | Row 8 - Cell 2 |
| Automatic exercise detection | ✓ | ✓ |
| Built-in GPS | ✓ | Row 10 - Cell 2 |
| Swimproof | ✓ | Row 11 - Cell 2 |
| Stopwatch | ✓ | ✓ |
| Weather updates | ✓ | ✓ |
| Battery life | Up to 7 days | Up to 5 days |
Garmin vivosport's best features
Heart rate monitoring and then some
Garmin's vivosport can essentially do everything Fitbit's Charge 2 can, but it then takes a couple of those features to the next level. Take, for example, the heart rate monitor: Garmin's monitor tracks your sleep and heart rate throughout the day, but it actually uses your heart rate data to track your stress levels. This helps to let you know when you're stressed in the moment, potentially aiding you in figuring out exactly where your stressors lie and dealing with them before you start pulling out your hair.
The vivosport also uses your heart rate and other fitness data to measure your "VO2 max", which is a measurement of the maximum amount of oxygen you can use during intense exercise. This then helps to estimate your "fitness age". If you're 28 and your fitness age is sitting around 45, you know you have some work to do.
Built-in GPS for around $170 is a huge feature. You have to pay $300 to get built-in GPS in a Fitbit (Ionic). Granted, Garmin's bag before it ever delved into wearables was GPS technology, but still. This is huge for runners, cyclists, hikers, and anyone who's plotting a route or would like to know where they've been for their records.
The vivosport is swimproof. You can get into a swimproof Fitbit for less (Flex 2, $60, but to get similar features overall, you'd need to grab the Fitbit Versa ($200).
To put it bluntly, The Garmin vivosport's best feature is value.
Fitbit Charge 2's best features
A connected scale, wireless earbuds, and accessories for days, Fitbit has the market on customizable fitness trackers. You can track your weight loss journey and all of your fitness metrics all in one app thanks to Fitbit. You also have Fitbit's support site, which has excellent moderators and Fitbit ambassadors waiting to answer your questions.
Fitbit is what most people go with
The simple fact is that Fitbit has brand recognition, which means you'll have more friends to connect with in Fitbit's app, there are more training resources coming out all the time from Fitbit, and more companies are making inexpensive, third-party accessories to help you make your Fitbit your own.
Which is best for you?
At the end of the day, you should base your decision on which you like more. They're two of the best fitness trackers money can buy, and being so closely priced (sometimes identically so) means you get to go one which features matter most to you, and hell even which one looks best on your wrist.
The Garmin vivosport is for folks who want it all, but don't want to spend $300 to get it. You get built-in GPS, a heart rate monitor, and an app that processes data to take your heart and information to the next level. Ultimately, the vivosport is all about value and very accurate tracking. It's regularly $170, but you can often grab it on sale for only $150.
The Fitbit Charge 2 is for anyone who wants a tried and true brand, with a solid host of great features, and an ecosystem you can sink your teeth into. At $150, there are a few colors to choose from, tons of bands to change out, and a plethora of third-party options to help fit your style. It may not boast built-in GPS or swimproofing, but if you don't need it, then why have it?
Not sure how the Charge 2 will fit your wrist?
How to Measure your Wrist Before Buying a Fitbit
Which tracker do you choose?
Are you all-in for Fitbit or is Garmin more your speed? Let me know in the comments below!
Fitbit
○ Fitbit Buyers Guide
○ Fitbit Users Guide
○ The Best Fitbit to Buy
○ Fitbit News
○ Fitbit Forums
○ Buy on Amazon

Master your iPhone in minutes
iMore offers spot-on advice and guidance from our team of experts, with decades of Apple device experience to lean on. Learn more with iMore!
Mick is a staff writer who's as frugal as they come, so he always does extensive research (much to the exhaustion of his wife) before making a purchase. If it's not worth the price, Mick ain't buying.