ipico set to project your iPhone onto a 50-foot surface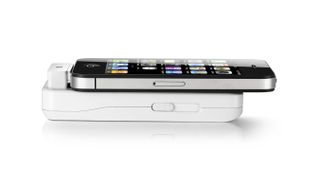 ipico, a highly portable pico projector designed specifically for the iPhone and iPod touch is set for launch and should be available in time for the holidays. The portable projector is a small handheld unit which allows you to easily share media stored on your iPhone as the projector can display your videos, photos and movies onto any suitable surface at up to 50-inches.
The ipico weighs in at just 3.35 ounces and is actually smaller than the iPhone it connects to; although it is slightly thicker at just over half an inch. It comes complete with a built in rechargeable battery and USB charging cable. It displays images of up tp 50-inches in qHD resolution (960 x 540) and is compatible with the iPod touch (3rd and 4th generation) and iPhone 4S, 4 and 3GS.
The ipico will be available in white only, in time for the 2012 holiday shopping season. The price will be around $129; which seems like good value to me. It could come in very handy to those of us who like to share media or give a quick product presentation on the fly. Could you see yourself using a portable projector like this one? Is the price reasonable enough for it to become a popular way to share media?
UK editor at iMore, mobile technology lover and air conditioning design engineer.
I think your title is off. Should be inches not feet. Same thing happened to me while I was rocking a concert to a miniature Stonehenge. :)

HA!!!! I hope the monument wasn't crushed.....by a dwarf!

Hi Chris,
You can order this projector currently…seems to be the same specs…
http://thepopvideo.com/popvideo/index.aspx
I've had mine for a few weeks and enjoy the picture quality.
Rick

NOT 50 feet? Darn, I was ready to open a Drive In movie theater...

What about compatibility for the next gen iphone

'The ipico will be available in white only, in time for the 2012 holiday shopping season'
I guess it won't be compatible with the new iPhone 5 or whatever it is called

As I have a bumper on my iPhone, is the connection adjustable? Is the device adequate to show evidence to a committee?

Benq Joybee GP2 is an ultra portable mini projector designed for on-the-go audiovisual entertainment. You can plug your iPhone or iPod into the iPhone/iPod-compatible dock to share videos, photos, graphics and games with family and friends wherever you go. The GP2 also supports other smartphones, tablets and media players. http://picowill.com/benq-joybee-gp2-200-lumens-pocket-projector-for-ipho...

I can't seem to get my IPICO to work on my iPhone 4s I have downloaded the GoFly app and there is no content.
Thank you for signing up to iMore. You will receive a verification email shortly.
There was a problem. Please refresh the page and try again.