Get ready for The Tonight Show with Jimmy Fallon, on your iOS device!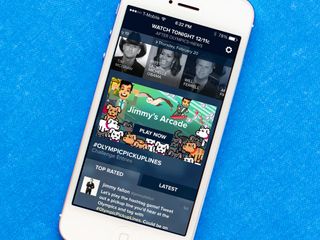 Tonight is the premiere of the new Tonight Show, with new host Jimmy Fallon. Fallon, most recently of Late Night with Jimmy Fallon, replaces Jay Leno, who hosted the show for 22 years. To celebrate the debut of the new show, NBC Universal has released a new app for iPhone and iPad.
I'm usually pretty ambivalent about free promotional apps for television shows, especially network television shows. They either try too hard to be hip, edgy and cool or they're tepid corporate crap. But Jimmy Fallon skews to a younger, more technically aware crowd (plus he always keeps a Mac on his desk), and this new app doesn't disappoint. It's actually pretty fun to use.
The new app draws you into the Tonight Show experience - you can see upcoming guests and send them a tweet, tweet using the latest Tonight Show hashtag from directly within the app, submit videos for inclusion in the Jimmy's Video Challenge segment on the show, and watch the featured video clip of the day. What's more, Jimmy's Arcade sports four retro-inspired games for your enjoyment.
It's actually The Tonight Show STARRING Jimmy Fallon. It says it right on the app. He was previously on LATE NIGHT. (The Late SHOW is with David Letterman, on CBS.) Sent from the iMore App

App not available in Canada Sent from the iMore App

That's exciting, I have to download and catch the new show! Sent from the iMore App

Do you live in Canada or the USA Sent from the iMore App

Haven't watched The Tonight Show since Carson left--thank god Leno's gone. Watched some of Jimmy's debut tonight and it looks promising!

All Things Jimmy Fallon:
http://updatelly.com/Search/Jimmy%20Fallon
Get the best of iMore in in your inbox, every day!
Thank you for signing up to iMore. You will receive a verification email shortly.
There was a problem. Please refresh the page and try again.