How to shoot 360-degree video with Periscope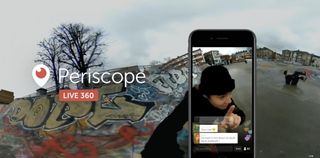 This week, Twitter announced that it will begin to support 360-degree video streaming with Periscope. This means that you don't only have to broadcast live, but you can show off a 360-degree feed of wherever you are, too!
As with streaming live video via Periscope through Twitter, there will be a "Live 360" badge available. From there, if you want to watch the video, you can tilt your phone or drag your finger around the screen like standard 360° videos online.
Cool! Can I start 360-degree live streaming on my own account yet?
Unfortunately, no. Not all users have access to live streaming, but you can view any and all live 360 videos that appear on your Twitter feed.
Is it just for Twitter on my smartphone?
Nope! 360-degree video is available for desktop as well, although the support isn't particularly great. (If you're looking to watch your 360-degree videos on Safari, for example, then you're kind of SOL.)
What can I use 360-degree live video for?
If you're halfway around the globe, 360-degree video is an awesome way to show your friends and family where you're staying and where you're exploring in real time!
If you're daring enough, you can even use 360° live video with your waterproof iPhone 7 or iPhone 7 Plus, making it a great tool for underwater adventures or hijinks.
There are a billion different, creative ways 360° live video can be used: you just need to think outside the box!
What do you think?
Are you a big fan of live-video streaming? Yes? No? What about now that 360-degree video has been introduced?
Let us know what you think of Twitter's latest update in the comments below!
Get the best of iMore in your inbox, every day!
Cella writes for iMore on social and photography. She's a true crime enthusiast, bestselling horror author, lipstick collector, buzzkill, and Sicilian. Follow her on Twitter and Instagram: @hellorousseau
You can broadcast 360 videos from your iPhone? Sent from the iMore App

This article kinda sucks. The article is entitled "How to shoot 360 videos" and you failed to once talk about how or what camera is compatible with streaming live 360 videos. Total failure on the authors part in my opinion. Next time, try actually discussing what the title of the article is. Or change your title.