Get Red, White, and Blue with these patriotic wallpapers!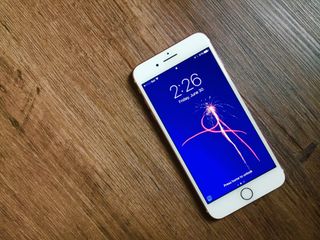 Sure, the vote took place on July 2nd, but this is officially the day we celebrate kicking Britain to the curb and trying out this little thing called self-government. It's had its ups and downs, but nigh 140 years on and we're still going strong. Whether you're looking for some low-key patriotism or flashy as a firework flair, we've got the wallpapers for you!
Fireworks may go off on other holidays, but no other day is more synonymous with lighting shiny explosives than July 4th, and while doing them at home can be dangerous, there's no shortage of local, state, and national displays to watch the professionals strut their stuff. Fireworks make for explosive wallpapers, allowing your apps to pop like fireworks of their own against the high contrast colors. The whimsy of these corkscrew fireworks add a playful touch, as well.
Wonder Woman was introduced as an American hero, and so even though she was the daughter of demigods and Greek warrior queens, Wonder Woman was red, white, and blue. And in a homage to that history, DeviantArt user Superman 8193 has taken some poses by David Despau, artfully done them up with some splashes of patriotic colors, and gifted them to us for a beautiful wallpaper that can be patriotic and nerdy all at once!
David Despau - Wonder Woman 2 by Superman8193
As I said, fireworks are one of the holiday's most treasured traditions, the reason it's so treasured is not the highly dangerous pyrotechnics, but the people we gather with to watch them. Watching your friends' and family's faces light up as the fireworks light up the night is the kind of memory that can last a lifetime (why do you think Disney sets off fireworks every night?). And this wallpaper celebrates the most important part of both the holiday and the national pride behind it: building a legacy with loved ones.
There are a lot of lovely quotes around patriotism and American pride, but it's the understated quotes that often have the most impact. Walt Disney certainly a man with no shortage of American pride, but there are two quotes of his that I think sum up his particular brand of national love: "Laughter is America's greatest export" and "I get red, white, and blue at times". This simple wallpaper also plays well on a clean lock screen or a busy home screen.
It also offers some Mickey Mouse flair, possibly the most recognized American icon in the world.
I get Red, White, and Blue at times by Disney Parks Blog
Some patriotic wallpapers are a little more abstract, but this one works it remarkably well. This wallpaper also works well both vertically and horizontally, giving you an extra level of freedom with its stars and stripes. It vaguely gives me some Coca-Cola vibes, so that might explain my unnatural attraction to it.
Your favorites?
Let us know in the comments!
Master your iPhone in minutes
iMore offers spot-on advice and guidance from our team of experts, with decades of Apple device experience to lean on. Learn more with iMore!