Gift Plan vs. Gifts HD 2 vs. mGifts: Gift planning apps for iPhone shootout!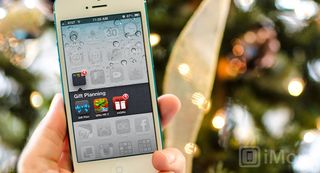 T'is the season to give gifts -- to scramble and fret and hope not to forget sizes and colors and tastes and flavors and entire people on your nice (or naughty) list. Sure gift giving is a year-round chore blessing, but especially in December, especially in our hyper-commercialized culture, keeping track of who you need to give to and what seems especially important. Luckily the App Store has a bunch of gift planning apps to help you out. Gift Plan, Gifts HD, and mGifts can keep you organized and cut down on stress through the holidays, and any time really, but which is the best for you?
Gift Plan vs. Gifts HD 2 vs. mGifts: User interface & design
Upon first launching Gift Plan you'll be asked if you want to import contacts from Facebook and/or your iPhone contacts. It'll aggregate a list for you and then you can choose which to import and which to skip. Some events will already be standard and set up for you such as Christmas, Valentine's Day, and birthdays.
Gift Plan has 5 main sections inside the app that consist of calendar, ideas, occasions, shopping, and more. The calendar section will let you tab through months and will highlight any upcoming events you need to buy gifts for. Tapping on a day that contains an event will allow you to view all the people you need to buy for. Tapping on their name will take them to their contact page where you can see any upcoming events they're involved in and what gifts you still have left to purchase for them.
The ideas tab in Gift Plan allows you to add ideas as you think of them. If you decide later that you'd like to add something from your ideas list to your shopping list you can tap on the shopping basket. If you've already purchased it you can tap on the gift box to save it as purchased already.
The occasions tab is probably where most users will spend their time as it gives you easy access to anything inside Gift Plan. All of your events will be listed in one place with a number counting down to it next to it. Tapping on it expands the list to show you members of that event that you are buying for. Tapping into any one of them brings you to their contact card. The shopping tab functions much like the ideas tab but only pulls in items that you'd decided to purchase. The last tab, which is the more tab contains app settings for notifications and the ability to enable or disable a passcode in case you have any prying eyes in your household.
Gifts HD 2 utilizes a side menu that can be swiped away or pulled out. While in any section, swiping to the right will pull out the main menu. From there you can go in any of the events that you have created. The one thing I instantly noticed is that the events section is at the very bottom of the main navigation. This is rather odd to me as this is where you will spend most of your time while using Gift HD 2.
While inside an event you can view a quick view of all your contacts with a quick summary of your budget, how much you have spent on any one person, how many items you've purchased, and how many you still have left to buy. Along the bottom menu you can access some general event settings, view the calendar which shows how many days you have remaining along with your budget for that list, and pull up a calculator within Gifts HD 2. Above events in the main menu you can search for gifts, track contacts, jump into settings, view reports based on store and finances, submit feedback, and unlock premium features.
To add a contact to an event you can tap the plus sign in the upper right hand corner of any event and you'll be asked to fill out some basic details about that contact. Gifts HD 2 also allows you to import contacts from your iPhone contacts at any time too so you don't have to fill out everything manually if you don't want to.
mGifts doesn't have as pretty of an interface as Gift Plan and Gifts HD 2 but what it lacks in aesthetic appeal it makes up for in ease of use. While it took me a little to get used to how Gift Plan and Gifts HD 2 actually worked, I was able to easily pick up mGifts and start adding things right away with little to no learning curve.
Your main menu will consist of all the events you've got programmed within mGifts. From here you can delete events, edit them, and add or remove users. Tapping into any event will allow you to view the people within those events and add gifts for them. Along the bottom you'll be able to toggle between a few different views - people, gifts, stores, and groups. I particularly like the stores view in mGifts since it allows you another way to shop while you're out and about. If you see you're near a specific store and you've got some things to pick up, it makes it easy to know what you have left at that specific place.
Once you've gotten items listed for a person inside of mGifts you can tap on their name to view the status of your gifts. You can classify them as need, purchased, wrapped, shipped, ideas, and archived. The archive feature is nice as it lets you know what you've purchased for people in the past so you don't end up getting something similar later on down the road. From here you can also share your gifts with anyone as well as edit the contact or add notes.
While Gift Plan and Gifts HD 2 have more attractive interfaces than mGifts, it doesn't mean it doesn't still have a very useable interface. Gifts HD 2's interface is extremely laggy at times and I experienced quite a few crashes once my lists started getting large. Gift Plan and mGifts continued to chug along just fine.
If I had to choose between the two, Gift Plan has the most attractive interface without sacrificing usability.
Gift Plan vs. Gifts HD 2 vs. mGifts: Adding & organizing people to buy for
Gift Plan integrates with both your native iPhone contacts and Facebook. The best part is you don't have to import every single contact. Gift Plan will first scan for contacts and then add only the ones you choose. You can jump into settings at any time in order to add more contacts or delete people from your current list.
Gift Plan also allows you to add people to events via the manage contacts setting at any time. Once you've added them to an event, they'll always show up there, even through recurring years, unless you remove them. One step further, Gift Plan shows custom contact cards with pictures that allow you to enter all kinds of info about that person including what they like, what sizes they wear, what you've already bought.
Gifts HD 2 will allow you to quick add any contact you like on the go but also has an individual setting for managing contacts as well. From the main menu you can choose tracked contacts and view all the contact you are currently tracking within the app.
Gifts HD 2 supports importing contacts from your iPhone but that's it at the current time. Once you select import you'll have to go through your contact list in order to choose them one by one. There is no search or letter bar on the side to skip through either. If you've got a lot of contacts, this can make initial setup rather daunting.
mGifts unfortunately doesn't import any contact from your Address Book or any other service which means you'll have to manually add contacts. You can do this under any event or from settings. To add a contact the only information that is required is their name. You can add their birthday if you'd like along with any notes and a photo if you'd like but it isn't required.
When it comes to managing contacts and best organizing them, Gift Plan integrates with the most services and allows you to make changes more efficiently than both Gifts HD 2 and mGifts. Its killer feature is being able to add ideas, sizes, and more to individual contact cards which makes it a feature no other gift app has yet to offer.
Gift Plan vs. Gifts HD 2 vs. mGifts: Managing events & budgets
Gift Plan makes it super easy to manage events via the occasions tab. Here is where you'll live when inside the app. You can quickly scroll through all your events and expand and collapse them in just a tap. Inside of each you'll see a list of each person you're buying for. To add or edit events inside Gift Plan, you can hop into settings. You can drag the events in the order you'd like them to show up as well as choose a color and change date settings. You can also choose to make the event recurring on a yearly basis or you can turn the recurring feature off.
While Gift Plan doesn't have a specific budget feature, it still makes it easy to track what you're spending on any given event via the shopping tab. Each event will be itemized and a grand total of everything you plan on buying is given next to the event's title. If you want to know how much you're spending on a specific person, you can view their contact contact card and see what you're buying for that person individually under the shopping section.
Gifts HD 2 allows you to create events directly from the main menu. It's actually the first thing you have to do before you can go any further. The one thing I do really like about Gifts HD 2 is the ability to create lists based on groups. For instance, I have two Christmas lists, one for family and one for friends. From here you can create users and a specific budget for each. If you'd like to set a budget for the entire event you can do so by tapping on the calendar icon within an event and putting in a budget amount.
One thing that Gifts HD 2 really focuses on is budget and finances. From the main menu you can click on reports and see a breakdown of what you've already spent, what you have remaining to spend, and more. Gifts HD 2 will also allow you to break down budgets and charts between events. If you've got a separate event for both family and friends for a holiday, you can easily set separate budgets on an individual and event level.
mGifts allows you to add events from the main event screen. After adding them you can edit some attributes about the specific event including the date, people that are included, and any notes or photos you'd like to attach. Unfortunately there isn't currently a way to set an overall budget for an event. It'll be based off of what you input per user.
From the main event screen you can see what your budget is for that event based off the budget you set for each person. Tapping into the event will show the different groups and the people in them. From here you can add items, check them off as you buy them, and change the status on them. Any changes you make will instantly be reflected in the overall events page summary.
If your biggest concern is staying under budget this holiday season, Gifts HD 2 is the best option. If event handling and being able to store information such as ideas and clothing sizes is more important, Gift Plan is where it's at.
Gift Plan vs. Gifts HD 2 vs. mGifts: Cross-platform support and syncing
Gift Plan does not currently offer an iPad counterpart. It also doesn't have any kind of cloud syncing that allows you to sign in and out from one device. This was a big let down for me because Gift Plan is absolutely gorgeous and I can only image how beautiful it would look on iPad. It's something I'm hoping they will work on in the future.
Gifts HD 2 allows you to use either your Facebook, Twitter, or email credentials to create an account. From here your events, people, and gifts will be synced. They also offer an iPad counterpart which I think is actually a better implementation than the iPhone version. The only thing I've noticed is that sync can be rather laggy. A few times I even had to log out and log back in since it didn't load my events. Syncing definitely needs some refinements in the future but it does work.
mGifts supports iCloud syncing which means once in enabled in settings your gifts will be available from any supported device. mGifts also has an iPad counterpart which looks and feels exactly the same as the iPhone version. Once downloaded, just pop into settings and turn on iCloud sync and your items will populate on your iPad as well.
When it comes to sync, Gifts HD 2 and mGifts both have workable solutions but mGifts syncing functions much better than Gifts HD 2's.
Gift Plan vs. Gifts HD 2 vs. mGifts: Pricing
Gift Plan is currently priced at $2.99 and that'll only get you the iPhone version since that's the only one Glasshouse offers. For most users, it's a small price to pay for what the app offers. It's the only one that offers data input such as sizes.
Gifts HD 2 is completely free and is a universal download for both iPhone and iPad. There is a little catch though that isn't really explained very well by MacSpots. You can only store so many lists and gifts unless you decide to go premium via an in-app purchase for $2.99. I got the message to purchase the premium version after adding about 5 or 6 gifts. If you are aiming towards Gifts HD 2, I'd plan on spending the $2.99 to have the ability to add unlimited amounts of events, people, and gifts.
mGifts is priced at $2.99 and is also a universal download for both iPhone and iPad. There aren't any additional in-app purchases to worry about and that'll get you all the features mGifts has to offer.
Considering Gift Plan, Gifts HD 2, and mGifts are all moderately priced, I wouldn't take price to be a determining factor. Decide what app you'd like to use based on the feature set and what is more important to you when shopping for friends and family.
Tie between all three.
Gift Plan vs. Gifts HD 2 vs. mGifts: The bottom line
Gifts HD 2 has both an iPhone and iPad interface, and a much better interface than mGifts, but it's slower and less stable, and in the end that makes mGifts the better (if not as pretty) choice for those who want to sync their gift lists to all their iOS devices.
Gift Plan is the best looking, and offers the most detailed, most customizable information. If you don't need an iPad version or syncing, and plan to track all your shopping straight from your iPad, go with Gift Plan.
Get more iMore in your inbox!
Our news, reviews, opinions, and easy to follow guides can turn any iPhone owner into an Apple aficionado
iMore senior editor from 2011 to 2015.