Gifts for iPhone photographers: 2012 holiday guide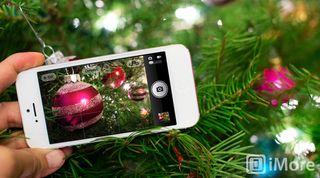 The iPhone is equipped with an excellent camera that has the effect of turning people into photography enthusiasts and iPhone photographers known as "iPhoneographers". If you know one such person, the good news is that there are tons of great products available that your photography-loving friend or family member will be thrilled to receive as a gift this holiday season.
Olloclip 3-in-one lens system
The Olloclip 3-in-on lens system is a great gift for any iPhone user, but photography enthusiasts will really appreciate it. This tiny little accessory is equipped with macro, wide-angle, and fisheye lenses that slip over the iPhone's built-in camera. This great little kit is small enough to carry in your pocket, yet makes the iPhone's camera a lot more versatile. If your photography-loving friend doesn't already own an Olloclip, I guarantee s/he has been dying to get one.
Glif Tripod Mount & Stand
The Glif Tripod Mount & Stand is great for the iPhoneographers who are into self portraits, night photography, or other types of photography that require a tripod. It's a small little accessory that snugly holds the iPhone and attaches to a tripod. In addition to working as a tripod adapter, the Glif can also be used as a stand that props up the iPhone in various angles for handsfree use like watching movies or FaceTiming.
There are two different versions of the Glif available: Glif and Glif+. The Glif+ is a deluxe package that includes a Serif and Ligature. The Serif is an additional piece that is designed to keep your iPhone even more secure on a tripod and stores snuggly inside the Glif when not in use. The Ligature is a simple keyring loop that attaches to the tripod thread on the Glif so that the Glif can be attached to your keychain, backpack, or purse so that it's always with you and available.
GripTight GorillaPod Stand
For the more extreme iPhone photographer, the GripTight GorillaPod might be a better tripod option. The grippy leg joints on this tripod bend and rotate 360 degrees allowing you to secure your iPhone to just about anything including trees, bars, rocks, benches, fences, and more. The new adjustable grip fits all iPhones with or without a case making this gift useful even when the recipient upgrades to the next iPhone.
Lifeproof Case
It's not uncommon for a photographer to do whatever it takes to get that perfect shot... providing it doesn't cause destruction to their camera. A Lifeproof Case will offer your photographer friend the best possible protection to their iPhone allowing them to take photo in even the most extreme conditions, including under water! Lifeproof also makes a GoPro adapter and bike and bar mounts so that you can attach your iPhone to your head, bike, waist, and more.
$79.99 - Buy Now

(opens in new tab)
Retina iPad
One of the best companions for the iPhone photographer is a Retina iPad. The gorgeous screen on the Retina iPad allows photographers to show off their photos in all their glory as well as choose from a wide selection of photo editing apps in the App Store. Sure, the iPhone has both of these things too, but when it comes to photography, bigger is better!
Starting at $499 - Buy now

(opens in new tab)
iPhoto for iPhone and iPad
Speaking of photo editing apps, Apple's iPhoto is a great and affordable app to get for that photography-loving friend or family member. iPhoto includes multi-touch editing, brushes, high-quality effects, photo journals, and more. What I, personally, love about iPhoto is that even though it isn't the most powerful photo editing app available, it has more than most people need and is super easy to use making it great for quick edits.
Former app and photography editor at iMore, Leanna has since moved on to other endeavors. Mother, wife, mathamagician, even though she no longer writes for iMore you can still follow her on Twitter @llofte.
Wow. I'll need to ask Santa for a GorillaPod. The actual phone clamp seems to be flexible enough to hold any past, present, and future iPhone. (And maybe GripTight could add magnetic feet as an option in the next-gen GorillaPod...) And while we're on the subject of iPhoneography, maybe Siri could be taught to understand "Take a photo with a 10 second self-timer. Yes, there are tons of self-timer apps out there, but it seems like a simple feature to add.

Why not a Bubo Owle or Phocus case(This company changed the name like 3 times...) The case plus an adopter allows iphone users to use DSLR lenses.

After you've bought all these wonderful gadgets, here's an excellent app that will help you get the most out of your iphone or itouch camera https://itunes.apple.com/us/app/camera-course-for-iphone/id583272891?at=... - this is the only dedicated iphone camera course app that teaches you how to use your camera as well as the fundementals of general photography. Most people learn at least 3 new things in the first of the 28 video tutorials :)
Get the best of iMore in in your inbox, every day!
Thank you for signing up to iMore. You will receive a verification email shortly.
There was a problem. Please refresh the page and try again.