iPhone and iPad gifts for students: 2012 holiday guide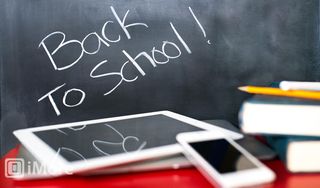 If you know or are the parent of an iPhone or iPad-loving student who's on your holiday gift list, the good news is that there are tons of great accessories and apps that will make excellent gifts for any student.
iPad mini
The iPad mini is the dream device of just about every student. The portability and usefulness of it is just killer for the busy student who's always on the go. With the iPad mini, your student can take notes in class, write papers, store books, download study tools, and also enjoy some downtime when their schedule allows - all in a perfectly sized, light, portable package. The iPad mini is the first step to saving your student's back from lugging around a bunch of material in their backpack all day.
CaptureNotes 2 for iPad
CaptureNotes 2 is the iPad note-taking app that is designed specifically for students. In addition to the ability to take handwritten notes (most likely with a stylus), CaptuerNotes 2 will also allow your student to record audio (to, say, record the lecture) and take photos that can be directly added to their notes. S/he can also import PDF's and annotate them with your own handwriting or highlights. There are a lot of different note-taking and PDF-annotating apps out there, but CaptureNotes 2 is a great one for students because it lets users organize their work into custom notebooks and binders.
Ten One Design Pogo Sketch Pro stylus
Speaking of taking notes, what good is a killer note-taking app without a just as killer stylus? The Pogo Sketch Pro is a fantastic app for taking notes on an iPad and the one I currently use regularly as an instructor for writing notes and quiz/exam solutions for my students. My students always look at my setup with envy, so I guarentee your student will love an Pogo Sketch Pro.
Incipio Feather Ultralight Hard Shell Case
There's no denying that students have a burning desire to reflect their style by what they wear, what car they drive, and what case they have on their iPhones and iPads. That's why the Incipio Feather Ultralight Hard Shell Case is a great choice for the fashion-conscious student. It's thin, yet offers some protection, and comes in 8 different colors. The iPhone 5 and iPad mini versions are meant to be used on their own, but the iPad 2, iPad 3, and iPad 4 versions are designed to be used with an Apple Smart Cover.
Dropbox subscription
Dropbox is, without question, one of the most useful services available to students (and non-students) everywhere. Students these days have dozens of files that they have to save and reference throughout the semester, and Dropbox is the perfect app for keeping these files not only organized, but accessible from any device. A free Dropbox account offers 2 GB of storage which should be plenty for the average student's school related materials, but that won't be enough space to also store all those photos or other fun stuff they may want to save in the cloud. That's why a paid subscription to Dropbox would make a fantastic gift.
iWork for iPhone, iPad, and Mac
Being a student means writing papers, creating spreadsheets, and designing presentations, and the good news is that they can do all of this directly on their iPhone and iPad with Apple's iWork collection: Pages, Numbers, and Keynote. And if your student has a Mac, s/he can use iCloud to seamlessly jump between Mac, iPhone, and iPad giving them no excuse not to get their work done (like "my roommate stole my Mac's charging cable!")
iStudiez Pro for iPhone and iPad
iStudiez is an iPhone and iPad app that is perfect for students to keep track of their class schedule, due dates, homework assignments, and more. As an important date approaches, iStudiez will send them notifications to remind them about the project or assignment that is due or when a class is going to start soon. iStudiez Pro will help your student stay organized during the school year -- something that many students regularly struggle with.
Jawbone JAMBOX
Did you know that students love music but have very little space for good speakers? Of course you do, which is why you understand why the Jawbone JAMBOX will be an amazing gift for your student. This tiny package delivers huge sound at up to 85 decibels. It's completely wireless, making it simple for your student to play music over Bluetooth and even bring along to the party study session at his/her friend's dorm or apartment.
If your student would appreciate an even more powerful speaker, check out the Jawbone BIG JAMBOX. It's the same thing, just in a slightly bigger package with much more impressive insides.
Starbucks Gift Card
Many students practically live at Starbucks and will jump with joy with even a $5 gift card to the popular coffee chain. If you're an iPhone user, sending out Starbucks gift cards are easier than ever with the official Starbucks app for iPhone. Simply browse to the eGifts tab, select if you want to deliver via email or Facebook, select a contact, write a short message, and choose a value between $5 and $100 (in $5 increments). There are 10 different Holiday card styles to choose from as well.
Get more iMore in your inbox!
Our news, reviews, opinions, and easy to follow guides can turn any iPhone owner into an Apple aficionado
Former app and photography editor at iMore, Leanna has since moved on to other endeavors. Mother, wife, mathamagician, even though she no longer writes for iMore you can still follow her on Twitter @llofte.