Gist for iPhone lets you catch up on news quick by summarizing articles for you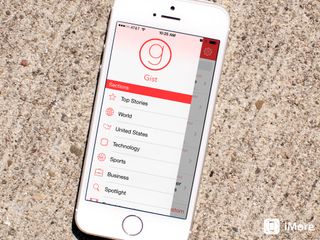 Gist for iPhone is a news reader app that filters recent stories from Google News in a variety of different categories. That's not what makes it unique though. Gist can summarize articles for you automatically so you can catch up on news fast and get on with your day.
When you launch Gist, there are already news articles waiting for you. Tap the menu icon to pull out the category selector. Tapping into any article brings up a brief summary of the article. All summaries generally consist of a few bullet points. If you want to view the whole article, just tap into it.
One thing I've noticed with summaries in Gist is that if an article has a lot of photos or pull quotes, summaries take some time to generate. By some time, I mean about 15 seconds or so, nothing to write home about. It's just a longer wait time than articles that are mainly text.
If you want to view a summary of an article that isn't in Gist, just copy the URL from the source and tap on the custom button. Paste in the URL and Gist will automatically generate a summary. You can toggle to the second custom tab and create custom summaries as well. This is a great option for PDFs or other kinds of documents that maybe don't have a URL. Create a short title and then copy the body text. Gist does the rest.
Gist is probably one of the best looking news apps I've seen in a while as well. If there was an option to import custom feeds, the chances of it becoming my go-to RSS app would be high. Until then, it still earns a spot on my iPhone for when I want to catch up on news quickly.
If you've tried out Gist, let us know what you think of it too!
Get the best of iMore in in your inbox, every day!
iMore senior editor from 2011 to 2015.
I'm embarrassed to say I love this. I teach middle school and slowly I'm getting as bad as my students when it comes to attention span. This is so cool that I can just get the main part of the news quickly and move on. Sent from the iMore App

I'm unfamiliar with this app, thank you for the introduction. It is a nice looking app in that it fits in well with the iOS 7 theme. It looks better than the other new app I've used. Sent from the iMore App

Doesn't Circa work very similar to this? https://itunes.apple.com/us/app/circa-news/id517114354?mt=8&at=10l3Vy Sent from the iMore App

IMHO, Circa does this, free, more quickly, and more beautifully. Thanks for always keeping readers up on the latest apps out there; it's always good to know you have choices. I just recommend Circa ;)

I agree Circa does the job just as well and it goes even further by allowing users to follow stories long past the first read. Gist can wait; I'll stick with the free stuff for now. Sent from the iMore App

This seems like a great idea for people like me who only have a few minutes to glance at articles. Some of the really interesting ones tend to be long reads and I don't normally have time for those.

Came across this while searching for other "GIST" apps. Similar summarization, but for restaurants + recommendation engine: www.GISTfood.com

I'm more curious to see how this app summarizes the news. How can they tell which information are the most relevant? Interesting.
And it seems that more and more are preferring their information brief and condensed. First, Twitter, then this. Sent from the iMore App

I would not pay for an app like this especially when there are multiple apps like Circa that donut just as well for free. I prefer to have most of the article with pictures so Zite is more for me. I used to use Pulse exclusively, however, there have been some changes wth the app and I find that Zite is more for me. Sent from the iMore App
Thank you for signing up to iMore. You will receive a verification email shortly.
There was a problem. Please refresh the page and try again.