There's a new Glif in town – and it's ready to help you take stellar iPhone photos!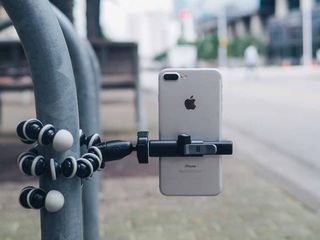 TechCrunch:
If you're someone who does a bit of shooting or photography with your iPhone, then chances are you've heard about the Glif. It's tripod-mount that's specifically designed to secure and stabilize your iPhone in a simple, effortless way!
Now the company who designed the original has released a redesigned version of the Glif; one that holds your smartphone in portrait and landscape mode, allows users to pop their phone in and out of the Glif with the switch of a lever, and so much more.
What's new with the Glif?
The quick release lever allows the jaws of the Glif to move freely, but when it's locked in, it ain't going nowhere.
The portrait or landscape mode is perfect for livestreaming on Instagram or Snapchat. The Glif comes with a side-mounted tripod mount, which lets devices get mounted differently depending on your preferred orientation.
If you're looking to build a full-on mobile photography rig, then the Glif's new extensibility features allow you to attach 3 different tripod mounts like a mic, a light, and whatever else you need for mobile shooting!
Sweet! Where can I get it?
Right here!
What else does it come with?
You can pick up a hand grip and wrist strap with the 'Full Set" option.
What do you think about the new Glif?
Are you a big fan of the new design of the Glif? What are your favorite features? Let us know what you think in the comments below!
Get the best of iMore in your inbox, every day!
Cella writes for iMore on social and photography. She's a true crime enthusiast, bestselling horror author, lipstick collector, buzzkill, and Sicilian. Follow her on Twitter and Instagram: @hellorousseau
got mine today, this is going to be fun, now need to shop for a mike

I have yet to use it on a trip, but I do love the design. Since it's adjustable, I do not have to worry about it not fitting any future phones/cases I will get.