Glympse and Kik team up to help friends share their location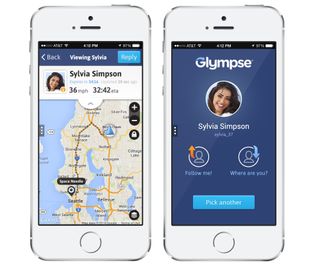 Popular location-tracking service Glympse is announcing a partnership today with Kik Messenger that will bring offer time-limited location sharing between friends. Now you can share your location or request that a friend share their location using Glympse straight from a Kik conversation, found right from inside the app. You can limit how long the friend will be able to see your location — from just a single point to four hours of tracking — and even view a live map of the movement.
You can find the Glympse functionality inside Kik by searching the Kik browser. Give it a try with the latest version of Kik Messenger from the Play Store link at the top of this post.
GLYMPSE DEBUTS ON KIK MESSENGER; 120 MILLION USERS NOW HAVE ACCESS TO REAL-TIME LOCATION SHARING
Users can share location details with Kik contacts and friends
SEATTLE – July 18, 2014 – Glympse, the pioneer of temporary location sharing technology, has partnered with Kik to incorporate Glympse location technology within the messaging application. Launching today, Glympse for Kik will be included as a featured app and will allow Kik's 120 million users to share their location with their friends and view others whereabouts, all from within the app.
Developed specifically for the Kik platform, Glympse for Kik utilizes a user's Kik social network to share location. As all communications are sent exclusively through the Kik network, Kik users with Glympse do not need to leave the app to share, request or view location from friends and connections. With this integration, Glympse and Kik are able to provide users with a more fun and interactive experience.
"Location and messaging are tailor made for each other. Texting has become a primary form of communication for many, and many times the conversation includes the question, 'where are you?'" said Darren Austin, vice president of product, Glympse. "By incorporating location technology within the Kik application, users now have a engaging, dynamic way to interact. With this latest integration, we are continuing to push forward with a new wave of messaging that does more than just static text."
To use Glympse for Kik, users simply need to swipe left top open the Kik browser and search for Glympse. From there, they can easily select a contact and tap "Follow Me", then select the amount of time their location will be visible, from an instant up to four hours. The recipient will automatically receive a dynamic map showing the sender's location in real-time directly in the conversation – no need to open a browser or access another app.
With the new Glympse for Kik Messenger, users can:
Share to an Individual: Provide current location before leaving work or while traveling to a destination to meet the other person.
Request a Glympse: Ask for another's current location while in a conversation.
Reply with a Glympse: Users can easily share their own whereabouts with a Kik friend who has already shared their location.
View on a Live Map: Glympse automatically updates location in real-time directly within the conversation.
For more about Glympse, visit www.Glympse.com.
About Glympse Glympse™ is the pioneer of person-to-person time-based location sharing technology. With an intuitive design and enhanced features, the company easily integrates location sharing into everyday activities, meetings and events. Glympse has partnered with many top-tier companies, including BlackBerry, BMW/MINI, Ford, Garmin, GM, Gogo Inflight, Jaguar Land Rover, Mercedes, NAVIGON, Samsung and Verizon, which have integrated the Glympse brand and enterprise platform into their own products and applications. The company is backed by Menlo Ventures, Ignition Partners, Verizon Ventures, Naya Ventures and UMC Capital.
Get more iMore in your inbox!
Our news, reviews, opinions, and easy to follow guides can turn any iPhone owner into an Apple aficionado
Keeping you up to date with mobile news and analysis since 1989.