Godus: Top 10 tips, hints, and cheats you need to play a better god!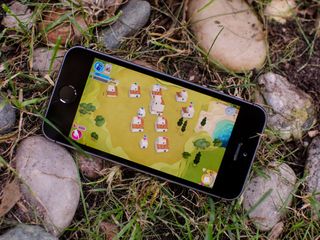 In Godus, you are the creator of all things. That comes with the responsibility of making the world suitable for your followers. Sculpt and shape the world around you to help them grow and prosper. As you get further, you'll need to use your God powers in order to obtain the belief of your followers. The more they thrive, the more they believe in you. Belief isn't free and you'll have to use yours wisely, or you'll end up having to spend real money in order to get things done. Here are our top tips, hints, and cheats to building a thriving Promised Land in Godus!
1. Speed up time for instant belief and building completion
Like many other games, Godus is also susceptible to speeding up time artificially in order to complete goals quicker. Just hop into the Settings app of your iPhone or iPad and speed time up a few hours. Hop back into Godus and everything you were working on should be complete. You should also have lots of belief to collect. Once you're done, hop back into time settings and correct things again. None of your progress will be taken away.
2. Boost your workers regularly
Tap on any worker and you should notice a boost option. Make a regular habit of boosting workers because if you don't, they'll get fatigued. This causes projects to take longer and in some cases, they'll go sleep instead of work. At that point you'll need to trade in gems in order to wake them up, or you'll have to wait. Instead, just be sure to boost everyone regularly to make sure your followers are happy and stay at maximum productivity at all times.
3. Don't use leashing unless you need to
Every time you order someone to a specific job site with leashing, you'll use belief. Typically ordering people to work simply by tapping on their abode is sufficient. If there's a job you want to be first priority, then order people to specific sites. If you just want work in general done however, let your followers do their own thing.
4. Follow the butterflies
Chests contain all kinds of goodies in Godus and you'll want to make sure you're finding and opening as many as you can. An easy way to know where to locate a chest is to follow the butterflies and then start sculpting the land in order to uncover it. You never know what you're going to get but if you can get at a chest, by all means, do it.
5. Keep followers happy with the God Seed
Once you obtain the God Seed, make sure you put trees by your followers' homes. You can also increase happiness by using the Rain of Purity once you obtain it. If you don't keep your happiness up, your followers will abandon you for the Astari, so be sure you keep an eye on them.
6. Voyages are a quick way to rack up stickers
You'll need stickers to advance in Godus and one of the easiest ways to do it is by going on voyages frequently. The same quests cycle themselves every 24 hours as well so after a while, you'll learn how to avoid obstacles and make it through voyages at lightning speed. Just be sure you do them in the time you have remaining each time.
7. Start the voyage cycle over again immediately
If you don't want to play harder voyages and would prefer sticking with what you know, you can easily start the cycle over again by hopping into your iPhone or iPad's Settings app and turning time forward 24 hours. This will make Godus think a new day has started, and voyages will start over.
8. Clear trees and rocks for bonus belief
Every time you clear a rock or tree, you'll gain some belief. This is an easy way to rack some up if you're running low. You aren't going to gain enough to sculpt an entire mountain side but you'll get enough to dole out a few orders and keep going.
9. Use the Finger of God to destroy abodes you don't want anymore
After a while you'll probably want to remove older abodes that are smaller and produce less in favor of larger ones. While you can always condense them into a farming settlement to do this, you can also use the Finger of God once you've obtained that particular power in order to destroy old abodes. Then you can order followers to rebuild on the same land.
10. Use your God powers to keep the Astari away
The Astari have a nasty habit of trying to wreak havoc on your settlements. Use your God powers to scare them away. While sculpting the land spooks them, try drowning them or putting water around settlements where possible in order to ward them off easier when you need to.
Your top tips, hints, and cheats for building a thriving community in Godus?
If you've been building your own world inside Godus, what are some interesting tips, hints, and cheats you've used to create settlements even faster? Be sure to share them in the comments!
Master your iPhone in minutes
iMore offers spot-on advice and guidance from our team of experts, with decades of Apple device experience to lean on. Learn more with iMore!
iMore senior editor from 2011 to 2015.