The Gold Apple Watch Sport in pictures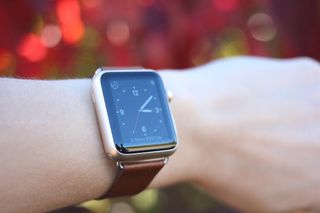 As the leaves change with the seasons, so do the colors of the Apple Watch Sport. There are two new anodized aluminum finishes for Apple's entry-level smartwatch, gold and rose gold—and yes, they do conveniently match the colors of the gold and rose gold iPhone 6s.
Rene took the rose gold Apple Watch for a spin, while I took a look at the new gold finish.
Though you may not be surprised to hear it, the new Sport colors are flawless: They may not have the polished allure of the 18-karat Apple Watch Edition, but in many ways I actually prefer the matte colors—chief among them that they're $9651 cheaper.
The gold Sport is much paler than its Edition counterpart, matching more closely to that of the gold iPhone than real 18-karat gold. And I'm glad for it: Stylistically, I vastly prefer this shade to the yellow-gold of the Edition watch.
The coloration is close enough to the silver casing of the standard Apple Watch Sport that it makes matching bands an easy process. Almost every band I tried looked fabulous—even those with different-colored lugs or finishes.
By default, the golden 38mm Apple Watch Sport comes with the Antique White Sport Band (the pin is color-matched with the gold casing, for extra matching pizazz). In daylight, it's hard to tell the difference between a traditional white sport band and the new antique white—several friends commented on as much during CocoaLove. But that faded white offers a subtle but a nicer overall pairing with the gold watch, as you can see in these comparison pictures between antique (left, middle) and white (right). Also, gold pin.
Image 1 of 3
The gold Sport looks pretty good with the Modern Buckle, despite clear coloration differences in the lugs: With both, it looks almost like a stylistic choice rather than a mismatched band. It does look a bit strange when you hold the watch in profile, as the silver Modern Buckle is clearly of a very different coloration than the casing, but this is really only an issue when the band is off your wrist, on display. When wearing the combination, you either see gold watch or silver buckle—rarely, if ever, at the same time.
Image 1 of 3
I'm not so big of a fan of it paired with the Milanese Loop—it's too much silver for me on that gold frame.
Image 1 of 2
If you want color choices, however, the Sport bands continue to shine: The various colors pop even more when paired with the gold watch. I'm particularly fond of the gold and black color combo—it's a fabulous look for evening wear, especially.
Image 1 of 2
Image 1 of 3
Image 1 of 2
In all other aspects, the gold Sport is a Sport by any other name: It's made out of the same 7000-series aluminum case, Ion-X glass screen, and composite glass rear screen.
Are you considering a gold Sport for your next (or first) Apple Watch? Think it's awesome or the ugliest thing Apple's ever produced? Let us know below.
Get more iMore in your inbox!
Our news, reviews, opinions, and easy to follow guides can turn any iPhone owner into an Apple aficionado
Serenity was formerly the Managing Editor at iMore, and now works for Apple. She's been talking, writing about, and tinkering with Apple products since she was old enough to double-click. In her spare time, she sketches, sings, and in her secret superhero life, plays roller derby. Follow her on Twitter @settern.
I picked up the 42mm I really like it with the blue band. My wife has the 38mm SS and now that I seen the gold sport with leather bands I will shop for a leather band.

Wish they'd matched the Space Gray iPhone 6 and 6S to be the same as the Apple Watch, prefer the darker shade :-(

The gold paired with brown leather looks really good.

I have he 38mm, I really liked the blue band and plan to get one, but the eggshell (off white reminds me of the color of the default color of NYC apartments) band has really grown on me. I've been wearing it every day for the past month (gotta close those activity rings) and the color is looking good. The matte gold finish is really subtle and fits every situation

I actually sold my black sport watch to pick up one of these 42mm gold/blue. Im not a fan of gold at all, but the matte gold is subtle enough to not look douchy, yet still stands out enough to be unique and get noticed.

I could have done without the auto-playing advert with the really loud audio! iMore has the best content but the very worst intrusive advertising. It makes it hard to read your stuff. I bet you don't like it either. I hope you manage to persuade the powers-that-be to crank it down a few notches.

Ugh, we're sorry about that—we shouldn't have auto-playing video at all! We're looking into it.

Also, filling out this form helps! https://docs.google.com/forms/d/1pyEwdEIHUv0eHnINi0sJegB4vJW6zo-_RhSlkSEYz9I/viewform?c=0&w=1

Great. Thanks very much for the link to the proper form. Have bookmarked it. Cheers.

Or better yet just use your favorite iOS 9 Content Blocker! This family of web sites is one of the more worse offenders in terms of all the crap they jam into their pages. You will be amazed at how much faster their pages load. And you will save some on your monthly data allotment to boot!

Looks cool Sent from the iMore App

Serenity in last photo is so cool

The matte gold does look nice. It seems to "go with" more things than the matte rose gold.

Serenity, thank you for this article! Had never considered the Gold Sport as an option and was looking for a non-blingy AW. Was resigned to the Aluminium Sport but wasn't comfortable with the comments about the scratches. Then I stumbled on your article and everything clicked into place. Loving the Gold Sport and wouldn't change it with any other. Oh, maybe the Hermes Single Tour...

Very helpful article / gallery. I have a 42mm sport gold with blue band and am getting the itch to get more bands but couldn't picture what would look nice. The leather band looks to be the winner in my opinion.

Gold apple watch is very nice...And good model..I like it....