Amazon Echo vs. Google Home: Which works best with your Apple products?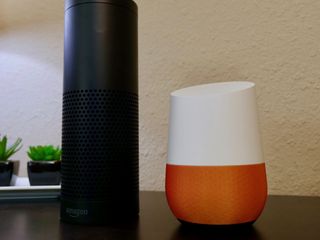 You've got a home full of Apple products: an iPhone in your pocket, a Mac on your desk, an Apple Watch on your wrist, and an iPad in your backpack. Lately, however, you've noticed a hole in your life; your home … it's too quiet, too disconnected, too lonely. Suddenly it hits you: You're ready to take the next step in connected home living! What you need is an always-on, voice-controlled assistant to keep you and your home company.
Although we may soon see a voice-controlled home hub from Apple, it's still only a rumor for now and that means you're left with two viable options, Google Home or Amazon Echo. So which one's right for you? Read on to find out!
A brief introduction
Amazon Echo and Google Home are both always-on smart speakers, devices that play media and feature intelligent assistants that respond to voice commands. The Amazon Echo is a tall, cylindrical tube with built-in 360º omni-directional speakers and seven microphones touting "far-field voice recognition" that allow the device to hear you no matter where you are in the room. Google Home is a shorter, squatter device that looks more like home decor than its taller counterpart. It packs in a hi-fi speaker and microphones with "far-field voice recognition" as well as a touch surface on the top of the device for controlling the system with your hands. The Amazon Echo features Amazon's intelligent assistant, Alexa, which gives the device access to an ever-growing list of smart home technology and other integrations. Google Home touts the Google Assistant, an intelligent assistant powered by Google's knowledge graph, AI chops, and integrations with your personal data. The Amazon Echo typically retails for $149.99 and Google Home goes for $129.
We're going to take a look at several different factors that might affect your decision to buy an Amazon Echo or Google Home. For each deciding factor, I'll mark a winner based on how well the device holds up in that category. Hopefully you'll be able to walk away with a decision!
Basic compatibility: It's a draw
Because most of your interactions with Google Home and the Amazon Echo should be happening with your voice, compatibility with your iOS and macOS devices shouldn't be too important. That said, you'll need a base level of compatibility in order to set up your smart speaker and perform non-voice interactions. Both smart speakers are compatible with your Apple devices.
Amazon and Google both offer third-party iOS apps for setting up and controlling the Amazon Echo and Google Home, respectively. You'll use the apps during the initial setup process to get your smart speaker connected to your home Wi-Fi network and from that point on to add integrations (music, home automation accessories, IFTTT, etc.) and control your device without needing to use your voice.
There's honestly not a lot to say about the smart speakers' basic compatibility with your Apple devices. Setup can be clunky for both the Echo and Home and the speakers' apps can be difficult to navigate at times and finicky at others. If the goal is to get you using your voice to interact with the devices as much as humanly possible, Amazon and Google are doing a good job of discouraging users from using their respective apps.
Music listening: Amazon Echo
Let me be clear: This piece is meant to help you decide on a smart speaker based on how well it integrates with your Apple products. Given that's the case, this category has a clear winner. While both the Echo and Google Home offer music streaming integrations with Spotify, Pandora, and their own music streaming services (Google Play Music and Amazon Music Unlimited), only the Amazon Echo lets you stream your music over Bluetooth.
You can use the Amazon Echo like you would any portable Bluetooth speaker: connect with a device and stream any and all audio content your heart desires! Google Home works a little more like Sonos: If you want to listen to music, you've got to use the services it offers. If you listen to music via an Apple Music subscription, you're definitely going to want to go with the Echo.
Smart home: Amazon Echo
Smart home integrations aren't strictly about Apple device compatibility, but they're something you should consider before deciding on a smart speaker. Why? Controlling your smart home accessories with your voice is the best reason to have an always-on, always-ready smart speaker. The Amazon Echo wins this category because Alexa's smart home compatibility list is monstrous and it continues to grow. There's also quite the overlap between HomeKit-enabled accessories and Alexa compatibility.
These smart home accessories work with Amazon's Alexa and Apple's HomeKit
Here's a list of compatible home automation products for Amazon Echo and Google Home:
Switches and Bulbs
Philips Hue Bulbs, Lights, and Lightstrips
Lutron Caséta Switches & Dimmers
LIFX Bulbs and Lightstrips
Insteon Lighting
TP-Link Switches and Bulbs
GE Link Bulbs
Haiku Home Select Lighting
Stack Bulbs
Outlets
WeMo Plugs
TP-Link Plugs
iHome Smart Plug
D-Link Smart Plug
iDevices Smart Plugs
Locks
August Smart Lock
Schlage Touchscreen Deadbolt
Schlage Connected Keypad Lever
Yale Assure Lock
Yale B1L Lock
Yale Key Free Deadbolt
Yale Push Button Deadbolt
Yale Push Button Lever Lock
Yale T1L Lock
Yale Touchscreen Deadbolt
Yale Touchscreen Lever
Kwikset SmartCode Deadbolts
Kwikset SmartCode Levers
Kwikset SmartCode Touchscreen Deadbolts
Note: Most of Amazon Alexa's lock compatibility comes by way of its integration with the Samsung SmartThings Hub and Wink Hub.
Thermostats
ecobee3 & ecobee3 Lite Thermostat
Nest Learning Thermostat
Lyric T5 Thermostat
Sensi Emerson Thermostat
iDevices Thermostat
Honeywell Lyric Thermostat
Tado Thermostat
Carrier Côr Thermostat
Appliances and Misc.
Racho Smart Sprinkler Controller
Samsung Robotic Vacuum
Switches and Bulbs
Philips Hue Bulbs, Lights, and Lightstrips
TP-Link Bulbs and Switches
LIFX Bulbs and Lightstrips
Some switches and bulbs available to Samsung SmartThings and Wink Hub 2
Outlets
Insignia Smart Plug
TP-Link Plug
WeMo Plugs
Some outlets available to Samsung SmartThings and Wink Hub 2
Sensors
First Alert OneLink Smoke and Carbon Monoxide Alarm
First Alert OneLink Environment Monitor
Some sensors available to Samsung SmartThings and Wink Hub 2
Cameras
Locks
Thermostats
First Alert OneLink Thermostat
Nest Learning Thermostat
Honeywell smart thermostats
Some thermostats available to Samsung SmartThings and Wink Hub 2
Appliances and Misc.
First Alert OneLink Safe
IFTTT integrations
Frigidaire smart appliances
Rachio Irrigation and Sprinkler Controllers
Other appliances and accessories available to Samsung SmartThings and Wink Hub 2
Automations: It's a draw
Thanks to IFTTT integrations, if you want your Apple devices to work more closely with your voice assistant, you can usually make it happen. Both the Amazon Alexa and Google Home have IFTTT integrations that will help you do any number of things using voice commands. I can, for example, say, "Alexa, trigger find my phone," and IFTTT will call my phone. I can also, for example, say, "Ok Google, add a reminder to my iPhone" and IFTTT will add the reminder to Reminders for iOS.
Overall: Amazon Echo
Looking strictly through the lens of Apple device compatibility, Amazon Echo takes home the trophy for Best Smart Speaker for Your Apple Home. Thanks to Amazon's "come one, come all" philosophy for Alexa and Amazon Echo, the device is essentially universally compatible. Google Home, in contrast, works best with Android devices and has limited smart home integrations. It works fine in an Apple home (I have one), but I can't help but notice how much better it works with the Huawei Mate 9 I have sitting near it.
Even after all the compatibility considerations, it's important to note one thing: These smart speakers have fancy built-in microphones for a reason and it's not for interacting with 'em via apps. As long as your smart speaker reacts to the sound of your voice and provides your desired features and interactivity, compatibility considerations matter less.
How do the two compare on their own?
If you just wanna know how these two smart speakers compare without taking your Apple products into consideration, check out Russell's comparison over on Android Central!
Questions?
If you have any questions or would like to have other considerations added to the list, be sure to leave a comment below or fire off a tweet!
Master your iPhone in minutes
iMore offers spot-on advice and guidance from our team of experts, with decades of Apple device experience to lean on. Learn more with iMore!
Mikah Sargent is Senior Editor at Mobile Nations. When he's not bothering his chihuahuas, Mikah spends entirely too much time and money on HomeKit products. You can follow him on Twitter at @mikahsargent if you're so inclined.