HomePod: Everything you need to know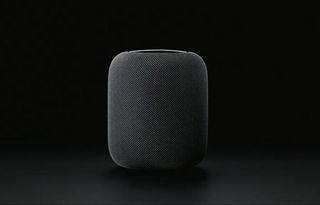 (Image credit: Apple TV+)
Apple's highly anticipated HomePod is now available! The Wi-Fi connected speaker offers up Siri voice control, HomeKit functionality, and boasts incredible, virtual surround sound. Wanna know more? We've got the details!
September 12, 2018: HomePod OS has been updated with new features and Siri languages
Today as part of Apple's 2018 keynote event in Cupertino, CA, the company announced in a press release (opens in new tab) that a few new incredible features are coming to HomePod OS. With support for multiple timers, making and taking phone calls, and more, the upgrade makes HomePod more versatile than ever before.
Here's what you can expect from the update, according to Apple:
New Siri languages: HomePod now offers support for Spanish in the US, Spain, and Mexico, as well as support for Canadian French in Canada.
Make and receive phone calls: HomePod users can now make and receive phone calls directly from their spart speaker. To make a call, all you have to do ask Siri to call someone from Contacts or say the number you'd like to reach aloud. Receiving a call is even easier: because incoming calls are automatically directed from iPhone to HomePod, all you need to do is ask Siri to answer the phone. You can also review missed calls and transfer a call between your HomePod and your iPhone.
Search by lyrics: Now, in addition to asking Siri to play a particular song or artist, you can ask it to "play the song that goes like this..." and recite the lyrics. It's a great tool for the scatterbrained among us who are better at remembering lyrics than song names.
Multiple timers: Busy individuals, this one's for you. HomePod now supports multiple named timers so you can keep track of all your timed tasks using your voice alone.
Find My iPhone: Find My iPhone has officially come to HomePod, allowing you to ping any of their nearby devices from your speaker to locate them. Siri Shortcuts: You can now use the ultra-cool Siri Shortcuts on HomePod just as you can on iPhone and iPad, meaning a simple good morning greeting to Siri can turn on your lights, share your appointments with you, and order your usual from your coffee shop of choice.
Best of all, because Apple isn't a company that charges for its software upgrades anymore, this HomePod OS update will be free for all HomePod users beginning Sept. 17 with the launch of iOS 12.
May 29, 2018: HomePod coming to Canada, France, and Germany on June 18
Apple (opens in new tab) has announced that HomePod will become available in Canada, France, and Germany on June 18. This news comes as Apple also announces that iOS 11.4 will bring stereo pairing and AirPlay 2 multi-room audio support to HomePod.
While pricing for France and Germany hasn't been announced yet, we do know that HomePod will sell in Canada for $449 (CAD).
January 23, 2018: HomePod arrives February 9, available to order this Friday
From Apple (opens in new tab):
In what some are calling the great iOS 11 developer beta leak of 2017, we now have some details on how you'll set up your HomePod when it arrives February 9, at least as the implementation stands right now. Setting up the HomePod will require some sort of connection to your iOS device, and the setup files, first spotted by iHelp BR, indicate that at least part of the process will be similar to the setup for AirPods and other W1-equipped headphones, though the HomePod itself doesn't seem to have a W1 chip.
Text translated from Portuguese:
Developer Guilherme Rambo has delved a little deeper into the files, providing video of the process, showing how the same method will apparently be used across the HomePod, whole home audio, and the Apple TV.
So what exactly is a 'HomePod'?
To generalize, it's Apple's answer to the Amazon Echo line of speakers. It's a dedicated speaker that supports Siri for access to Apple Music and HomeKit-enabled devices.
To be more specific, it's one hell of a sound system packed into a 7-inch tall package. It has a specially engineered audio design to produce quality sound throughout your entire room, even if it's set up in a corner.
Thanks to AirPlay 2 support you can connect it to HomePods all over the house and even control other AirPlay 2 supported speakers with it.
It's built with Siri inside, so you can use it to play tunes through Apple Music, send messages, make phone calls, and control your HomeKit enabled devices.
Sounds cool. Tell me more?
Mobile Nations Editorial Director, Rene Ritchie, describes listening to HomePod as "Retina for your ears." It's packed with a six-microphone array, a seven-tweeter beam-forming array, a high-excursion woofer with a customized amplifier, a 20 mm diaphragm and an advanced algorithm that constantly analyzes the music being played and adjusts the levels to make sure that the sound output is exactly right.
It's built with Apple's A8 system-on-a-chip so that streaming music is as fast and smooth as possible. The microphones are directional so you can be heard over the music when you need Siri to do something. The specially designed speaker is equipped with spatial awareness to provide the best sound, no matter where the HomePod is set up.
Spatial awareness? What's that?
To put it simply, HomePod is "aware" of your room's layout and adjusts it's audio output accordingly. If you're HomePod is in the center of the room, you'll hear everything from everywhere.
If it's only a few feet from a wall on one side, it adjusts the sound and separates the music into direct (the speakers that face out), and ambient (the speakers that are close to the wall) beams. It's pretty cool.
So I can use Siri with it?
That's right. HomePod runs on Siri, sort of the same way that Alexa runs on Echo. You can use it to play Apple Music, make and receive calls and messages, and control HomeKit-enabled devices.
Apple boasts Siri on HomePod's abilities as a "musicologist." When you play tunes from Apple Music, you can tell Siri what you do and don't like and it will start to suggest songs based on your listening history. This data will also be transferred to your iPhone and iPad so your listening preferences are set across all of your devices.
If you've got HomeKit-compatible smart home gadgets, Siri in HomePod cancontrol them exactly the same way that Siri controls them from your iPhone and iPad. Even your scenes can be triggered through the HomePod. Lock down your home and turn off the lights before bed and tell Siri to set the "Good night" scene on HomePod.
You can use HomePod to send messages using your voice. If you receive a message, you can have Siri read it back to you through HomePod. If you want to call someone or answer a call from your HomePod, have Siri take care of the Handoff. It also works to set reminders, create lists, and more.
Siri is also a general know-it-all on HomePod. You can ask it questions about sports, weather, traffic conditions, and more. Use HomePod to set timers, translate languages, and tell you how many ounces are in a quart.
Can everyone in my family use Siri on HomePod?
That's something we're not totally clear on at this time. HomePod is Siri-supported, but there is no official information about whether anyone in the house can use it.
HomePod uses peer-to-peer Airplay to allow your visiting friends to use your HomePod without having to connect to wifi. However, it appears that most of Siri's iCloud functions will be relegated to one device/account user.
According to Rene Ritchie, it's a privacy thing.
Can I use it as a Bluetooth speaker?
Sorry, no. HomePod is equipped with AirPlay 2 compatibility. The good news is that your iPhone, iPad, Mac, and any device with AirPlay support works perfectly with HomePod. The bad news is that you can't connect it directly to your Bluetooth devices, like a T.V. set, game console, or Android device. Though HomePod does have Bluetooth 5.0, it's not currently capable of streaming audio from Bluetooth devices.
Hopefully, Apple will add that functionality, and soon!
Will my iPhone work with it?
Probably. HomePod support goes back all the way to iPhone 5s, 5th-generation iPad, iPad mini 2, first-generation iPad Air, and all sizes of iPad Pro. It also supports the sixth-generation iPod Touch.
Your iOS device must be running on iOS 11.2.5 or later, so if you haven't updated yet, you might as well get that going if you want a HomePod.
Is it wireless?
Though the HomePod is a svelte 7-inches tall, it's way too powerful to use a portable battery. No. This bad boy needs direct power from an outlet.
What color does it come in?
HomePod is covered in an attractive mesh fabric designed to look good and resonate well, acoustically (think about the mesh-covered front of a guitar amp). You can get it in white or space gray.
Sorry, no rose gold or (Product)Red. Though, it's possible that we'll see an exclusive version of the latter at some point in the future.
OK, I'm in. How much does it cost?
A single HomePod costs $349. If you're hoping to outfit your entire house with a HomePod system, you can get a few of them and use AirPlay 2 to daisy chain them together. You can play them in stereo or play different audio from different speakers throughout the house (though daisy chaining may not be available right at launch).
When can I get one?
You can pre-order the HomePod on January 26. It'll be available in-stores or delivered to your door on February 9.
Any more questions?
Do you have any more questions about HomePod? Let us know in the comments!
Get the best of iMore in your inbox, every day!
Mikah Sargent is Senior Editor at Mobile Nations. When he's not bothering his chihuahuas, Mikah spends entirely too much time and money on HomeKit products. You can follow him on Twitter at @mikahsargent if you're so inclined.
I think it's strange that no one is talking about interactivity with  TV. Why shouldn't I be able to play the video through my TV, but play the audio through the HomePod? I can't believe this isn't a feature!

It connects to Apple TV through Airplay 2. You can play video through your TV and audio through the HomePod.

For my house... I'd like to tell my HomePod to play "SOMEMOVIE" from Netflix on my Family Room Apple TV. Anyone know if that will that be possible?

I find it very annoying that I can't ask Siri via my iPhone, iPad, or Watch to start playing something on my Apple TV.

I agree. Am hoping that this changes with the HomePod!

I am definitely buying one, been waiting since it was first announced. I am concerned about one thing, though. Will it respond to everyone in the family or just me? I know my phone will only respond to me if I say "Hey Siri," but for the Home Pod, this is a problem.

It's still unclear whether anyone in the family will be able to initiate audio playback or HomeKit controls. As far as I can tell, Siri in HomePod will be set up through one person's iPhone or iPad using iCloud, which I would assume would lock it to that person's voice. That being said, it's not for sure. Maybe? As soon as I know something official, I'll update this guide.

So this will function as an always-on AirPlay 1 speaker at launch with AirPlay 2 coming in a software update later? I take it the HomePod won't work with Apple Music users on Android.

That's correct. It will only work with iPhone, iPad, or iPod Touch with Airplay support for other devices.

Seems so expensive compared to the Echo, and maybe the Echo even has more functionality?

That depends on where you are in the Apple ecosystem. If you're all-in with Apple products, it's the better buy. If you've got a variety of branded gadgets, Amazon's line of Echo products works with a lot of different brands.

I am not seeing where this would be a better buy even if you all your devices are Apple's. Please explain.

Quite sure the "better buy" comment was not about price, but was about the ease of use as an audio output for Apple devices as well as the higher quality sound and time sync with other speakers (muti-room) and time sync with video on iOS, MacOS, AppleTV. Glad to see there are options available to match different priorities.

How do we know it won't support casting via Bluetooth, despite the tech specs from Apple listing BT 5?

It will work with Bluetooth. The tech specs page was updated to show BT5. Article is incorrect.

So it's not Bluetooth to demo it to outsiders, and it's not portable.
And it's 350$? Wow. Should I at least wait on a portable one later on?

@Lori "It will not be possible to set up a HomePod for Mac or Apple TV - although it is very likely that the device will work normally with them later." Do you mean it won't be possible to perform the initial setup with Mac or Apple TV or are you saying it won't work with Mac or Apple TV "normally" until later?

From Apple's web page on the HomePod: Peer-to-peer AirPlay requires a Mac (2012 or later) with OS X Yosemite or later, or an iOS device (late 2012 or later) with iOS 8 or later. I just don't think its for me if it requires an Apple Music subscription for full functionality. I like that it has some technology only shared by a BeoLab 90 speaker ($85,000 a pair) and one other speaker (only described price-wise as astronomical). But in the end, functionality is more important, and a lock in so narrow so that I can't stream my TV audio to it means its a no-go.

My wife and I both have our own iCloud accounts. This severely complicates photo uploads and sharing to the iCloud. I am hopeful apple has set this up in a manner that my wife is able to use her iPhone (and iCloud/Apple Music) when I am not home (assuming it is set up under my iCloud account).

My iTunes account is different from my iCloud account. All other Apple devices support these two accounts on one device. Does the HomePod support this configuration?

Just got mine! Okay, I'm greedy and got two, one for the living room, one for the bedroom. Great sound! My question is, if I'm in a room that has both the HomePod and my Apple iPhone and I say, "Heh Siri....." and ask for the news, or some music, which device will respond? I ask, because in my bedroom, my iPhone is much closer on the bedside table, whereas the HomePod is over in the corner of the room.

Anyone know how to disable multi-room support on HomePod? Really been enjoying my HomePod, but came a cross a bug in the way that iOS12 connects to it (or rather doesn't connect to it as expected). I have found that several apps that don't have any audio settings no longer work as expected with any of the devices that show up with the circle next to them indicating multi-room compatible.
How to reproduce:
Install iOS 12
Install "Sleep Genius"
Set Audio output to "AirPods"
Open Sleep Genius
Tap Power Nap
Tap Start (can hear it on AirPods)
Set Audio output to (updated) HomePod (that shows with a circle)
Audio continues to play on AirPods Having an older version of iOS that doesn't support multi-room allows playback on HomePod. Any ideas on a workaround?