Google Play Movies & TV for iOS review: It's here, but it's not that good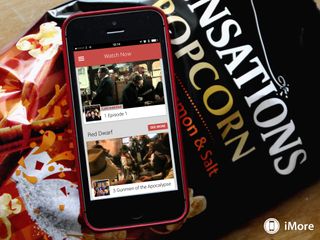 When it rains, it pours. Or so it seems with Google of late and its provision of services to iOS users. It all started at D11Google Play Music announced at D11") way back in May 2013, with a promise – and much delayed delivery – of Google Play Music heading our way. Now, quietly, Google has dropped another of its major content service our way in Google Play Movies & TV. Not the sleekest name, but once again the iPhone and iPad continues to shine as a choice for content junkies.
Like it or not, Google is good to iOS users. Really good. With this latest release, only one of Google's major services is left to drop by – Newsstand, which we already know is on the wayGoogle Play Newsstand coming in 2014") – leaving us in the enviable position of having the opportunity of choice. Much more so than our Android using friends. But, does Google's latest iOS project give us enough reason to switch from Apple's iTunes? Let's find out.
Technically speaking, this isn't the first opportunity we've had to watch Google purchased video content on iOS. The YouTube app has offered a workaround prior to the release of this new app, since it's YouTube that stores the actual videos. But a dedicated app is always a better way to go. And it's a pretty simple affair, too. You've got a Watch Now screen with your recent viewings, and the menu offers access to your movies, and TV shows split apart. The settings menu is a pretty empty place, since essentially this is a video player with a Google designed wrapper around it. You can see your content, you can watch it, but you can't buy it.
This, of course, is no different to how Google handles its music on iOS. Google doesn't want to hand over a percentage of its revenue to Apple, so all we get is a viewer. Any buying or renting has to be done through a web browser or on an Android device. So it's the same inconvenience as with Google Play Music. But your iOS device has a perfectly capable web browser on it, so, there's that.
Unlike Google Play Music, Movies & TV is a universal app meaning we're free to enjoy our content on our iPad as well as iPhone without the pain of a windowed app. The biggest issue faced is the lack of offline content, or the ability to stream without being on WiFi. Sure, not everyone has sufficient data plans to stream a movie over their cellular connection, but the inability to pin for offline viewing is extremely disappointing. Unforgivable even. It's present on Android, and if you're buying something, you should be able to watch it without a data connection.
The app is of course fully Chromecast compatible, which makes it an actual, serious competitor to Apple TV and iTunes. Or in the locations it's supported it does, at least. Chromecast remains officially a U.S. only product, and TV shows are currently only available in the U.S, UK and Japan. But if you can get it, it's a good enough solution. Casting your videos works as well as you'd hope, and after some initial buffering all is well.
Since Google naturally would prefer you bought a Chromecast, there is no built in AirPlay support. To watch on your Apple TV, you'll be forced to mirror your display, which is a less than ideal solution. Oh, and speaking of less than ideal; once again Google has sent us a new app that isn't iOS 7 optimized. Come on Google, you're better than that.
Other issues to note; there's a bug that seems to prevent the display rotating back to portrait once you're done watching a video in landscape. Also, it doesn't seem to be that great at remembering where you are in a video. Several occasions I've been sent back to the beginning despite having already watched at least half of the video.
The good
Native access to Google Play purchased and rented video content
Well designed, keeps within design of Google's other apps
Chromecast support
The bad
Some pretty irritating bugs
WiFi only viewing, no cellular access
No offline content
Google content is still much more region restrictive than iTunes
The bottom line
The best thing that can be said about Google Play Movies & TV is that we're glad it's here. Choice is a fantastic thing, and something we're blessed with more than most in using an iPhone or iPad. But while we're glad it's here, it's disappointing that it feels half-assed. No offline content is pretty unforgivable – don't tell me I can buy a movie and not watch it whenever I like – and every time we see a new app released that's not iOS 7 optimized, our faces are palmed.
Thankfully, Google rarely stands still, so we can only hope the issues are addressed sooner rather than later. When they are, this might be a viable alternative to iTunes on iOS. For now though, you're probably OK as you are.
Master your iPhone in minutes
iMore offers spot-on advice and guidance from our team of experts, with decades of Apple device experience to lean on. Learn more with iMore!