Google Play Music for iPhone review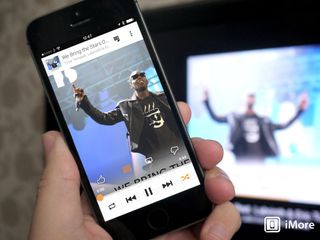 After the longest "few weeks" in history – 24 to be precise – Google FINALLY released Google Play Music for iPhone. With little in the way of explanation for why it took so long, many of us gave up waiting and took our music needs elsewhere. Sure, there are some excellent third-party Google Music clients already available on iOS, but for something such as this you need an official client for the platform in order to take it seriously.
So, it's here, but is it any good, and was it worth the wait? Let's find out.
What is Google Play Music?
Google Play Music is actually a combination of things. It started out as a music store paired with a cloud locker that holds 20,000 of your songs completely free of charge. Sort of iTunes Match-esque, Google Play Music will also scan your library and if what you have is in their catalog, it gets added with no upload. Anything you purchase from Google doesn't count towards your storage limit. So, buy everything from them and your collection will grow and your locker will maintain plenty of free space.
Now, Google Play Music is the above, plus a full featured music streaming service a la Spotify. You can search for and stream albums from Google's vast content library and create custom radio stations to suit your tastes. So it also has an iTunes Radio type component to it, but for any of this you're required to pay $9.99 a month with a full months free trial.
There is no native client for Mac or Windows to play your music, instead you're required to use the Google Play Music web player, which is OK, if sometimes a little janky. There is an app for Mac and Windows however that will scan your music libraries on your computer and automatically upload new content to your cloud locker.
The interface - no iOS 7 here
If you're a user of any of Google's other iOS applications then you'll feel immediately at home with this. It's attractive to look at, and very distinctively Google. The white cards on light gray background is clean and crisp with the Google Play Music signature orange highlights adding just the right splash of color. It's basically a carbon copy of Google's own Android app, and it's so incredibly silky smooth to navigate around. The sliding motion of the menu coming out from the side, the player view minimising, general scrolling up-and-down and side-to-side is all without flaw. I actually think it performs slightly better than the Android version. But it isn't the only Google app that could be said of.
The only real gripe – especially for an app launching in November – is that there isn't a single trace of iOS 7. Searching for music and seeing the iOS 6 keyboard brings about a sigh. We've been waiting what seems like forever for this app, so full integration with the latest iOS software isn't too much to ask for, is it?
It's also still a little jarring – as with other Google apps – that none of the iOS 7 gesture controls are carried into the app. The swipe from the left to go back a step motion that is now engrained into our very DNA isn't anywhere to be found. Do it and instead you'll always be presented with Google's slide out menu. It's not that it isn't a beautifully designed and crafted application, because it is, but a little more implementation of some platform basics wouldn't go amiss.
There's also no dedicated iPad app either. That's a definite disappointment, especially considering how long we've been waiting for any app at all. Of course, you can run the phone app on your iPad, but it's just not the same, is it.
Play Music - My library
My library is where you'll find everything, absolutely everything. All the music you've uploaded to your cloud locker is thrown in with anything you've added from the All Access library. Everything streams in the same way, so there's absolutely no need to differentiate what is yours and what isn't. Consider it Google's version of your iTunes library; it's all there and you can get at it any time you want.
Play Music - Radio
As with iTunes Radio, Google's implementation lets you create stations based on a particular artist, song or album. You search for something you like, then Google will collate a continuous stream of music it thinks you're going to like. Because you're paying for a subscription too, you can skip ahead as many times as you like. Basic, but functional.
What Play Music's Radio feature lacks is any kind of genre specific choices. You're literally limited to creating stations by specific parameters you search for. There's no choice to just pick a Country Music channel for example. Disappointing for some.
Play Music - Explore
Explore is where you conduct your business as part of your All Access subscription. As such, you won't see this option in the slide out menu if you're just using the free cloud storage aspect. It's very similar to something like Spotify, where the first thing you see is a bunch of new and recommended content. It's also where you can search for specific artists, songs and albums you want to hear from Google's massive music collection.
Once you find what you're looking for, tap on the "my library" button to add it to your own library and you'll never need to look for it again. Again, there's nothing surprising here, and the only real critcism would be that – at least here in the UK – the new releases and recommended content is a little thin on the ground.
There are also tabs in the main menu for "Listen Now" and "Playlists." Both do exactly what you'd expect them to; Listen Now serves up some suggestions to just jump in and listen to your music, and Playlists displays your, well, created playlists. Simple.
Offline music
Simply put, anything you have available in your library – be it your own music or All Access music – can be pinned for offline listening. You select the album you want, and somewhere about half way down is a small, round icon with a downward pointing arrow in it. Tap this and the whole album will be downloaded to your iPhone to listen to without a cellular connection.
What would have been nice is an option to offline individual tracks only. As it is right now you can't do that; it's the whole album or nothing at all.
Another use for your Chromecast
Chromecast is pretty limited still across the board, but more so here on iOS with less of Google's own apps available to use with it. Play Music is integrated with Chromecast, and as with all other supported apps is connected with a single tap. Whenever there is a Chromecast dongle powered on within range, you'll see the standard Chromecast icon on the screen, and tapping on it brings up a list – if you have more than one – of which one you want to send your content to.
Your music then plays through your TV, accompanied by some pretty great looking album art which moves about the screen as you're listening. Very much like doing the same with your iTunes music on your iPhone and using AirPlay to send it to Apple TV. But of course, if you're in Google's ecosystem, Chromecast is much, much less expensive. Though still a U.S. exclusive at this point.
No in-app purchases or subscriptions
This is of course not Google's fault alone, more so that Google doesn't want to give Apple a cut of their in-app purchases. As such, you cannot subscribe to All Access or buy tracks or albums from within this app. The same is also present in the Android app, but the difference there is that Google can ping you straight into the Google Play Store app to conduct your purchases. On iOS this is not possible.
As such, the overall experience is a little more jarring than it is on Android. You have to use a browser to search for and buy music, and to sign up for an All Access subscription. And on the iPhone and iPad Google has a habit of sending you into a web app for the music player when you go to the Play Music site, and frustration ensues. So you're better off doing it on your computer. As I said, it isn't all Google's fault, but to the average consumer it's still a frustration to be endured.
The good
Beautifully designed application
Extremely smooth and snappy to use
The might of Google's music library now (officially) on your iPhone
Pinning music for offline listening
Single sign-in compatible - if you're signed in to selected other Google apps you don't have to enter your credentials
Google Chromecast integration
Cloud locker for 20,000 of your already owned songs
The bad
No iOS 7 gestures or proper integration
No dedicated iPad app
No in-app sign-up for All Access
The bottom line
Barring some small frustrations, Play Music is arguably one of Google's finest iPhone apps to date. It's fast, smooth as it comes and extremely nice to look at. Using iOS 7 a little more – back gesture in particular – would have been nice though, seeing the iOS 6 style keyboard in November brings on a sad face. The biggest issue isn't even Google's fault, but since you pay for subscriptions via Google Wallet anyway, would an in-app browser perhaps have been a good way to get folks subscribed without having to pay Apple a cut for IAP's?
Ultimately a lot of people have been waiting a long time for this. Converts from Android, cross-platform or generally all round heavy Google users are likely to prefer using Google Play Music over the Apple-centric iTunes, and thankfully Google has delivered an app that largely delivers the experience those people deserve. And, with this latest addition to the Google stable, the iPhone continues to be one of the best Google phone's that money can buy.
Get more iMore in your inbox!
Our news, reviews, opinions, and easy to follow guides can turn any iPhone owner into an Apple aficionado